While virtual educational events, fam trips and site inspections have played an important role in keeping planners updated on products and destinations during 2020, nothing beats a real fam trip. And a group of UK buyers from agencies including Sleek Events, Absolute Corporate Events and Venue Seekers, were lucky enough to head out to Dubai at the end of last year on an educational trip organised by Dubai Business Events in partnership with Emirates, Arabian Adventures and Atlantis The Palm.
Aron Bentley, operations director at Sleek Events, and Chris Parnham, owner of Absolute Corporate Events and Absolute Digital Communications, give us the lowdown on the trip, and why Dubai is ready to welcome visitors with its famous hospitality safely and with little compromise on the experience…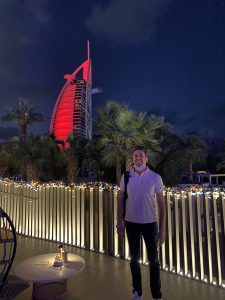 Aron Bentley:
On a recent cold and wet London morning an email landed in my inbox from the team at Hills Balfour entitled "Dubai FAM Trip". I scanned the contents for the usual suspects, 'join us remotely, 'virtual event', 'Zoom' etc. As I read, I quickly realised this was not virtual, this was the real deal, an actual FAM trip with actual people and best of all taking place in Dubai and not via my laptop in my living room!
Fast forward a few short weeks, I found myself setting an out of office and saying goodbye to the rest of the Sleek team. I happily packed my suitcase with shorts and t-shirts while dusting off my long neglected passport. I was on the morning Heathrow Emirates flight to Dubai and couldn't wait to see how a destination famous for fast paced innovation had adapted to welcome visitors from around the world so quickly.
The Heathrow airport experience was smooth with the only big difference being Emirates operating from Terminal 2 rather than the usual Terminal 3. I am not someone who normally goes in for duty free shopping but most outlets were open with fellow mask wearing travellers quietly browsing the shops and boutiques.
Emirates Airline, not known for doing things by halves, didn't fail to deliver – the flight was up to their high standards with no compromises on their best-in-class service. The only difference being all passenger's dutifully wearing masks throughout the flight. The Emirates crew wore masks and additional PPE which didn't take away from their normal welcoming and friendliness throughout the flight.
I chose to have a PCR Coronavirus test 96 hours before travelling, which was optional. If I had not taken the test, I would have been given a complimentary test upon arrival in Dubai, with the results being sent to travellers on average within eight hours after which time visitors are free to enjoy the city. At the time, the UAE was on the UK Governments list of countries where there was no need to quarantine upon return to the UK, so there were no concerns on that front either.
Arrival into the impressive Dubai International Airport (DXB) Terminal 3 was smooth, I was greeted by a member of the Emirates Marhaba team directly from the airbridge and whisked through immigration in VIP style before being escorted to a waiting transfer heading to Atlantis, The Palm where I would be staying for the next four nights.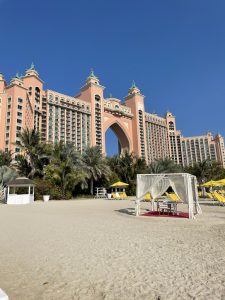 The team at Atlantis, The Palm handled check-in efficiently with reassuring details such as casually sanitising my bedroom key in front of me during check-in, passive temperature checks in the hotel lobby and hand sanitising stations strategically placed throughout the hotel.
The next 72 hours were a mixture of old and new Dubai, visiting the famous Souks, the historic and well-preserved Al Seef area for a good dose of Dubai's traditional culture. We were also treated to the breath-taking views from At The Top Burj Khalifa, 125 floors above the city below.
The various sightseeing and cultural tours were hosted by the professional Arabian Adventures team in conjunction with Dubai Tourism. In my view, a perfect combination of their knowledge and experience of Dubai and all it has to offer are second to none.
Other than a memorable bottlenose dolphin experience at Dolphin Bay, Aquaventure, Atlantis The Palm, a personal highlight was a guided tour of the Expo 2020 Dubai mega event, postponed to 2021. We were driven through the vast site and were able to get a sense of the scale and variety of what the Expo will offer when it opens on 1 October 2021.
The main theme of the visit was to show that Dubai, its myriad of hotels, venues and experiences are 100% ready to host guests and run events in a Covid secure responsible manner. However, the key here is that there are not as many compromises as you may expect. Dubai is ready to welcome visitors with its famous hospitality safely and with little compromise on the experience.
I look forward to sharing the positive Dubai story with Sleek's clients, colleagues and industry network. But more than that I look forward to planning and delivering an amazing event in Dubai very soon.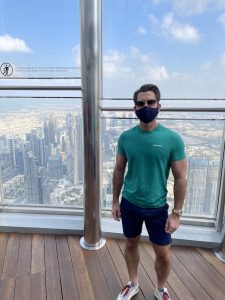 Chris Parnham:
Back in December, before Tier 4 was even invented, I and a few other industry colleagues were treated to a Dubai visit, intended to show us that the destination was open for business.  Dubai would soon prove that it did indeed live up to its latest marketing tag line #readywhenyouare even if Europe and the UK were sadly, far from it.
Emirates has been temporarily relocated to Heathrow Terminal 2; a terminal woefully unprepared for crowds and long haul traffic. Aron was lucky to get through T2 much earlier the same morning, but my flight was later in the afternoon, and the airport wasn't nearly as quiet. We joined a long and unstructured snaking queue outside the terminal building, with no clue as to why or what we were queueing for. It took an hour to get into the building.
But once on board the Emirates A380 things were looking up. Emirates Business is a well-designed cabin, with a large TV, excellent multimedia, a very comfortable seat / flatbed, and everything in easy reach. On arrival at Dubai International Airport, thanks to our wonderful ground partner, Arabian Adventures, we were greeted with name boards and helpful hosts who whisked us through the airport in record speed. We were required to present a negative Covid-19 test on arrival, and I went with the BA discounted offering at just £80. It's worth noting that many of Dubai's hotels will give you a credit equal to the cost of your test on check in.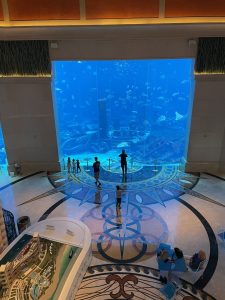 Our home in Dubai for the next four days was to be the truly amazing Atlantis The Palm. The hotel is a symbol of the imagination and wealth of Dubai and built on the tip of the man-made Palm island. It offers a magical and mythical presence that wouldn't look out of place in Disneyland. The hotel is built around a giant Aquarian that brings its watery inhabitants into the hotel lobby, restaurants and even some bedrooms.  The aquarium views are hypnotic and never get old. Even after three days I couldn't walk past without standing for a few moments to marvel at the views offered through the three-story high aquarium window.
The objective of our hosts, Dubai Business, was to present Dubai as a destination open for business, and one able to offer a variety of delights to suit any kind of group and budget. They would certainly succeed, and although our trip covered much more that I am able to write about here, I will share some of the highlights that make Dubai a great choice for an international conference or incentive, especially for 2021.
Dubai has hotels to suit any group or budget, and they come in all shapes and sizes. The one thing that Dubai hotels have in common is that they are all either new or newly refurbished, nothing is old, and nothing gets old in Dubai.
Our host hotel the Atlantis Palm is capable of welcoming an incentive event without a real need to leave the hotel. It has many and varied restaurants (Nobu being my favourite), many pools and beaches, a waterpark and the aquarium which delivers many water-based adventures. We experienced the dolphins up-close and a helmet dive, both of which are real once-in-a-lifetime experiences worthy of an incentive programme. White's is a Nikki-Beach style day-club, with everything you need for a VIP day at the beach, and the waterpark is a fun-packed adventure about to double in size for 2021. Each part of the hotel has easy upgrade options to satisfy any incentive group, including VIP areas that can be privatised within the waterpark.
Here are some other hotels worthy of note because they offer something different or special: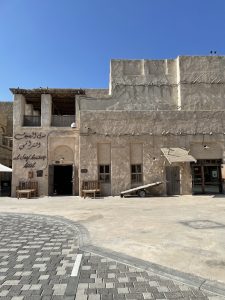 The Alseef Heritage Hotel, a Hilton Curio, can be found in a brand-new waterfront manmade district created to look like old Dubai. The area is very quaint, and unlike much of Dubai, is suited to strolling around, complete with open-air dining, traditional water taxis, market stalls and cobbled pathways. The hotel itself is modelled on traditional Dubai living and each cluster of rooms has its own communal area, which would suit a small incentive group beautifully.
Jumeirah has many hotels in Dubai, the jewel in their crown being the world-famous Burj Al Arab. With seven stars and butler service to all rooms, it would blow the anyone's budget, but this landmark hotel is overlooked by five other Jumeirah hotels, all different but more reasonably priced, so you really can just choose your favourite. I'd suggest a 90-minute site survey, by golf buggy, (which we enjoyed) and I guarantee, at least one of these will suit your group. My favourite with an incentive group in mind, is Jumeirah Dar Al Masyaf. This hotel offers 'summer houses' arranged in small clusters, each with a pool, meaning that you can offer a privatised VIP experience for a group of 10 to 80 guests.
The JW Marriott Marquis is the tallest five-star hotel in the world, with a stunning pool deck surrounded by skyscrapers and a very classy top-floor bar. The view from this bar beats that from the top of the Burj Kaleef, because Burj Kaleef is in your view, (and a cocktail is in your hand).  The hotel has many restaurants servicing world-class food, my favourite being Isakaya, which serves the best sushi I have ever tasted. The JW also has terrific ballroom space for large events and conferences.
We visited Burj Kaleef; with fast-track tickets and a 10am entry time, we moved freely to the breath-taking viewing deck on floor 150, but without these and at any other time, this experience can easily take half a day, with most of the time spent waiting in line.
Better than being at the top of the Burj Kaleef is to be around its feet, where you'd find the Armani Hotel, a great place for a pre-dinner cocktail, with a quiet elegance and a perfect martini. Many restaurants line Burj Kaleef lake with Bellagio-styled fountains (bigger than those in Vegas of course). I'd suggest checking out the smaller independent offerings opposed to the familiar chains. These will all offer buyouts and present the best views of the Burj Kaleef light show and the fountains.
Opposite the Atlantis hotel is another new district, also created with strolling in mind, called The Pointe. This has many new restaurants, all with views of the Atlantis, the Royal Atlantis (due to open late 2021) and the new Royal Fountains. The best restaurant here is the Meshico, which is at the end of the east walkway, making is a perfect group buy-out. The food is amazing, the welcome genuine, and the entertainment truly unique, with home-grown dancing and comedy.
Other things worthy of considering when planning a group event to Dubai include a visit to Dubai Expo which promises to be live from October 2021, a boat trip around the Dubai canals and a dinner in the desert, with dune bashing en route. For groups with bigger budgets then a hot air balloon flight presents the best selfie opportunities and a truly memorable experience for all.
In Dubai, everyone wears a mask, inside and out, with the only reprieve being when eating, drinking, exercising or sunbathing. Your temperature is taken on entry to all venues or shared vehicles and safe distancing is practised as normal. Dubai venues are filled with discrete thermal imaging cameras to spot guests with a fever. What makes all this quick to accept is that it is handled with ease, compliance and respect. This extended health and safely has quickly become a new normal in Dubai, and having seen hotels preparing for actual events, it has proved successful – life CAN go on, even with Coronavirus.
All-in-all, Dubai has at all, and as the marketing suggests, it is ready when you are. Although Europe isn't ready for in-person events, and won't be for some months yet, we can at least begin to plan them. It seems reasonable to expect business and group travel to be freely encouraged from mid 2021 onwards, so that gives us 6-months' minimum lead time to plan our next event. We would normally plan much further out than this, so let's get busy.
Dubai isn't everyone's cup of mint tea because it can be considered fake and manufactured, but as we emerge from this terrible global pandemic, that kind of deliberate and planned manufacturing is likely to make Dubai one of the safest and most prepared destination available to meeting planners.