Before the emergence of COVID-19, climate change posed the biggest threat to the future of our planet. When the pandemic threat passes, climate change will continue to be the defining issue of our time, and all industry sectors have a responsibility to play their part in creating a more sustainable future.
Despite the economic benefits they bring, events by their nature are highly resource-intensive and can have negative environmental consequences for the host city and population. So creating a more sustainable events industry and reducing the impact events have on the planet can make a huge difference.
While there are many actions planners can take to make their events more sustainable, collaborating with the right partners is key. If you're looking for a sustainable destination partner to host an event, look no further than Singapore.
Singapore's sustainability efforts include initiatives such as the BCA Green Mark Scheme and the Singapore Green Hotel Award, which both strive towards more environment-friendly buildings. But the destination's dedication to the cause goes much deeper – it is committed to becoming a world leader in sustainable development.
We take a look at some of the reasons why Singapore is the perfect partner for sustainable events…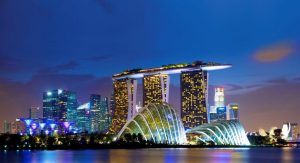 Sustainable guidelines for MICE
The Singapore Tourism Board commissioned MCI to conduct a sustainability industry audit and benchmarking study on the MICE industry. This resulted in the development of the sustainability guidelines which serves as a reference guide for MICE industry players who are keen to adopt sustainable practices.
They are intended as a tool to help both planners and suppliers integrate sustainable practices within an organisation's operations and regular event plans. There are Basic and Advanced level guidelines for seven MICE industry categories across the supply chain: Events and Activity Organiser; Exhibition, Conference and Convention Organiser; Audio-Visual; Food and Beverage; Hotel; Transport; and Venue.
These include a broad range of options from recyclable badges, lanyards made of sustainable materials, on-site recycling bins and using mobile platforms instead of printed materials, to sourcing products or services from fair trade suppliers or suppliers that actively recruit from socially disadvantaged groups.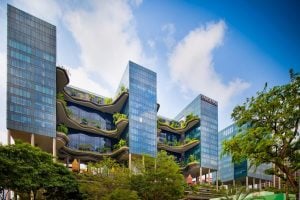 Sustainable venues
Many meeting venues in Singapore also raise the bar on sustainability. Marina Bay Sands – one of the largest and most flexible venues in Asia – was the first ISO 20121 certified property in Southeast Asia and the single largest building in Singapore to be conferred the Green Mark Gold Award by the Building and Construction Authority (BCA).
At the core of Marina Bay Sands' green initiatives is a s$25 million Intelligent Building Management System which automates lighting, heating and water supplies for the entire integrated resort to conserve precious resources. As part of its Sands Eco360° strategy Marina Bay Sands provides meeting organisers with a hassle-free sustainable meetings programme to achieve their green meeting goals. It has staff dedicated to helping clients create sustainable meetings, offering post event reporting on energy and water consumption, providing sustainable food and helping to manage waste.
PARKROYAL on Pickering and Gardens by the Bay are further examples of venues that are pioneering environmentally-friendly practices and technologies. Underlying the concept of Gardens by the Bay are the principles of environmental sustainability. Much effort was made to plan and design for sustainable cycles in energy and water throughout Bay South Garden. PARKROYAL on Pickering is an iconic green structure, with a hotel-in-a-garden design concept, with 15,000 square metres of lofty four-storey tall sky-gardens, reflecting pools, waterfalls, planter terraces and cascading vertical greenery, which constitutes more than 200% of the total land area.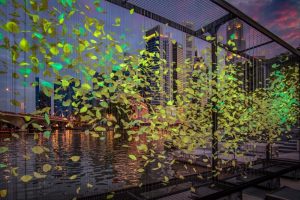 Asia's greenest city
Renowned for its clean and green environment, Singapore was named Asia's greenest city in 2016. The nation's water strategy alone is enough to make almost every urban community around the world take note. Despite having scarce water resources, the government recognised that secure and reliable access to water would be integral to growth and economic vitality.
The government's efforts to provide clean water in a robust and diversified way is known as the "Four National Taps." Today, up to 40% of Singapore's water demand is met by NEWater, a process of purifying treated used water using advanced membrane technologies and UV disinfection. PUB, Singapore's national water agency, plans for NEWater and desalinated water to meet up to 85% of Singapore's water demand by 2060.
Under the Active, Beautiful, Clean Waters programme, Singapore's waterbodies are also being transformed into naturalised rivers and lakes for recreational activities and to help conserve local biodiversity. The destination has a thriving green canopy as well – it scores best on the Green View Index developed by MIT which measures the number of trees in different cities. Housing and business developments often include atriums, lushly landscaped walkways, green walls, and sky trellises. Buildings are designed from the ground up to maximise energy efficiency and reduce waste.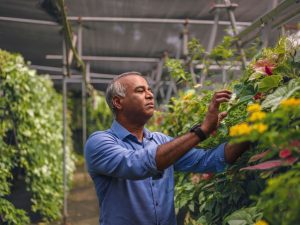 Food innovation
Singapore is also home to some of the world's most cutting-edge innovations in the food sector, with sustainable food production in particular a core focus for the government. Scarcity of arable land has led local innovators to pursue urban agriculture – with farmers using high-tech and high-yield methods to overcome the limitations of traditional farming practices.
Vertical and indoor farming have taken flight in Singapore, with local companies embracing space constraints as opportunities to build their businesses. For example, Upgrown Farming Company provides cost-effective indoor farming solutions that maximise space and productivity, and minimise reliance on natural resources, while Artisan Green uses hydroponics technology in controlled, indoor environments to grow food items right in the heart of Singapore.
Singapore's Ministry of Trade and Industry established the Agri-Food Innovation Park as a pilot cluster to spur innovation in the agri-tech ecosystem. This climate of innovation has also helped food start-ups push the boundaries of technology to imagine new possibilities for agriculture and food production. Examples include Shiok Meats, a cell-based clean meat company with a mission to bring delicious, clean and healthy seafood and meats harvested from cells instead of animals, and Alchemy Foodtech, which is focused on providing food options for diabetes prevention and better disease management.