With the live events industry currently on pause, venues, hotels and eventprofs across the globe are doing their bit to help the Covid-19 Response. Many of Great Hotels of the World's (GHOTW) members and partners have been going above and beyond their call of duty to provide assistance in the relief efforts of their local communities. Here's just a few examples…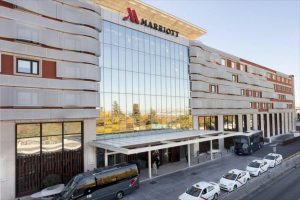 Madrid's largest conference hotel, the Madrid Marriott Auditorium Hotel and Conference Center was among the first hotels in Madrid to heed the public call for assistance and make its property available to accommodate patients with mild symptoms of the coronavirus not requiring hospitalisation but subject to medical supervision. The hotel was fitted with the necessary clinical conditions and began welcoming patients on March 20.
Similarly, Hotel Barcelona Princess joined the "Hotel Salut" project making its facilities available to patients with mild coronavirus symptoms and healthcare professionals from the nearby Hospital del Mar. Additionally, Hotel Barcelona Princess have also donated surplus food and drink to Nutrition without Borders, 9,000 latex gloves, and food to the Trinijove Foundation to help 40 families in a vulnerable situation.
In Seville, the Ilunion Alcora Hotel has also converted meeting rooms into infirmaries and intensive care boxes to accommodate the local seniors from care facilities who lack the necessary equipment to care for them. The Ilunion group, through their Foodie department, has also worked with the organisation Mater et Magistra, an organisation that has been working with people with intellectual disabilities and their families for several decades, to provide 300Kg of food.
GuestCentric, GHOTW's digital partner and parent-company has joined forces with the Portuguese Tech4Covid movement to create the Rooms Against Covid platform where frontline workers who are unable to return home to their families can easily find and book accommodation free of charge. The initiative has generated nearly 500 reservations and nearly 8,000 booked nights so far, with numbers increasing rapidly every day. Rooms Against Covid is still growing, seeking volunteers and projected to take on other markets with demand.
Other initiatives are aimed at helping keep the general public entertained while in lockdown. In a partnership with the Barcelona Egyptian Museum, The Derby Hotels, which famously house an exquisite collection of Egyptian artefacts, rugs and paintings in the public areas and guest rooms of their Villa Real property in Madrid, have paired up with the Barcelona Egyptian Museum to offer free online tours from the comfort of our own couches. Another temporary reprieve is offered by the stunning Forte Village in Sardinia by way of their acclaimed chef Antonello Arrus who is giving back by giving quick and easy vegetarian cooking lessons on the resort's Twitter channel (@Forte_Village).