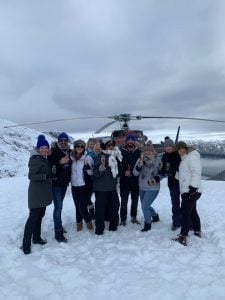 In December, we returned from our first ever Top Banana Incentives FAM Trip, and what a trip we had! Flying out six delegates to Whistler and Vancouver for four days of winter luxury – here's the rundown of our best bits …
The Top Banana Incentive's FAM has been in the woodwork for some time. Why? An opportunity to showcase what one of our favourite destinations has to offer by making memories for delegates through a mix of adventure and emotive activities that connect the head and the heart. As well as having strong links with Air Canada, Whistler and Vancouver's Tourist Boards, it was the perfect place to stage a winter incentive for delegates in true Top Banana style.
Discovering Adventure
Touching down in a snowy Whistler, our delegates stepped off the plane and headed straight to the Four Seasons Whistler. The team were greeted with a private chef who served a 'cook out' style meal accompanied by local beers and wines, whilst a live performer set the tone for the perfect first evening.
By morning however, it was all go into an adventure filled agenda. The highlight? A surprise for all, when the planned helicopter flight took a detour, and landed all delegates on top of a glacier. With everyone overlooking the breathtaking snow filled landscape, a champagne bottle was popped, and everyone was given time to take in their surroundings in style.
We didn't stop here however, as the following day it was time to explore one of Whistlers main attractions, Whistler Blackcomb, one of the largest ski resorts in North America. With snowboarding, snow shoeing and skiing on offer, the delegates had the morning to explore the slopes before meeting for a mountain top lunch.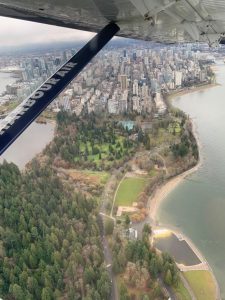 Discovering Fun
For the second stint of the trip we decided to take delegates to the awesome Vancouver – a city full of adventure and culture that really shows why Canadian cities aren't like anywhere else in the world. The best way to see it? A seaplane across the skyline.
Taking to the clouds, the team saw Vancouver from above before landing and heading to a Canadian cultural initiation… an ice hockey game! Full of atmosphere, the delegates saw the Vancouver Canucks beat the Buffalo Sabres before returning to their hotel, the Rosewood Georgia for a night of fun.
It was a picture-perfect trip – the weather behaving as it should, an enthusiastic delegate group who were up for all of our adventures and out this world service from Air Canada, Four Seasons Whistler, Rosewood Hotel Georgia, Rare Indigo DMC, Vancouver CVB and Tourism Whistler.
Click on the links within this article to contact or view the micebook profiles on any of the venues, hotels or suppliers mentioned. Alternatively, search all our
Destinations
for ideas on where to take your next event and create your own inspiration board…