Sayonara London, Madame Micebook is off to beautiful Kyoto to check out a sleek new design property…
Ace Hotels will be making its debut in Japan this April with the launch of a much-awaited Kyoto property. Masterminded by architect Kengo Kuma, who designed The Opposite House in Beijing and is leading the Tokyo Olympic Stadium project, the Ace Hotel Kyoto is minutes away from cultural landmarks including Nijō Castle, Nishiki Market, the Museum of Kyoto and Kyoto Art Center.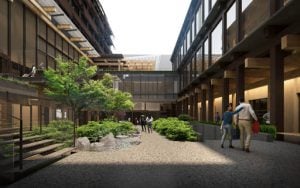 Kuma has collaborated with LA-based Commune Design and the result is a striking property that respects the city's past while tantalisingly drawing on its future.
All of the 213 rooms at the Ace Hotel Kyoto have been appointed to exude sheer design sleek, while the original works from local Japanese artists and traditional bathtubs maintain the cultural appeal of the property. Turntables feature in several of the rooms, while some also offer garden views, window seats and Tatami mattresses.
Madame Micebook will be spending time perusing the gallery, before relaxing in the verdant courtyard and admiring the perfectly landscaped gardens. Her event planner companions will also want to check out the event spaces on offer, before retreating to the café and discussing which of the three restaurants they'll dine in.
Click on the links within this article to contact or view the micebook profiles on any of the venues, hotels or suppliers mentioned. Alternatively, search all our
Destinations
for ideas on where to take your next event and create your own inspiration board…
Here are some more micebook profiles worth checking out for this destination: