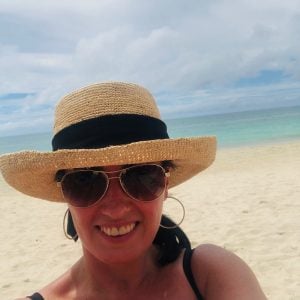 The name Sandals is synonymous with the Caribbean and immediately conjures up images of palm trees, golden sands, azure waters and tropical sunsets, ideal for dreamy incentive trips. And that's exactly what First Event senior account manager Kerry Saxby experienced on a twin-centre FAM trip hosted by Sandals to Antigua and St Lucia…
"Setting off from Gatwick, the first stop was Antigua. There's only one Sandals resort in Antigua, so it felt really exclusive to be there. After two nights in Antigua we took a domestic flight to St. Lucia and stayed at one of three Sandals resorts on the island – the Sandals Grande St. Lucian.
Both Sandals properties are all-inclusive, adult-only resorts, and would work perfectly for both a couples and a group trip. Being all-inclusive, there is a wide range of activities on offer such as paddle boarding, kayaking and sailing. For group options, resort activities can be used for team building, and the venue's meeting rooms are available free of charge as part of the all-inclusive package.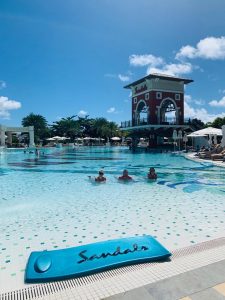 During the trip, we spent a lot of time in the Sandals resorts and were treated to a real incentive experience. This, of course, included a lot of cocktail drinking, eating and trying out the different restaurants on the resorts, enjoying the venue facilities and of course, the gorgeous weather on the islands.
We also took part in a boat trip from both islands. St. Lucia's boat trip took us to the Pitons – which remain from a heavy volcanic eruption that dates back thousands of years. At the Pitons are Sulphur Springs, which are boiling hot! It was quite scary having to get in them, however there's a reason they're like this, as the heat opens up your pores before a full body mud mask is applied. After the mud mask, we then had to get back into the springs to wash away the mud. It's extremely hot at the time, but afterwards your skin feels AMAZING!
The boat trip from Antigua felt just like an incentive – a little bit boozy and lots of fun! The atmosphere was fantastic, and it felt like we'd all known each other for much more than just a couple of days.
For me, the highlight of the majority of the FAM trips I've been on is definitely meeting such an amazing group of individuals. The group gelled really well, and our hosts, Graham and Paul, were exceptional! Of course, the islands of Antigua and St. Lucia were absolutely stunning, and it was amazing to see how beautiful they really are. Antigua is smaller and less developed than St. Lucia, but both are extremely idyllic islands and it was nice to see the differences between them.
I would 100% suggest both destinations for an incentive trip. I think a lot of people are worried about doing a long-haul incentive for only three to four days, however due to the time difference, attendees gain eight hours back on the first day. The islands are a great alternative to Tenerife or Dubai, offering similar experiences in more luxurious, lesser explored destinations."
Click on the links within this article to contact or view the micebook profiles on any of the venues, hotels or suppliers mentioned. Alternatively, search all our Destinations for ideas on where to take your next event and create your own inspiration board…