Top Banana director of venues Louise Goalen discovered a unique and authentic destination with the friendliest locals on a recent incentive fam trip to Oman, her first to the country. Here she gives the lowdown on the fam trip, hosted by Marriott Luxury in partnership with Zahara Tours and Oman Air…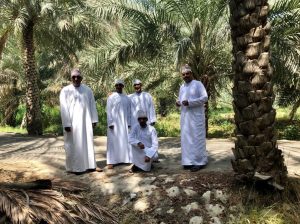 "It was my first time in Oman and my first impression was how different the destination is to Dubai, Abu Dhabi and the other Emirate states, despite its proximity. I was also struck by how welcoming and lovely the Omani population are. Around 60% of the population are Omani, which again is quite different from the UAE and helps you get more of a sense of the local culture.
It was quite a flying visit, but we managed to pack a lot in. We arrived on the Thursday evening and checked into the Al Bustan Palace, A Ritz Carlton Hotel (above) where we had a welcome dinner at the Al Khiran Restaurant. The Al Bustan was the old InterContinental, which was built by the Sultan for the GEC, but was gutted and renovated by Ritz Carlton last year. I think the property would work well for both meetings and incentives – it has has fantastic meeting facilities including an auditorium, huge ballroom and loads of break out spaces.
The bedrooms are quite contemporary but beautifully finished to the expected Ritz Carlton standards. It's really nice and a lot of thought has gone into it. We stayed in one of the Al Bustan Lagoon rooms, with a terrace that led straight into the pool, which was beautiful. It's on the beach and provides easy access to Muscat, and there are lots of different dining areas on-site and a really lovely spa.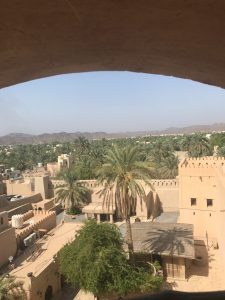 On Friday morning, we had an early start to drive up into the mountains to the old capital city, Nizwa. We explored the city and visited the date souk and markets, which was fascinating, before visiting the stunning Nizwa Fort. After that, we headed higher up into the mountains to Jebel Akhdar – an old village that looks over the dramatic valleys.
We had a fabulous lunch at the Anantara Al Jabal Al Akhdar, which is a stunning property. It's location in the mountains makes it ideal for adventurous outdoor activities such as rock climbing and mountain biking, or you could just relax and take in the scenery as it has the most amazing infinity pool.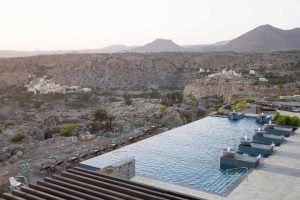 The hotel has a completely different feel to Muscat, but its definitely more of an incentive property – purely because its two hours from Muscat so it's a long transfer just for a small meeting. But if you wanted to do a dual centre, it would work beautifully with Muscat and give people that opportunity to appreciate the different aspects to Oman.
On Saturday, we were up early again and started the day with a visit to the impressive Grand Mosque, then we went to the marina and got on a private boat to go dolphin watching.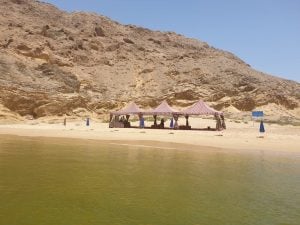 They took us to a beach, which they had set up like a private Arabian camp on the sand, just for us and we had an amazing lunch there. That was really good, and we had a really lovely relaxing afternoon on the beach.
After that, we had time for a quick stop at the bustling Muttrah souq, before a show round and final dinner at the new W Hotel Muscat. I loved the property – it's uber cool with really great meeting facilities, huge grounds with a pool and again very different to the other properties we had seen.
I really liked Oman – the Omani's themselves were just so welcoming and helpful, which makes such a huge difference to a destination. It felt so authentic and there is nothing contrived about it at all. We've not done much there as an agency, but we'd definitely recommend it. If people want to do a Middle East incentive and they have done Dubai, Abu Dhabi, or even Marrakech, I would put Oman forward. I think it would also work really well for automotive clients who want that mountain driving experience."
Click on the links within this article to contact or view the micebook profiles on any of the venues, hotels or suppliers mentioned. Alternatively, search all our Destinations for ideas on where to take your next event and create your own inspiration board…