Concierge Please! Fauchon has long held Madame micebook's heart, so the City of Light beckons once more
Paris please! Mais oui, who doesn't love Paris as the summer fades, or any other season come to think of it? Francophiles will be beside themselves with the knowledge that the much-adored gourmet institution that is Fauchon has opened a chic hotel in Place de la Madeleine near its store.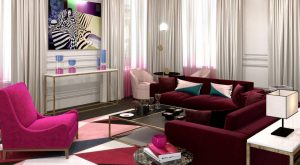 Set in an elegant Haussmann building, the property opened on the 1st September and features 54 rooms, with the brand's signature colours of hot pink and glossy black in evidence in the sumptuous décor.
This property is for the unashamedly glamorous and true epicureans – gourmet treats are on offer throughout, from the fully customised mini-bar, through to the exclusive dinners prepared by Fauchon chefs.
Do not miss out on Glam'Hours, the gourmet happy hour, which features wine, Fauchon tea-based cocktails and a plate of delicacies inside the hotel's Grand Café Fauchon. After a gourmet stay, be sure to pop across to the store to stock up on favoured flavours to enhance your cupboards back home.
Check out micebook's online Destination Spotlight Guides
Our global supplier members are busy building their content and creating stunning profile pages, so please bear with us while in our soft launch (beta) phase. Your feedback is important to us as we roll out new features, so please share, get on board and help us make this the definitive inspiration hub for #eventprofs
If you're not already registered, and you're an event planner/buyer, be sure to register your details and join the micebook community. We'll keep you updated with latest news and insights with our micebook Departure Lounge bulletin plus keep you informed on exclusive micebook events.