29th June 2023
The micebook Awards 2023
An unforgettable night at The Dorchester London
The micebook Awards 2023 took place Thursday 29 June at The Dorchester London. The iconic landmark hotel with its recently unveiled refurbished ground floor was redesigned by renowned designers including Pierre Yves-Rochon. Making it the perfect host venue for our reimagined awards which underwent a makeover of its own.
For the 2023 Awards, we dropped the 'V' and invited brands and agencies to enter live events as well as virtual and hybrid. We also launched new categories to recognise and celebrate our amazing partner community.
More than 400 #eventprofs, including top brands and agencies, gathered at The Dorchester London for the biggest ever micebook Awards, celebrating the best work and teams in the events industry.
Cheerful Twentyfirst was one of the big winners on the night, picking up the Best Creative Concept and Best Product Launch awards, a highly commended in the Best Agency (more than 40 employees) category, and the top Grand Prix prize.
Several new awards were introduced this year to recognise our supplier community, including Best Representation Company, which was awarded to Global DMC Partners, Best DMC, which went to Principal DMC London, and Best Hotel Brand, awarded to Hyatt Hotels & Resorts.
It has been another incredibly hard year for the sector and in many ways harder than the year before. The winners of the V Awards22 have demonstrated great creativity, resilience and leadership to navigate current and new challenges to once again come out stronger. We were honoured to have such a high calibre of judges giving credibility to the process and huge congratulations to all the winners and those that were highly commended as they would have deserved the accolades. The business events sector can be a force for good and this was demonstrated on the night.
Chetan Shah, CEO & Founder, micebook
Attendees bought raffle tickets to raise money for industry charity Meeting Needs, raising a massive £5,145.
The 400-strong crowd enjoyed fabulous hospitality in the glamorous surrounds of The Dorchester, with the awards ceremony co-hosted by emcee Neil Hudson-Basing and comedian Eshaan Akbar, followed by entertainment by the brilliant Girls That Mix.
Our theme for the evening was 'Our People' and we celebrated the joys and pains of the #eventprof way of life and the people who work tirelessly behind the scenes to deliver unforgettable events, which go beyond the senses and touch people's hearts.
Thanks to our partners Conference Emcees, LUX, Speakers Corner, The Dorchester, CrowdComms, One Take Shots for helping make the event a success.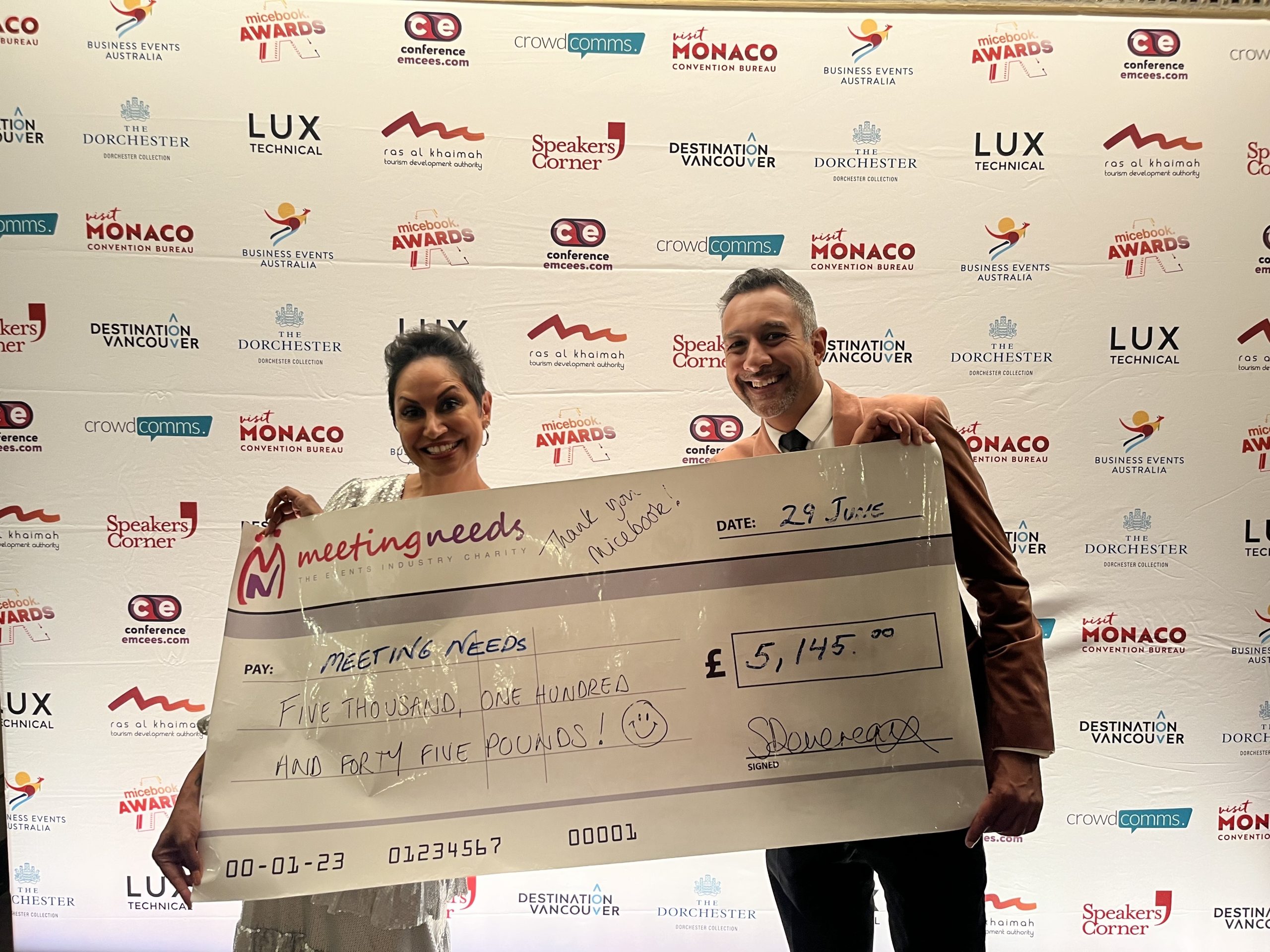 Event & Industry Partners