The Hoxton has announced it will open six new properties in key cities across Europe by early 2024. These are in addition to The Hoxton Shepherd's Bush, the brand's fourth London property, which recently revealed it will open its doors this December.
Here's the lowdown on the brand's forthcoming properties and their expected opening dates…
Brussels — opening spring 2023
Occupying a brutalist-style tower building and the former European headquarters of IBM, for its Belgian debut The Hoxton will have 198 '70s inspired rooms; a lofty double height lobby, bar and restaurant; a rooftop bar and terrace with standout city views; and The Apartment meeting and events space. The hotel (main image) is located north of the city centre, close to the Botanical Garden and the Northern Business District, and within walking distance of Grand Place.
The building will also be home to Working From_, The Hoxton's coworking brand which currently has locations in The Hoxton, Southwark (London) and The Hoxton, Chicago, with sold-out memberships in both locations.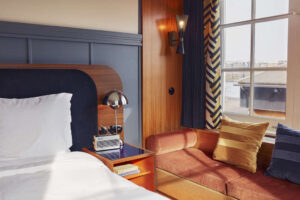 Amsterdam (second hotel) — opening spring 2023
Following the success of The Hoxton's arrival in Amsterdam in 2015, the brand will return to the city in spring 2023 with a second property in the Eastern Docklands district. Ennismore Design Studio has collaborated with Nicemakers, a local design studio who visualised The Hoxton's original Amsterdam hotel, to transform the iconic Lloyd Hotel into a Hoxton.
The building has been a landmark in Amsterdam since 1921 and holds a rich and layered history, which will be honoured and reflected throughout the design process. The hotel will boast 136 bedrooms; a large outdoor terrace; and The Apartment meeting and events space.
Berlin — opening summer 2023
The Hoxton will be in Charlottenburg in West Berlin, a neighbourhood loved for its eclectic dining scene and antique stores, and just a few minutes from the popular Kurfürstendamm (Ku'damm) shopping area. The Hoxton will take over a former hotel, which Ennismore Design Studio will be completely transforming, taking inspiration from the neighbourhood, which was at the heart of the city's creative rebirth during Berlin's Golden 1920s era, to create a dynamic destination in this elegant part of the city.
Berlin will have 234 rooms in varying sizes, each with Art Nouveau-inspired forms, expressive design details and soft, faded tones; an open lobby, cocktail bar, restaurant, and coffee shop; and The Apartment, a 1920s parlour inspired meeting and events space.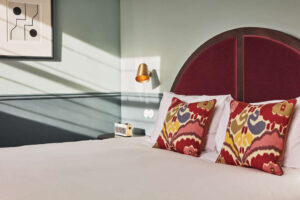 Edinburgh — opening summer 2023
Growing its UK footprint, The Hoxton will open in Edinburgh in summer 2023. The hotel's 211 rooms will be split on either side of the street, spread across 10 stitched-together townhouses, with beautiful Georgian features that Ennismore Design Studio have used as a backdrop to a design scheme that embraces block colours, subtle textures and locally sourced materials.
In addition to the hotel's bedrooms, Edinburgh will feature three 'Hox Homes': three-bedroom self-contained apartments that offer guests full flexibility and long-stay accommodation — a popular demand in a city that sees huge waves of tourism with events such as Fringe. The hotel will also comprise a lobby, restaurant, and large event spaces and a gallery, that offer many exciting local opportunities this culturally rich city.
Vienna — opening late 2023
The Hoxton Vienna will be located in a striking 1950s modernist building in Stadtpark, which has an interesting history as the former headquarters of Austria's Chamber of Commerce. This history will be reflected in the design, with Ennismore Design Studio working to restore and reclaim original features of the building, incorporating inspiration from its history and local streets into their design process.
The hotel will have 196 bedrooms, a spacious lobby and coffee bar; a restaurant and terrace; rooftop bar and pool; a basement speakeasy; and The Apartment meeting and events space. It will also be home to events auditorium, which is an exciting first for The Hoxton and will be a new home for live entertainment in Vienna.
Dublin — opening early 2024
Debuting in Ireland, The Hoxton Dublin will restore the former Central Hotel and its iconic Library Bar, taking inspiration from the original designs and legendary stories to kick off an exciting new chapter for the red-brick heritage building. With a prime location on Exchequer Street in the beating heart of the city, a stone's throw from Dublin Castle, Grafton Street and the eclectic George's Street Arcade, and some of the city's most iconic pubs, The Hoxton promises to be an exciting new destination for locals and visitors, with rich cultural collaborations, warm and welcoming open spaces and standout food and drink.
Once restored, the hotel will have 129 rooms, an open lobby, café and wine bar, restaurant, and a late-night music venue — an exciting first for The Hoxton brand.