Spaces at The Spine is Liverpool's newest destination for events, offering world-class dynamic spaces for conferences, workshops and dining, as well as event production services to accommodate virtual and hybrid events.
We're super excited to be partnering with Spaces at The Spine, which has been intelligently designed with health and wellbeing, sustainability and technology at its heart, for our inaugural micebook Ventures event this summer, giving #eventprofs the chance to experience this impressive venue first-hand.
Located in the heart of Paddington Village, Knowledge Quarter, it is housed within The Spine, the new northern home of the Royal College of Physicians (RCP), the healthiest building in the North-West, and one of the healthiest in the UK.
Here, we share some of the key features that make this venue stand out from the crowd…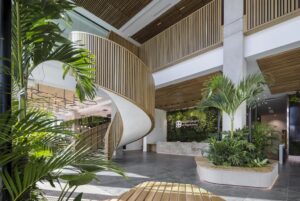 Sustainability
Sustainability has been incorporated into every aspect of The Spine from the design and build stage, ensuring it meets several accessibility and sustainability standards. For example, the fit-out of the spaces is rated BREEAM Excellent and classed as A++ ESOS-2 energy efficient.
Other sustainability features include a smart building management system regulating temperature and lighting, LED lighting, oxygen-producing plant installations, and programmable lift technology minimising journeys by empty lifts.
The venue works with First Mile Recycling to facilitate a range of recycling solutions including implementing a robust waste management programme to significantly reduce plastic waste and increase recycling.
Spaces at The Spine partners with caterer CH&CO, which is committed to operating in a socially responsible and sustainable way and has recently been awarded three stars by the Sustainable Restaurant Association. Some of its initiatives at the venue include using local and seasonal produce, sourcing fair trade produce, and putting sustainable and healthy food at the heart of all menus by prioritising plant-based, vegetarian and vegan dishes.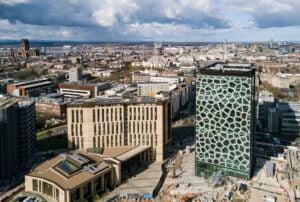 Wellbeing
Health and wellbeing strategies have been an integral part of The Spine's design process, which has been designed and built according to the strategies and ethos of the WELL Standard.
The WELL Building Standard is the premier standard for buildings, interior spaces and communities seeking to implement, validate and measure features that support and advance human health and wellness.
It comprises 10 concepts that are deeply linked to physical and mental health and that can be embedded in several areas including air and water quality, light, active design, thermal comfort and material procurement. These concepts have all been incorporated into the building design to create a happy and healthy environment.
For example, the introduction of plants at various levels throughout the building aims to improve air quality, and the naturalistic environment uses a natural colour palette. The striking Voronoi pattern on the building's façade, which takes inspiration from the human skin cells, creates a shadow effect inside that mimics the dappled light that would come through the trees in the forest.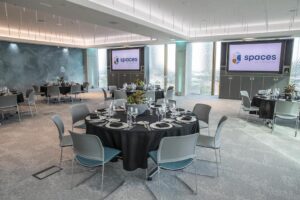 Technology
Spaces at The Spine boasts ergonomic, modern and intelligent spaces showcasing the best-in-class building connectivity and agile audio-visual systems. RCP worked with LG, Sennheiser, QSE and Dante to create a bespoke design (Q-SYS), which is unique to Spaces at The Spine and allows for next-generation connectivity within the entire building.
AV services and facilities include remote, live and post-production services, including green screen and studio options, built-in cameras, audio systems and streaming equipment, a range of versatile digital signage across the event spaces and more.
The Wolfson Virtual Theatre is an advanced technology space accommodating up to 24 people and designed to support distanced learning and collaborative workshops. Its wall of 18 55" LED screens creates an impact when used as a dynamic welcome or branding tool, and it also has a built-in, state of the art educational software facility allowing clients to host engaging, interactive learning sessions and connect with delegates anywhere in the world.
Located on Floor twelve, the cutting-edge Wolfson Lecture Theatre has double aspect views across the city and the capacity to seat up to 48 delegates. With dual 98" ultra-high-definition screens, including an interactive screen, the room has front and rear pan, tilt and zoom high-definition cameras to capture both the presenter and the audience. Digital whiteboards either side of 98" screens provide image capture and live streaming of whiteboard content to the audience within the room and virtual audiences. 
micebook Ventures aims to transform the world of business events as a force for good, and is now open for registration for courageous, change-making business leaders. The event will redefine the 1:1 buyer-supplier meetings space with a key focus on high-level content on environment, health and technology. Join us at Knowledge Quarter Liverpool and start your journey to reBuild Better at one of the UK's most inspirational and advanced venues; Spaces at the Spine, on 31 August-2 September 2022.