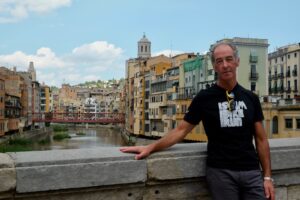 We're thrilled to announce the official launch of 'micebook Ventures', a new concept designed to challenge and disrupt old models of MICE industry shows and forums by replacing ROI with ROE – Return on Experience.
MICE industry expert Chris McQue has joined the micebook team as 'Expedition Lead' for Ventures, which will focus on shared experiences over transactional connections to be more authentic, more productive, and more enjoyable.
McQue has 35 years of experience in the MICE sector and more, including six years as Director of Buyer Relations at M&I forums, and 10 years as Director/Owner of boutique agency Creative Direction & Motivation, which worked with major corporate brands including HBOS, Chevron and Nissan.
With Chris at the helm, we're venturing beyond the battery chicken trade-show floor into a world where heightened, live experiences and global themes that matter to the future of MICE and mankind, take centre-stage.
McQue commented: "Tomorrow's World is challenging all old beliefs and norms. By doing exactly this for the Meetings & Events sector, we are producing a slightly slower, wiser, and hopefully far more valuable way of connecting industry professionals. Ventures will serve the market differently to existing shows, spaces, and forums by challenging the idea that quantity of connections drives better business – it doesn't.
"The future is about quality of relationship though relevant, shared experiences and continuous learning that helps buyers and suppliers do better (not just more) business – in a world framed by forces of Health, Environment, Technology, Governance and Social Purpose."
Ventures will offer new trading opportunities and new ways of thinking to theatrically fuse Digital, Content and Live, through an exciting set of transformative experiences
We aim to deliver practical takeaways, continuous professional learning beyond the live event and marginal gains that benefit attending stakeholders, sponsors, buyers, and suppliers, as well as their extended teams.
Piqued your interest? Here's six reasons to join our first expedition…
Innovative ideas in action within our dynamic, experiential programme
Network with like-minded peers who share a vision of the future
A world in which corporates, agencies, destinations, and venues put health, hi-tech & sustainability solutions front & centre
Shape the debate of a generation – for the future of society, planet Earth and international MICE
Design your pre-scheduled flow of 1:1 senior buyer-supplier meetings
Promote your brand live to all participants and online to our global Micebook audience
For more information and to be among the first to find out about our inaugural venture in 2022, register your interest at https://micebook.com/ventures/