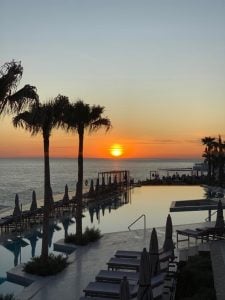 No longer just known as the party isle, Ibiza is experiencing a surge of interest among #eventprofs looking to experience the Mediterranean gem's broader offering from luxury and wellness to culture and gastronomy – as well as enjoying the party vibe of course! And a recent fam trip saw Charlotte Quy, project executive at Gray Dawes Events, do just that. Here she shares her highlights…
"This was my first visit to Ibiza, so I was looking forward to exploring what the island has to offer our clients. The fam was organised by Sarah Tennant at Star Your World and Incentivos Ibiza DMC, who kindly hosted us for the four-day trip.
We took a Wednesday morning flight from Heathrow with BA and on arrival headed straight to Destino Pacha Ibiza Resort for lunch and a quick tour. Despite being owned by Pacha, the five-star resort has a surprisingly chilled and calm vibe. The rooms are more like small apartments with very contemporary, white interior design.
After lunch we headed onto 7Pines Ibiza Resort where we would be staying. A stunning property situated on the cliff top overlooking the Mediterranean, it's not at all what you'd expect from Ibiza due to its peaceful, quiet location. I would definitely consider taking an incentive group there – it offers the best of both worlds as you have the option to chill out and relax, but are still only half an hour's drive away from the action, for those who'd prefer to party.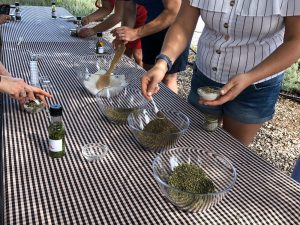 The next day we visited a town called 'La Fluxa' and took part in an "Ibiza herbs" traditional liquor workshop, where you can learn to make your own alcohol, herbs and honey. It was a nice experience as it was something a little bit different and, again – not what you'd expect from Ibiza! Next on our itinerary was a visit to the Ibiza Gran Hotel for a tour and then lunch. Another gorgeous property, with a brilliant range of event space – it could work well for both corporate meetings and incentive groups.
That afternoon we ventured off the beaten track on a jeep tour of the island before heading to the old town for a guided tour, which was very interesting and educational. Dinner was at Café Montesol in the heart of the old town, which serves great traditional Spanish tapas and would be the perfect place for a group dinner.
On the Friday we enjoyed a boat trip to Formentera island for some sun, sea, sand and a lovely lunch at El Pirata restaurant on the island, before heading to the Hard Rock Ibiza hotel, where we stayed on the final night. The rooms are lovely, but it is a completely different atmosphere to 7Pines and has more of a party atmosphere, so would suit livelier incentive groups.
We were then given a tour of Atzaro, a luxury country hotel which has 24 rooms – though rooms is too modest, as they are more like luxury villas. We enjoyed a delicious dinner there – it's a great venue for a private party or dinner event, although the location is quite remote so you would have to travel a bit if you wanted to hit the clubs after.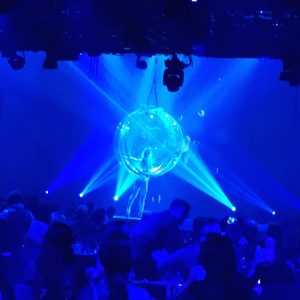 After that we headed onto Heart Ibiza, which has a cabaret show followed by club night – you can also have dinner there too. It was a very late night but lots of fun.
On our final day, we had a show round at Ushuaïa Ibiza Beach Hotel, which is very contemporary and funky, before enjoying a final lunch at Blue Marlin Beach club. We spent a few hours there enjoying the amazing food and vibes, before heading back home.
This trip really highlighted that there's so much more to Ibiza than you might think – it's got everything you need. All the food we had was amazing and while the parties were amazing, there is so much more to see and do. The itinerary that was put together was really good – it was jam-packed but nothing felt rushed, and both Sarah and Mihaela were excellent hosts. I would definitely recommend the Star Your World, Incentivos DMC, 7Pines and the island itself to clients."
Click on the links within this article to contact or view the micebook profiles on any of the venues, hotels or suppliers mentioned. Alternatively, search all our Destinations for ideas on where to take your next event and create your own inspiration board…