The UAE, particularly Dubai, is known for opulence, luxury, excitement, fun and excess and not necessarily the first-place planners would think of as a sustainable events destination. So, as sustainability becomes an increasingly important factor for planners, can the UAE be taken seriously in terms of offering a sustainable experience?
We caught up with Oussama Bou Kamel, managing director at UAE specialist Touch +971, which describes itself as a sustainable DMC, to get his take on this hot topic….
Can the UAE offer a sustainable events experience?
The answer is YES! 2017 was the year of Giving in the UAE and HRH Sheik Mohammed encouraged companies to get involved with CSR and sustainable projects, with their objective to have 45,000 companies green certified by 2020.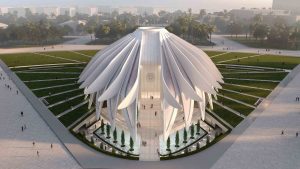 Expo 2020 is a great example of this, a key focus of the UAE pavilion is about sustainability – the building is shaped like a falcon and will have moving wings – this movement will create the energy to maintain the building and help with the water filtering of the building.
Can luxury events ever be truly sustainable?
They might not be fully sustainable yet, but many efforts are being made by the hotels, airlines and DMC's who are implementing creative ways to become more sustainable – beyond the paper straw. For example, in hotels we find: food recycling plants, micro herb gardens, rooftop beehives to create city honey, filtered water stations as an alternative to plastic bottles, bathroom amenity recycle systems, tap water reduction systems and onsite micro biologists employed to prevent damage to wildlife around the hotel and resorts to name a few.
Middle East airlines such as Etihad Airways, have flown fossil fuelled carbon neutral flights from Abu Dhabi to Amsterdam, basically flying the plane on algae. Etihad's new 787 Dreamliner aircraft operates with 20 percent less fuel today, comparable to similarly-sized aircraft.
Mundus, our UK representation, hosted a round table discussion in London and asked the panel the same questions! We received mixed reviews from agencies and corporates – interestingly a corporate on our panel shared a case study where a five-star sustainable hotel in Amsterdam was chosen over another non-sustainable five-star hotel – even though the property was more expensive, not in the desired location, but was chosen because of its green credentials. The key message from the discussion was that agencies need to educate and provide the end client with sustainable luxury options.
Are you finding that more clients are including CSR/sustainability as part of their brief?
Yes we do – our suggested activities are well received, especially by the new younger generation who are very pro in suggesting green certified hotels and  sustainable activity. Our UK representative Mundus is working across all its DMC partners, ensuring sustainable options are implemented in a fun enjoyable way.
During our round table discussion with Mundus, the panel was divided – some felt a real necessity to educate their clients on all sustainability and CSR, some would follow the lead if the corporate requested this, taking a re-active attitude. Overall the panel agreed that for incentive travel, sustainability  maybe difficult to implement – as the incentivised sales teams work hard across the year to hit their targets, and are usually rewarded with a swanky trip and should not be confronted with CSR activities e.g tree planning as opposed to racing cars in the F1 track!
What steps are you taking as a business to minimise the impact of your client's events on the environment?
For example on our recent fam trip with Mundus Representation, we offset our carbon footprint for our flight element. Additionally, when we present to agencies and event planners, we always include sustainable group activities that can be delivered in the UAE. When it comes to selecting our ground and hotel partners, we ask our partners what they implement in their company, it can be as simple as a vegetarian Monday's – all our partners have their own CSR sustainable initiatives – we ensure we communicate these to the event planners.
Can you give us an example of a recent client event that you helped make more environmentally or socially responsible?
Las month (November 2019), we conducted our very first FAM trip to Abu Dhabi with Mundus Representation. Our guests carbon footprint was offset, working in conjunction with the Give a Ghaf Tree Planting Program. The Ghaf tree is the national tree of the UAE and our guests participated seeding 22 trees, which are being kept in a nursery until they can be planted in the UAE. They also assisted in planting a tree at Jumeirah Al Whatba Desert Resort during their stay. (To note – on average a palm tree consumes over 100 litres of water compare to just 5 litres for a Ghaf Tree). Additionally to raise awareness and reduce the use of our fam trips water bottle usage, our guests received a Chilli Water Bottles on arrival in Abu Dhabi, and the venues and hotels participating in the trip provide filtered water refilling stations  – great education for all!
Do you expect event sustainability to become a bigger trend in the UAE in future?
Absolutely – The UAE is a leading nation when it comes to recycling water,  turning sea water into habitable water, harnessing energy from solar panelling and recycling.  It's a key focus of HRH Sheik Mohammed in the UAE, it's just not a nation that talks about the initiatives enough.
Click on the links within this article to contact or view the micebook profiles on any of the venues, hotels or suppliers mentioned. Alternatively, search all our Destinations or Sustainable Events Guide for ideas on where to take your next event and create your own inspiration board…