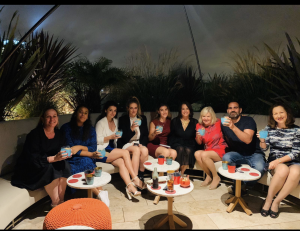 From its sunny skies to fine food and fabulous venues, there are many reasons why Spain remains one of the most popular destinations for events and incentives, as Bespoke Event Management's Alison Fiander discovered on a recent fam hosted by Factor3 Events DMC and JG Collection. Here she shares her gastronomy highlights of a twin-centre trip to Girona and Barcelona…
"Imagine departing on a flight from London Gatwick on a rather grey morning, to arrive in Barcelona less than two hours later and transfer for a truly delicious seafood lunch by the beach just 20 minutes from leaving the airport.  Spain to me is often an unsung travel hero, with such a wealth of fabulous destinations and delights in store, all a relatively short journey from the UK.  A world away in culture, cuisine and climate, I was very fortunate to join a small group to experience highlights of a two-centre trip during mid-October and enjoyed every moment.
Thinking I'd mis-heard the pronunciation, Badalona is a seaside neighbourhood just a short drive from Barcelona, with a lovely beach and restaurant in pole position overlooking the ocean.  Dining with the background sound of the sea lapping the shore was so uplifting.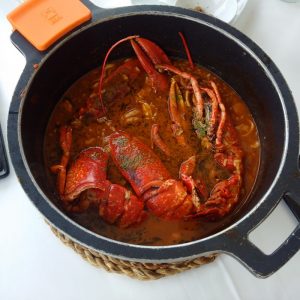 As a welcome lunch the speciality rice dish with lobster, langoustines, cuttlefish and prawns accompanied by a chilled glass of regional white wine set the tone for a gastronomic four days ahead.
Suddenly tiredness from the early morning start had totally evaporated and the onward hour's road journey to Girona went very swiftly.  Just south of Girona is the wonderful Hotel Camiral at PGA Catalunya Resort. With 145 bedrooms, excellent meeting and event space for 10-450 attendees, the renowned golf course is ranked as one of the top three in Spain and top six in Europe.  The appealing light and airy interior architecture and design make this a very comfortable and attractive hotel.
Hotel Camiral is also the perfect base to explore nearby Girona, rich in medieval history and architecture, with a fascinating Old Quarter and Roman remains.  Following a one-hour walking tour learning about the history of the region and spoilt for choice with gourmet restaurants for dinner, I couldn't resist ordering delicious truffle pasta at Cal Ros, being mid-October and truffle season.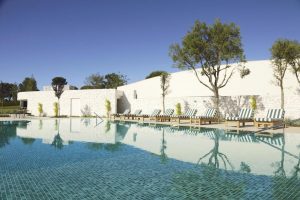 It seemed ironic not to participate in the golf clinic at this hallowed destination, but for the non-golfers amongst us, there was the chance to enjoy some warm 24 degrees Centigrade sunshine lounging by the outdoor pool.  In the Winter season for ski aficionados, snow slopes of the Pyrenees are only a one-and-a-half hour drive away over the border in France.
After another fabulous lunch including the best anchovies ever, calamari, cod croquettes, razor clams and the ubiquitous tomato bread, this time at a funky beach taverna in the seaside neighbourhood of S'Agaro, we went for a wine tour featuring two completely different producers.  First stop was to a traditional farm location where the same family has been lovingly producing wine in the same way for centuries, the only concession to change when electricity was installed.  The grapes are grown organically and according to ancient bio-dynamic principles, in tune with the phases of the moon.
After a tasting we then continued on foot for a scenic hike over the hillside to an ultra-modern facility utilising the latest technology to produce more sophisticated wines but equally delicious.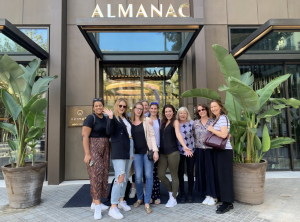 A farewell dinner at the Hotel Camiral concluded the first part of our journey, with a road transfer the following morning to The Almanac Barcelona. Newly awarded the Conde Nast Traveller Best Hotel in Barcelona Award, this centrally located city hotel is perfectly placed to offer guests a very chic and comfortable stay.  With 61 rooms and 30 suites, the latest technology in all the bedrooms provides a free-to-use smartphone for unlimited national and international calls and a bedside 7″ tablet provides information on the city and hotel services.  There are five different meeting and event spaces with capacities ranging from 10-100 people.
Easy walking distance or a bike-ride away, you're spoilt for choice with places to visit such as the famed Gaudi design Sagrada Familia Church, Placa de Catalunya, the Ramblas, as well as excellent shopping, Picasso and Textile Museums and so much more… We explored the fascinating area of El Born, full of independent boutiques and perfect for a gastronomic walking tour to sample an array of tapas.  Catalunya is home of Vermouth, so it was fitting to try this aperitif of fortified red wine as our first experience of Barcelona.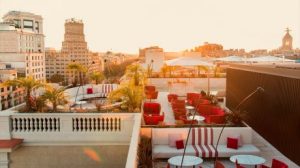 A pre-dinner signature gin-based cocktail at the Azimuth Rooftop Terrace and Lounge at The Almanac was the perfect start to our final dinner in the hotel's Linia restaurant.  Described as a Mediterranean brasserie, the food was certainly fine dining level and superb.
With a morning sailing offered as the concluding activity in the programme, we were able to make the most of a final lunch at the Maritim Restaurant by the harbour before heading back to the airport for our homeward flight.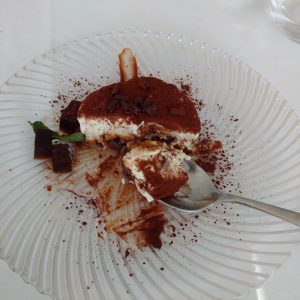 Even though we'd had a succession of incredible meals I couldn't wait to try the excellent Tiramisu I'd ordered for dessert…"
Click on the links within this article to contact or view the micebook profiles on any of the venues, hotels or suppliers mentioned. Alternatively, search all our Destinations for ideas on where to take your next event and create your own inspiration board…