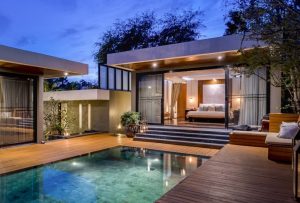 Absolutely winning the prize for the most unusual safari is the beautiful V Villas Hua Hin – MGallery. Set in one of the most scenic parts of Thailand, this new safari is bound to have a wide appeal as it pairs the privilege of spotting animals in the wild with the sheer pleasure of sampling local wines.
Madame Micebook doesn't need any convincing –she's booked in for an indulgent trip away and will be staying at one of the exclusive villas, set on a stretch of beach with its own infinity pool.
Just two hours north of Bangkok, the luxurious hideaway will prove just the tonic for a relaxing stay by the only coastal vineyard in the country, Hua Hin Valley Vineyard.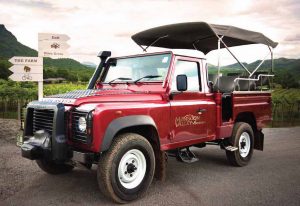 Guests can enjoy private Wine Safari Tours through the Kuiburi National Park, where elephants roam freely. After observing the beautiful giants in their habitat, Madame and friends will be able to sample a selection of wines, from Chenin Blanc to Colombard, White Shiraz and Shiraz, paired with Thai-inspired small plates.
An afternoon of walking tours and mountain biking can be arranged in the verdant surrounds before heading back to V Villas Hua Hin for the ultimate private dining experience in the villa itself. Here, the finest wines from the Valley Vineyard are served alongside a sumptuous feast of traditional Thai dishes to cap a very memorable experience.
Click on the links within this article to contact or view the micebook profiles on any of the venues, hotels or suppliers mentioned. Alternatively, search all our Destinations for ideas on where to take your next event and create your own inspiration board…
Here are some more micebook profiles worth checking out for this destination: