Nepal is a truly unique country with plenty of once-in-a-lifetime experiences, according to Penguins head of incentives Holly Mills. Here, she shares her highlights from a recent fam trip to the emerging incentive destination…
"Did you know that Nepal is the only nation in the world with a triangular flag?! Neither did I. This was the first of many surprises that I uncovered on my exploratory trip to Nepal. Having never visited before, I wasn't quite sure what to expect, but on receiving an impressive itinerary from the team at Distant Frontiers DMC, the bar was set high.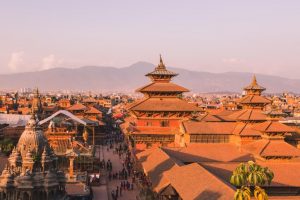 Our whirlwind adventure began in the heart of Kathmandu. Upon landing at the international airport, there is a short transfer bringing you to the heart of this vibrant city. Whilst there are many hotel options, our home for the night was the Marriott Kathmandu hotel. Set perfectly within the hustle and bustle of the city, its a great location to spend your first evening and soak up the ambience.
To give you a taste of what is on offer, Kathmandu could be described as the crossroads of the ancient civilisations of Asia. Home to over 130 historical monuments including several Hindu and Buddhist pilgrimage sites, I would describe it as a harmonious clash of cultures.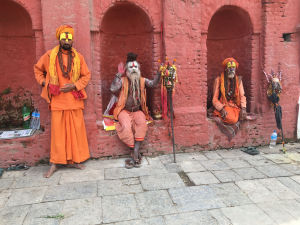 Our first afternoon was spent exploring the iconic sites of Boudhanath Stupa and Durbar Square, winding our way through the narrow alleys with our expert local guide Abid before stumbling upon the White Monastery for a unique blessing ceremony by the resident monks! As the sun set on the city, we enjoyed a spin on a rickshaw, gliding through Thamel to reach our final stop of the day – the beautiful grounds of the Garden of Dreams. This is a wonderful location and has the added bonus of being able to host prestigious gala events. Here we enjoyed a tasty meal at the resident Kaiser Café before heading back to the hotel for a nightcap.
Day two saw us depart from the city in jeeps, heading for the hills, for an invigorating hiking experience led by our very own Everest summiteer, Sherpa Singee. It was Singee who made this trip, he treated us to his tales of Everest, knew where to go for the epic mountain views and gave us a real feel for local life as we dragged our heels through the villages. Before long, we stumbled into our perfectly positioned picnic lunch, feasting on local delicacies and blissfully inhaling the mountain air.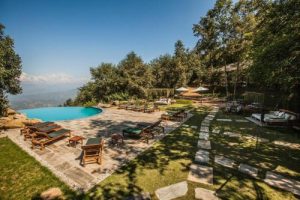 After lunch, we continued our hike to or home for the night, Dwarika's Dhulikhel Resort, where we were met with a traditional welcome and a pre-dinner soak in the hot tub! Set over 20 beautiful acres of land Dwarika's Dhulikhel Resort, offers panoramic views of the Himalayas. This unique boutique property embraces Nepal's ancient philosophy of respect for nature and one's self, providing a fully immersive holistic experience. Pre dinner we assembled in the Zero Zone Meditation Maze for an in-house priest blessing ceremony before tucking in to a three-course meal at the hotel's impressive restaurant.
Following a very restful sleep, it was time to explore the multiple activities available onsite, as well as cast our eye over the unique private event spaces. With its own helipad, the resort can provide a direct route to Everest Base Camp, offering a real once in a lifetime experience, with options to enhance this with a champagne breakfast! From here we made our way on to Bhaaktapur Durbar Square, to try our hand at traditional 'Momo' making hosted by a local restaurant.
We enjoyed lunch from the rooftop overlooking the square as we explored creative gala dinner options to include atmospheric lighting and cultural entertainment processions through the square to mark the occasion. That evening, we were taken on a culinary journey of Nepalese fine dining with a six-course meal hosted at the Krishnarpan restaurant within the Dwarika's sister property in Kathmandu. The beautifully designed hotel offers a treasure trove of unique artefacts from the 13th century and oozes elegance perfectly suited to its owner Sangita Shrestha, who hosted the evening for us whilst sharing stories of the iconic hotels history.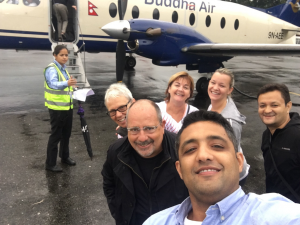 The last day was set to be the best yet. Despite the early start and bleary eyes, the atmosphere was electric as we boarded our mountain flight to experience the Himalayan mountain range up close! Our toast to the summit of Mount Everest was the perfect opportunity to reflect on the action packed last few days and all that we had been privileged to have experienced.
With feet firmly back on the ground we made our way on to our last stop of the day via Pashupatinath Temple to Patan Durbar Square for a magic signing bowl experience and a unique interactive session with an ex Kumari. After a swift lunch we said our goodbyes and headed on to the airport for our return journey home taking our memories with us.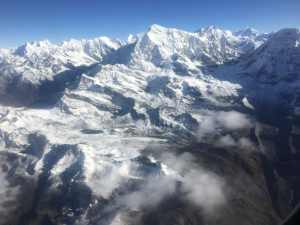 It is fair to say that this whistle stop adventure of Nepal has ignited the fire to return as it is clear that we have only scratched the surface of the possibilities on offer. This truly unique destination has it all – rich culture, ancient history and is far from short of the 'wow' factor with plenty of once in a life time opportunities.
Traveling with the team at Distant Frontiers was a real pleasure as their meticulous attention to detail proved that they had taken care of every eventuality. From personalised water bottles and hiking gear to beautifully crafted singing bowl pillow gifts, the subtle touches allowed us to experience the destination as our guests would – like true VIPs! We can't wait to showcase our findings to our clients."
Click on the links within this article to contact or view the micebook profiles on any of the venues, hotels or suppliers mentioned. Alternatively, search all our Destinations for ideas on where to take your next event and create your own inspiration board…