Andy Hammond, director of Elite Event Connections, gives the lowdown on a recent fam trip to Vietnam, which he describes as a magical destination…
"If I had to choose three destinations on my wish list to visit Vietnam would have been top of that list. And with huge thanks to Phillip Skyba at EXO Travel and Thai Airways, I was able to make that wish a reality. Along with my fellow "fammers" we set off to discover just what this intriguing destination had to offer.
When we arrived in Vietnam, after an 11-hour flight via Bangkok, we all felt understandably jaded, but fortunately the bustling city of Saigon was bristling with an energy that was impossible to deny. Once we'd checked into our first hotel, The Park Hyatt – a beautiful French colonial property in the centre of Saigon – we were shown around and given a delicious lunch consisting of typical Vietnamese cuisine.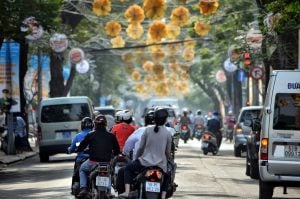 Afterwards we were given a brief tour of the city, and as we drove from site to site in our tuk-tuks we were immersed into the city where almost everyone gets about on a scooter. The first thing we all noticed was just how happy and friendly everyone was. It was a genuine happiness too and given their not-so-distant historical turmoil, it was an unexpected but pleasant surprise. Later that evening, as we were driven pillion on the back of scooters to the restaurant, we were treated to what it was really like to drive through the chaotic traffic of Saigon. It was a truly exhilarating experience and more than once I just closed my eyes as my life flashed before me. But the drivers knew exactly what they were doing and everyone just gets with it.
After a lovely dinner we were treated to another eye-popping experience as we went for cocktails at Chill Skybar. This is one of the places to go if you're in downtown Saigon; twenty odd floors up, looking down at the bright lights of Saigon this was indicative of everywhere else we'd visited so far. Everyone was super-friendly, from the other guests, to the bar staff, to the security – it was a great first day initiation.
Next morning, we checked out of our hotel and after a long but rapid boat ride we arrived at Cu Chi tunnels. Anyone with the slightest curiosity about the Vietnam War (or the American War as the locals call it) needs to visit here. I found it a very emotive visit; sampling what life was like for the North Vietnamese soldiers living a lot of the time under ground in their tunnels was very a sobering experience. This was brought home when we were all allowed to fire an M16 combat rifle on the firing range. Firing these or even just hearing one being fired really instilled the noise and violence that these weapons must've reaped.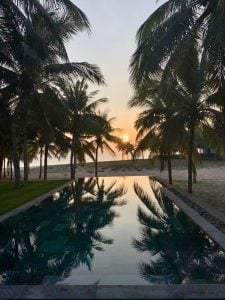 Later that afternoon we hopped on a plane to Da Nang where the Four Seasons Hotel welcomed us. It has to be one of the most impressive and welcoming hotels I've had the good fortune of staying at. The villa (yes, villa!) which I shared with two of my companions backed onto the beach via a lengthy infinity pool that itself backed onto a communal living room villa we shared. Each of our sprawling private villas featured modern fixtures and fittings, outdoor shower and a four-poster bed that was to die for. After one of the best dinners I'm ever likely to have, the impulse not to have a late-night private pool party proved too much. Sometimes you've just got to just seize the moment and appreciate that these opportunities don't come around that often.
Next day we visited Hoi An, which is a must for anyone visiting Vietnam. We saw it during the day, which was enchanting enough, but it's best seen in the evening when the countless lanterns that decorate this ancient town are lit up. Dinner that evening was at the splendidly quirky and extravagant Intercontinental Da Nang. Sprawling down to their own beach from the hills above, this is a fabulous property with lots of different accommodation and dining options along with an awesome ballroom that really has to be seen to be believed.
After the hardship of checking out of the Four Seasons, we were back at Da Nang Airport to board our flight to Hanoi the capital of Vietnam. Once we'd checked into our hotel, the Sofitel Hanoi – another beautiful, classic, French colonial hotel – we were given a tour of the city. Back on the scooters that evening, and with another hair-raising ride, we arrived at a local beer garden where we were informed just how cheaply you could eat and drink if you were to properly immerse yourself and step away from the five-star hotels. A beer here cost just 30 cents!
The next day we drove up to the mountains of Yen Tu, where we had the luxury of staying at the Legacy Yen Tu – MGallery there. In keeping with everything else we'd been shown during our trip, this hotel and region were jaw-dropping. When I opened the huge doors leading out to my bedroom balcony, I was taken aback by what greeted me. The scenery was so lush and unspoilt that I was reminded, if I needed it, that I could only have been in Vietnam. And once we'd taken a cable-car up to the Pagoda high up in the mountains and filled my camera with photos, I realised that this was exactly what I wanted Vietnam to be; scenic, un-westernised and traditional. It was a true feast for the senses.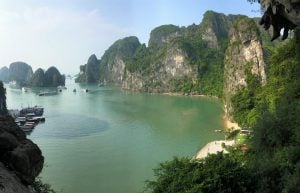 Next morning brought us another change in destination; this time we were set to embark on a one-night cruise aboard the President Cruise ship. The ship itself was of a high standard and the cabins were modern and spacious – it was easy to forget you were actually on a ship at all. But what made the journey so special was the scenery. We had the stunning backdrop Halong Bay – a cluster of nearly 2,000 little islands of varying sizes – constantly distracting us from everything else. A magnificent sunset followed by a blood-red moon on that final full evening of our stay in Vietnam seemed very much in keeping with everything else that had gone before. One word that I could use to sum up the trip and Vietnam in general… Magical.
I think Vietnam will work really well for incentive groups. There is just so much to see and do and your money will go much further there than in many other destinations. We packed two weeks' worth of activities and sight-seeing into one week and that is testament to how much is on offer in Vietnam. If you're thinking of taking a group out there, don't hesitate, do it. They won't be disappointed.
Click on the links within this article to contact or view the micebook profiles on any of the venues, hotels or suppliers mentioned. Alternatively, search all our Destinations for ideas on where to take your next event and create your own inspiration board…