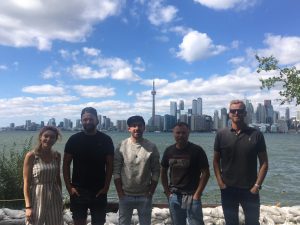 Last month, the Tourism Toronto team hosted Josh King, head of business development at emc3, on what he describes as a perfectly planned familiarisation trip that showcased the best of what Toronto has to offer. Here he shares his highlights and why he thinks Toronto is the ultimate MICE-destination….
"Canada is a destination that keeps popping up more and more, and now I've visited, it's clear to see why Toronto plays host to some of the world's biggest and best events including the Hot Docs Festival, Taste Toronto, The Royal Agricultural Winter Fair and Collision – North America's fastest-growing tech conference.
Everyone in my network who I'd spoken to about Toronto ahead of my trip had great things to say, but to really experience the magic, you need to visit for yourselves. It's a destination that has something for everyone – great venues, amazing food, stunning architecture, bustling nightlife and the highest skywalk in the world!
We were lucky enough to explore Canada by land, sea (sort of) and air and it certainly didn't disappoint. It has become apparent why Toronto is the ultimate MICE-destination. We were in town during TIFF (Toronto International Film Festival) which meant there was an incredible buzz around town.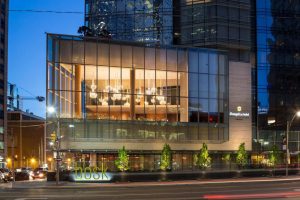 We stayed at the beautiful Shangri-La Hotel which is located between the business and entertainment districts. It's an elegant, modern venue which is perfect of conferences and incentives alike, boasting 202 rooms and suites. The food, service and accessibility are second to none!
We kickstarted our adventure of Toronto with an interactive city tour, visiting some of the city's hidden gems which included Kensington Market, University Row & MaRS Discovery District, Yonge Dundas Square, Distillery District and Sidewalk Labs. There are so many incredible sites to visit, which is no surprise when you consider Toronto is the fifth largest city in North America only surpassed by Mexico City, New York City, Los Angeles and Chicago.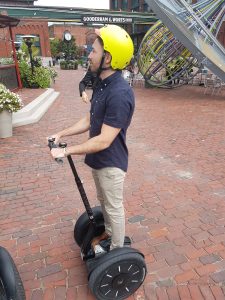 The insightful and engaging city tour was followed by a Segway tour of the gorgeous Distillery District – a picturesque neighbourhood bursting with history. It's an area that once housed one of the world's largest whisky distilleries and is now widely regarded as Canada's premier arts, culture and entertainment destination. It's a must visit when in town, whether by foot or the speed of a Segway.
An action-packed morning culminated with a delicious lunch at El Catrin, a vibrant tapas restaurant famed for its authentic Mexican cuisine, off-the-hook cocktails and its bar that sells over 120 varieties of mescal and tequila – more than any other bar in Canada!
Friday afternoon's activities were a brilliant contrast to what we had experienced that morning. A Sunset Craft Beer, Wine, Cheese & Charcuterie Tasting Cruise on Lake Ontario hosted by Chef Scott.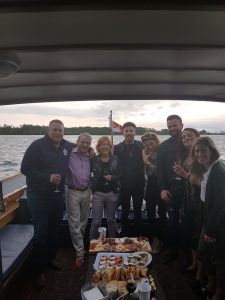 We enjoyed fresh oysters, Chefs Scott's award-winning Clam Chowder, artisan Ontario cheeses and charcuterie from the historic St. Lawrence Market, fine chocolate from Toronto's award-winning chocolate maker – Soma, an Iconic Canadian dessert along with locally brewed Ontario craft beers and wines from three distinct Ontario wine regions – Niagara, Prince Edward County and Pelee Island. Superb food paired with funny stories and a brief history of Toronto amongst the stunning backdrop of the Toronto skyline made for an evening I will never forget. I couldn't recommend this tour highly enough!
If that wasn't enough, as the boat docked, we were whisked away to Cirillo's Academy for an interactive dining experience in the heart of the city. We were given a cooking masterclass by Cirillo himself before being split into groups and tasked with cooking dishes under the watchful eye of the culinary wizard. This is a tremendous activity for groups of all shapes and sizes, but be warned, it can bring out people's competitive side!
That night we visited some of the best bars Toronto has to offer, Paris Paris and Bangarang. The city has an astonishing variety of bars and nightclubs and is full of razzle-dazzle making it a tremendous choice for incentive groups.
We awoke Saturday morning to glorious sunshine and headed to Smith Restaurant for a scrumptious breakfast – I couldn't recommend the Huevos Rancheros highly enough. Smith Restaurant is an eclectic restaurant selling homemade, locally sourced food in a bright and airy setting; perfect for small groups looking for a true taste of Toronto.
We then saddled up and embarked on the Toronto Island Bicycle Tour. Toronto Islands is a five-kilometre oasis of 15 interconnected islands that locals have been escaping to for fun, relaxation and tranquillity for over 200 years. It's an idyllic setting and is only a short ferry ride from the hustle and bustle of Downtown Toronto. It's a quaint cottage enclave that boasts the largest car-free community in North America and stunning views of the City skyline. It offers something a little different and is a great place to relax and soak in some of Toronto's history.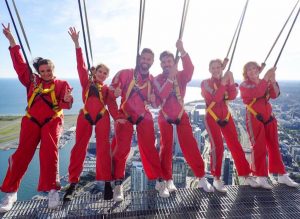 A relaxing and blissful morning was juxtaposed by an afternoon which can be summed up in three words – terrifying, remarkable, and unforgettable. We visited the world-renowned CN Tower to experience the EdgeWalk – a hands-free walk 1168ft above Toronto. Once the ephemeral terror had passed, we were able to enjoy the spectacular views over the Toronto skyline as far as the eye could see. I can't express how highly I recommend this experience. It's a must visit for all thrill seekers and lovers of heights!
After what can only be described as the most exhilarating and emotionally exhausting experience of my life, we headed to what is arguably Toronto's most famous dining hotspot, LEE Restaurant. Balancing the epicurean traditions of China with the classical techniques of French cuisines, Chef Lee improvises a daring and original menu that will amaze even the most discerning pallets. Make sure you order the signature slaw, it's an experience unto itself!
Sunday marked the final day of an outstanding programme and the best was yet to come. We took a short transfer over to Niagara for a day of fun in the sun. Niagara Falls sits in the middle of New York and Ontario and attracts around 30 million people each year. It's a site that is around 10,000 Years old and is made up of three magnificent waterfalls. On arrival, we experienced the white-water rapids via the jet boats which was awesome! We then explored Niagara by foot before taking to the skies for a helicopter tour of the falls!
The day came to a close with a tremendous lunch a Peller Estates. Chef Jason Parsons' inspired farm-to-table wine country cuisine was paired perfectly with award-winning Peller Estates wines, sweeping vineyard views and impeccable service. Peller Estates is an outstanding venue for large groups and serves some of the best food in Niagara. The Ice Wine is a must-try when you visit and makes for the perfect gift to take home to loved ones!
If you're planning a trip to Toronto anytime soon, you need to reach out to the amazing Tourism Toronto team: Mark Crawford, Roger Bradley, Kathryn Dalziel and Alison Owers-Graham. I can't wait to head back to Toronto with groups in the near future. It's a remarkable destination with more to offer the MICE industry than can possibly be summarised in one interview."
Click on the links within this article to contact or view the micebook profiles on any of the venues, hotels or suppliers mentioned. Alternatively, search all our Destinations for ideas on where to take your next event and create your own inspiration board…