As the winter nights roll in, who couldn't be tempted for a spot of California dreaming? Madame Micebook is off to the beautiful Sierra Nevada mountains this winter to discover the homely charms of the Hounds Tooth Inn. With just 13 rooms, this small yet luxurious family-owned lodge is just the base for discerning guests looking to explore the famed Yosemite National Park.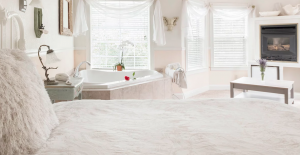 Set in three and a half acres of land in the foothills of the mountains, the inn has been painstakingly refurbished by its new owners, bringing contemporary chic to the lodge while retaining every comfort – think whirlpools, fireplaces and a patio with striking views of the surrounds.
For groups, the 850-square-foot Summer House is the ideal and features a private entrance, full kitchen, dining area, sofa and twin day bed in addition to a king bed. During the day, the concierge can advise guests on the best trails to take to spot black bears, owls and the Sierra Nevada bighorn sheep.
Madame Micebook has her eyes on the Madera Wine Trail, which she'll enjoy after a morning horseback ride through the ancient sequoia trees. Meanwhile back at the lodge, tales of adventures can be swapped over a relaxing glass of regional wine and tapas.
Looking ahead, the inn's owners will break ground on 50 modern, steel-and-glass cabins designed by New York architect Jiwon Yoo, Baccarat Hotels' former director of design. The project is expected to take two years to complete and will enable the property to host larger incentive groups.
Click on the links within this article to contact or view the micebook profiles on any of the venues, hotels or suppliers mentioned. Alternatively, search all our Destinations for ideas on where to take your next event and create your own inspiration board…