Summer may be coming to a close, but there is still plenty of time to enjoy the post-work evenings and weekends high in the sky. With temperatures plateauing, there is no better time to be jostling for al fresco dining tables and rooftop bar spaces, channelling Mediterranean vibes without jumping on a plane (and incurring all the costs).
Discover the hottest spaces to experience London at height with recommendations from CWT Meetings & Events EMEA vice president and London expert Ian Cummings…
1. SUSHI SAMBA
Where? Heron Tower, Liverpool Street
The distinctive yet cozy outdoor terrace is home to the iconic clementine colored tree, which canopies over the elegant bar. It makes for the perfect "Instagrammable" hotspot, especially with panoramic views from both the terrace and the restaurant up on the 38th floor. It is the perfect venue for a private event too, with fantastic Japanese food to match.
2. RADIO ROOFTOP
Where? ME Hotel, Aldwych
An all-time favourite for many Londoners in the know. Radio (main image) stands as one of the most iconic rooftop bars, serving up delectable tapas using seasonal and locally sourced ingredients. In addition to the picturesque views over the Thames and London's skyline, you will be bopping to be beat of some great tunes from resident DJs
3. SAVAGE GARDEN
Where? Hilton DoubleTree, Tower Hill
If you are looking for something different, try Savage Garden within the world-renowned DoubleTree hotel. Recent refurbishments brings a little bit of sass and excitement to your visit. You can expect great vibes inside the bar, or head out to the Pink Gin Terrace to soak up the gorgeous city views with opportunities to block off areas of the bar for events. Try out their imaginative cocktails inspired by the City of London and the streets below alongside the great sharing platters, and nibbles, which make for a perfect evening for groups.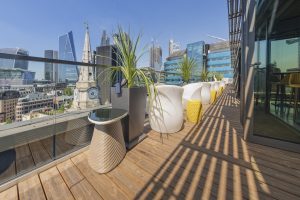 4. JIN BO LAW
Where? Dorsett Hotel, Aldgate
Transport yourself to the 14th floor of the Dorsett City Hotel, in the bustling area of East London. Cast your eyes on the iconic views of London's famous skyscrapers such as the "Gherkin", the "Cheese Grater", the "Walkie Talkie" and more.  This little gem is a popular spot for small groups, or those looking for a pre-dinner cocktail before experiencing the Chinese restaurant within the hotel, Shikumen. Take your taste buds through a journey of mixology, as unique ingredients come together into delicious concoctions..
5. UPPER 5TH SHOREDITCH
Where? Court House Hotel, Shoreditch
Tucked away in back streets of Shoreditch resides the exact same rooftop of the old Shoreditch Court House, where the Cray Brothers were once held. You can even visit Ronnie Cray's cell too. Beyond the building's criminal history, the cocktails served may try to steal your night along with good music and some great Instagram inspired spots on the terrace. Think swinging chairs on chains wrapped in floral displays, it is blooming great!
6. SOHO HOUSE
Where? Shoreditch House, Shoreditch and White City House, White City
Soho House remains as one of London's sought after private members clubs, boasting exceptional rooftop bars in London. If you're lucky enough to be a member, or have a friend that is, experience Shoreditch House's alfresco dining, unique cocktails and dance your way into the night to the beat. More recently opened, White City house has an equally great vibe and al fresco options. Soho House attracts the cool crowd, which means no suits, ties or photos allowed – so edgy!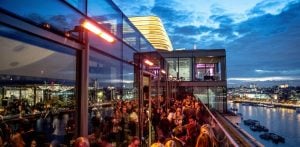 7. 12TH KNOT
Where? Sea Containers Hotel, Southbank London
One of my favourite picks for a nightcap would be terrace at 12th Knot, at the Sea Containers Hotel. The eclectic bar is fantastic, residing right on the Thames with scenic views across Blackfriars and St Paul's Cathedral. The vibrant energy is contagious, but the venue welcomes all guests, even those who wish to curl up by the window and have a mellow evening indoors.
As it seems, every new opening in London has a rooftop bar like Alto by San Carlo at Selfridges and there are so many other great locations with outdoor spaces like Pergola for big groups, Madison, Vertigo & City Social, The Boundary, Aqua Spirit, The Rooftop, Culpeper, OXO tower and many more. Where will you choose?
Click on the links within this article to contact or view the micebook profiles on any of the venues, hotels or suppliers mentioned. Visit our London Guide for more inspiration or search all our Destinations for ideas on where to take your next event and create your own inspiration board…