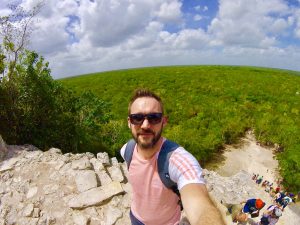 From bustling cities to gorgeous palm-fringed beaches and hidden ancient Mayan temples, Mexico has plenty to offer incentive groups, with activities to suit all tastes, as Top Banana account director Ian Cooke found out on a recent fam trip to Cancun and Riviera Maya. Here, he shares his highlights…
"When I thought of Mexico before going on this trip, I pictured crazy spring break parties and honeymooners lazing on idyllic beaches with crystal clear waters. What a juxtaposition!  After spending four full days exploring parts of this amazing country, I realise it's all that and so much more!
Mexico is a country with a unique balance of history, culture and tradition with more modern commercial offerings of resorts and leisure attractions. This is what really made it stand out for me. Whilst we spent time in 5* resorts, eating luxury dinners and sipping on a cocktail or two, we also got to immerse ourselves in some of the most awe-inspiring natural and historic experiences the country has to offer. Let me break it down.
Hosted by the amazing Avenue Sales and Marketing, MM and Company and British Airways, we flew into Cancun where we stayed for one night before heading down to the Riviera Maya, a stunning stretch of Caribbean coastline on Mexico's north-eastern Yucatán Peninsula, for 3 nights. This area has an unbeatable selection of venues to choose from, offering everything from trendy beach front resorts and luxury hotels to more authentic Mexican accommodation.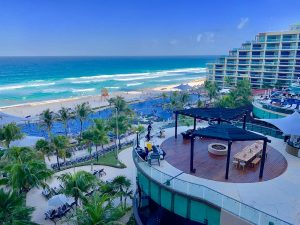 Our first night stay was at the fantastic Hard Rock Hotel Cancun (right). This all-inclusive resort definitely offers the element of fun with lavish rooms (including a jacuzzi next to the bed!!), rock star amenities and a great atmosphere, whilst still offering a chilled vibe and amazing beachfront setting. With its cosmopolitan flair, this hotel would be great for a sales incentive trip or group of millennials who are up for kicking back and having a good time. We were also lucky enough to visit the Hard Rock Hotel Riviera Maya which boasts 1,264 rooms, its very own water park, and Woodward, an indoor thrill seekers paradise with skate park, parkour course and foam pits. This hotel really does cover it all.
In contrast, the rest of our stay in Mexico was at Hotel Unico 20 87, an adult only luxury resort with a holistic spa and wellness centre. Whilst still a large resort, it still offered our group a bespoke service, such as planning an amazing intimate poolside evening dinner. This hotel subtly immerses guests in the culture of the region through its luxurious reflection of modern and traditional Mexico.
Our first day out was spent at 'Rio Secreto' where we swam and hiked through 1km of breath taking natural underground rivers and caves full of stalactites and stalagmites. Similarly, we also visited the Coba Archaeological site, a historic Mayan settlement which we explored on bicycles as a group and climbed the 120 steps to the top of Nohoch Mul Pyramid. Both these activities were a great way to escape the modern Mexico experience and immerse us into another side of Mexico we hadn't yet seen.
If you're looking for a livelier experience, I have to recommend an evening at the incredible Coco Bongo's. Something I can only really describe as a mix of a Las-Vegas style show with a Mexican fiesta in a non-stop, mind-blowing bonanza. It's definitely become famous world-wide for a reason and I would highly recommend as part of an incentive trip.
We finished off our FAM trip with a relaxing day at the hotel, making use of the pools, spa wellness centre and final dinner with celebrity chef Xavi Perez Stone, before flying home business class with BA to end a perfect trip.
All in all, I loved my Mexican experience and would highly recommend it for both incentive trips and global meetings and events. With good global accessibility, an endless choice of venues and it's mix of modern and historic charm as well as it's friendly people, this is a destination I will certainly be recommending in the future for work, for play and definitely for a mix of the two! "
Click on the links within this article to contact or view the micebook profiles on any of the venues, hotels or suppliers mentioned. Alternatively, search all our Destinations for ideas on where to take your next event and create your own inspiration board…