One of the most charismatic and vibrant cities of Europe, Lisbon effortlessly blends traditional heritage, with striking modernism and an ever-growing portfolio of high-end hotels and event venues. Planet Pursuits venue finding & events assistant Amy Adams, was suitably impressed by the Portuguese capital on a recent fam trip with SANA Hotels. Here she share's her highlights…
"I had never been to Lisbon before so was delighted to get the opportunity to join a three-night FAM trip for UK buyers in July.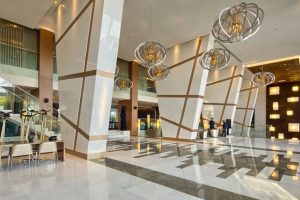 We stayed at the Epic SANA, which was lovely – it's a very sleek and modern property that would be well-suited to both meeting and incentive groups. The rooms were spacious and finished to a very high-standard, and the hotel offers two restaurants and a number of meeting spaces.
The meeting spaces are all on basement level and are quite large and versatile so would work well for larger meetings, conferences and exhibitions as well as those that need a lot or break out space.
We arrived on a Thursday evening and enjoyed dinner at the Epic SANA that first night. The following morning, after a relaxed start, we were treated to a sailing regatta to explore the monumental quarter of Belem from the water.
It was an amazing experience and completely different to anything I'd ever done before. We all got involved and were given the opportunity to learn some basic sailing skills. We were split into two groups and raced the other group, so there is the potential to make it a competitive team-building activity or just sail at leisure if you'd prefer.
After that, we transferred by gocar to SANA Malhoa for lunch. The gocars are a bit like go karts but you drive them on the road – it's a really fun way of exploring the city or making transfers from one place to another a bit more exciting. The SANA Malhoa is a beautiful property with a more central location, but less meeting facilities than the Epic so would be better suited to smaller meetings or incentive groups.
Later we enjoyed a tuk-tuk transfer to discover the old town, before drinks and dinner at the SANA Lisboa, which was also a very nice property.
On Saturday, we headed to Cascais for a classic car drive along the coastal road down to the F1 track. It was stunning and a great experience for groups. With around 50 classic cars to choose from, including Aston Martins, Mercedes and Mustangs, they can cater for groups of up to 100.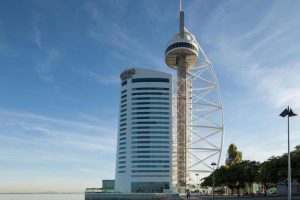 Dinner that evening was at the Myriad by SANA, an incredible property that overlooks the Tagus River. Every room has a river view and the hotel is quite unique with its black and red colour scheme. There's a beautiful terrace that wraps around the hotel with fantastic views, and we had fabulous dinner watching the sun set.
After a final brunch at the Epic on the Sunday morning, we headed back to the airport. Lisbon is a beautiful city, it's easy to get around and I was impressed by all the SANA properties, who looked after us really well. SANA came and presented to our agency shortly before the trip, so it was great to then get the chance to see and experience the hotels first-hand. Lisbon is not somewhere I have personally held events, but I would definitely consider it now."
Click on the links within this article to contact or view the micebook profiles on any of the venues, hotels or suppliers mentioned. Alternatively, search all our Destinations for ideas on where to take your next event and create your own inspiration board…