Zannier Hotels, the very discerning group behind much-admired properties like Le Chalet in the French Alps and Cambodia's Phum Baitong, is bringing its signature blend of luxury and comfort to the Namib Desert.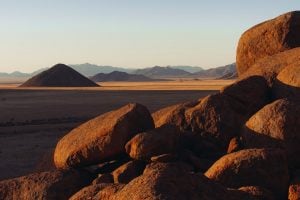 Set on the southern edge of the Namibian desert in the Karas region, within a jaw-dropping nature reserve, lies a very special lodge, known as Sonop Namibia. With vestiges of the British Colonial 1920s, this retreat is made up of ten spacious tents, filled with bright carpets, dark woods and curated antiques.
At the centre of the camp lies a restaurant area which serves breakfast and nibbles and light dishes at noon. Meanwhile, guests can also prop themselves up at the pool bar and stare out in to the awe-inspiring desert. As dusk falls, preparations begin for a magical gala-style dinner.
A large communal table in a secret location is the backdrop for a silver-service five-course dinner, served by butlers. Post-prandial drinks can be taken in the Cocktail & Cigar Lounge, which also features a billiard table and parlour games. The next morning, blast the cobwebs away in the spa and heated outdoor infinity pool, both of which look out on to the vast desert surrounds.
Click on the links within this article to contact or view the micebook profiles on any of the venues, hotels or suppliers mentioned. Alternatively, search all our Destinations for ideas on where to take your next event and create your own inspiration board…
Here are some more micebook profiles worth checking out for this destination: