Remember your first school trip? Mister Micebook can't help but revisit his…
Ah summer term – kicking back, looking forward to those holidays and blissful days of UK road trips. Plus ça change, reckons Mister Micebook as this summer, he'll be reliving his very first school trip as he journeys back to Somerset's oldest attraction, Wookey Hole.
Sure, he may be mentally scarred from his trip there as a young lad, when the cave's witches-in-residence instilled fear in to his pre-teen soul, but he's all grown up now and ready to face the show.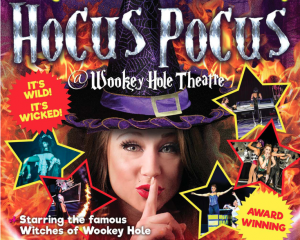 And what a show it is set to be – a whopping £1 million has been invested as circus legend Gerry Cottle passes the theatrical baton on to his daughter Sarah, granddaughter Ellen, and a talented team for Wookey Hole Caves' newest family show, Hocus Pocus.
Led by a cast of nine women and featuring the caves three witches, the 90-minute show includes illusions such as The Fire Spiker, The Eclipse, and the Excalibur illusion.
Hocus Pocus will be running for 12 nights through July and August and is directed by Will Ramsay, stunt coordinator at Pinewood studios, Shepperton, and Leavesden, who has been involved in films including King Arthur, Fantastic Beasts, Maleficent, Star Wars, and rather aptly Roald Dahl's Witches.
Click on the links within this article to contact or view the micebook profiles on any of the venues, hotels or suppliers mentioned in this article. Alternatively, search all our Destinations for ideas on where to take your next event and create your own inspiration board…