The DMC and hotel representation sector appears to be thriving in the UK, so much so that three brand new companies – Star Your World, GO Beyond and Mundus Representation – have been launched in the past few months alone by well-known MICE industry faces. Between them, they represent partners from Italy to India and Abu Dhabi to Africa. We catch up with the founders to find out the story behind these new ventures and their plans for the future….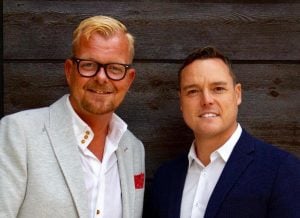 Mundus Representation
Founders: Wayne Redman (Formerly Pearl Representation, Viceroy Hotel Group & Etihad Airways) and Andre Van Der Bijl (Formerly Jumeirah Hotels & Resorts)
What's the story? "Collectively, we have over 40 years industry experience working in the UK and abroad for DMCs, airlines, hotels and marketing representation, and we both also have an intimate knowledge of the UK MICE market. We wanted to bring all that knowledge and experience together to deliver optimal events.
There are a lot of representation companies out there, but we felt there was still a lot of great product from some great destinations that isn't yet being represented in the UK. We also felt there was space for a company with a more niche approach than some of the larger representation companies, focusing on a few select partners in key destinations."
Brand promise: "Our strap line is 'Your World. Our Passion'. As illuminated by the company name, Mundus, Latin for 'The World', our philosophy is to bring global five-star luxury and high-end brands to the UK MICE market, delivering a personal service which ensures increased market share, brand awareness, and specifically revenue delivery to our partners. Our aim is to specialise in markets we are familiar and have strong bonds with, and where we are recognised as the destination experts."
USP: "We are passionate about our destinations and want them to last for future generations to come. We believe that 'Sustainability' and 'Well Being' are more than just buzzwords. They represent one of our core principles and at Mundus we will strive to ensure they become an integral part of our ethos and that of the MICE industry. Our DMC's are well prepared to include as little or as much sustainability, body mind and soul into your next proposal as you and your client would like and at least one green certified hotel option is given in any proposal.
We want to ensure that if you want to organise a sustainable incentive with philanthropic activities you know where to go, Mundus Representation. From releasing turtles into the Gulf at the Dubai turtle rehabilitation centre to washing the elephants in an elephant sanctuary in India – we can create thoughtful once in a lifetime memories and bucket list experiences, knowing we have done something good and have given back to the destination we visited. Mundus Representation will also off-set all our carbon footprint for business travel including all delegates on FAM trips to plant a forest."
Clients: Designer Incentives and Conferences (India, Sri Lanka, Bhutan and Nepal), Touch+971 (UAE and Oman). We also talking to a potential DMC partner in Africa and some properties in the Middle East, which we hope to announce soon.
Three-year plan: "Our aim is to find destinations that complement each other while remaining niche and specialist. Across the next three years, we are probably not looking to grow to more than ten suppliers, with the potential to recruit a sales and marketing person to support us, so we can focus on delivering the best service for the destinations we represent.
Founder: Sarah Tennant (Formerly SANA Hotels & Barcelo Hotel Group)
What's the story? "After many successful years of working in sales roles and growing businesses, I reached a point where I desired personal fulfilment. I wanted to invest in myself build a company from zero and make it grow. My passion and drive for the events industry along with my international experience made me want to support event planners more. Being the middle link in between them and the destination management company, makes the process for event planning much easier having first hand support than it may have otherwise been."
Brand promise: "To connect and inspire industry professionals whilst leading the way to successful events. Our five core values are: Service – to understand and match what customers are looking for with the services we offer; Committed – with dedication to the success of our customers and partners; Professional – continuing to impress at a five-star standard; Trust – maintaining our reputation as a reliable and trusted source; Excellence – strive for excellence in all we do."
USP: "To gradually grow and nurture the portfolio of both the DMC partners and event planners at a steady pace. We have spent years building our relationships with the personal touch within the industry where a great deal of trust with clients has been established. The destination companies we work with are carefully chosen based on their experience plus references and must also understand the demands of the UK market. Upon every new DMC we undertake a welcome visit to the destination meet the team and carry out various site inspections of venues, restaurants and hotels so we can feedback to clients."
Clients: TA DMC Portugal, incentivos Ibiza DMC, Studio ITER DMC in Italy and Destination Arabia DMC.
Three-year plan: "In the first year, our strategy is to be operating a profitable business with a select number of destination management companies to represent. Over the three years, the strategy is to expand the portfolio of DMC's which in turn will give a greater offering of destination choice to our customers."
Founders: Kate Moss (formerly GP Associates) and Michelle Lawrie (formerly River Agency)
What's the story? "Michelle and I are great friends and share the same passion and enthusiasm for the industry. Having been around for many years, we love what we do so it was our dream to create an exclusive representation company together that combines both of our unique skill sets and personalities."
Brand promise: "Ultimately it's to go above and beyond for agents and our DMC and hotel partners! We will only represent a select few clients and with a hands-on approach offer more than just a link between agents and our partners. We also have vast destination knowledge and offer friendly, honest and impartial advice."
USP: "We both come from different sides of the MICE industry, so we offer a unique combination of expertise. With Michelle's vast agency background in creating and operating events and my sales and marketing experience in the representation field, we have a great understanding of the MICE market from both an agency and sales & marketing perceptive. We love working very closely with agents and all our partners to create exciting proposals every time.
Clients: Insiders Tourism UAE, The Winners Group in Southern Africa, Destination Fabulous in Las Vegas, NOTA BENE, Italy and Spicy Events Croatia. We are also excited to be in discussions with some UK hotels which we hope to announce shortly.
Three-year plan: "To create an exclusive collection of outstanding DMCs that all work to the same high service levels. Our intention is to cover select destinations within Europe, Africa, Asia, Middle East, USA and South America, however we also want to maintain only a handful of clients to ensure GO Beyond is renowned for providing the highest levels of service."
Click on the links within this article to contact or view the micebook profiles on any of the venues, hotels or suppliers mentioned. Alternatively, search all our Destinations for ideas on where to take your next event and create your own inspiration board…