Just The Letter B's Henriette Speed shares a recent once-in-a-lifetime experience in the heart of Africa's Serengeti with Green Route Tanzania and Four Seasons, which has left her longing to return…
"Once visited, some places call you to return. Africa is such a place – the call of the wild pulsating out, creating a vibration you feel deep inside. Some call it a bug, or an itch, if you like. A recent visit with Green Route Tanzania to Tanzania's heart, deep within the Serengeti scratched that itch momentarily, but even now, the longing remains to return as soon as I possibly can.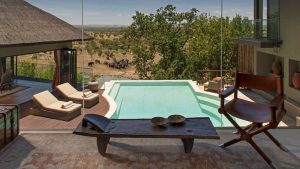 Stylish safaris 
Our journey with Turkish Airlines, though pleasurable and comfortable, is quickly forgotten, and exhaustion is replaced by anticipation as we check into the Four Seasons Safari Lodge Serengeti (right and above).
Perched on a series of elevated platforms and walkways, one can freely walk about the lodge's 77 rooms and villas. A quick dip in the plunge pool of my Terrace Suite overlooking the savannah, followed by an outdoor shower and catching sight of a couple of adorable dik-dik antelopes, invigorates and readies me for a light lunch at Maji's with sweeping views of the Serengeti. No elephants at the hotel's watering hole today sadly, as the first of the rains have given them ample water out on the plains. The elephants will have to wait.
A private yoga session and possibly one of the best massages I've had in Keneth's skilled hands in the spa removes some serious knots. I'll possibly need another after the 'African massages' to come riding over the bumpy terrain in a safari vehicle.
That evening, we learned about the conservation efforts at the lodge – at once inspirational and tear-jerking. These precious habitats and the rich wildlife are still at threat from poachers and environmental change. Responsible tourism operators like Four Seasons and those of us travelling to such places can really make a difference in ensuring future generations continue to enjoy these incredible experiences.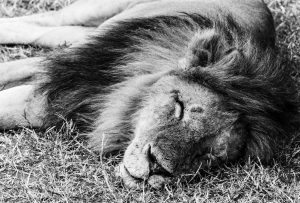 Sightings in the Savannah
The next morning, after some delicious Tanzanian coffee and a hearty breakfast, our first game drive with Charles begins. The grasslands seem to stretch out endlessly. We are completely surrounded by nature. Once our jeep comes to a halt, we silently watch a pride of lions sleeping, their chests still rapidly pumping and rising from that morning's hunt. I'm overcome by the stillness and quiet. The only sounds are that of the wind and the birds in the acacias offering shade, and if we're lucky, the roar of a lion. This serenity is instantly calming, giving a sense of wellbeing like nothing else, despite my own heart racing due to the proximity to these regal beasts.
The rest of the day brings sightings of hippos keeping cool in the water, a crocodile keeping a watchful eye for any opportunities to strike on one of their young; giraffes; water buffalo; menacing-looking hyenas; playful monkeys and warthogs; lots of brightly-coloured birds and of course the ever-abundant impala. The pinnacle had to be the sighting of two sleek cheetahs, one reclining atop a mound surveying the surrounding savannah for signs of prey, ready to make a run which alas we didn't get to witness. A reason to go back.
It's the start of the migration in this area with thousands of zebra and wildebeest gathering. We saw hundreds in any one place, which in itself was pretty impressive. I can only begin to imagine what a sight it would be, and the thunderous sound of hooves pounding the plains, as the migration reaches its climax. About 1.3 million wildebeest and a quarter of a million zebra, along with gazelles and antelope, come through here during the height of the migration as they risk making the crossing of the crocodile–filled Grumeti River, following the rains and their circular path of life.
Dinner that evening is an African feast in the hotel's boma with the Maasai warriors performing their ritualistic songs and dance, jumping high into the air as we watch entranced.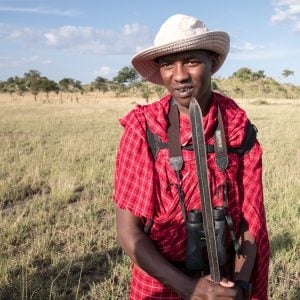 Dinner in the bush
Another day, another game drive, yet each day brings such an abundance of different viewings and new experiences. A zebra carcass is being stripped clean by a venue of vultures. Though not the prettiest of birds, their role in the ecosystem is vital in keeping the animals free of disease. Three cheetah cubs are frolicking in the grass, their mother keeping a watchful eye in the distance. And finally, I am granted my wish. Our group had a completely private viewing of a herd of elephants, two of the large bulls even having a bit of stand off.
In the afternoon, a park ranger and Kinama, one of the Maasai tribe working at Four Seasons, takes us out on a walking safari, giving us insight into the little things you miss in the vehicles – the animal tracks, medicinal plants and smaller creatures inhabiting the grasses. A journey of giraffes gallops in the distance as we make our way towards our final spot where sundowners await by the bonfire, and a grand barbecue is being prepared for our bush dinner.
The view from above
Anyone who knows me knows I'm not a morning person, but I don't think I've ever sprung out of bed like I did this morning, at 4.30 am might I add. We watched the sunrise as preparations were made for our hot air balloon journey giving us a different perspective of the plains. It's only now I realise just how many animals there are congregating. A lioness is hiding in a dip, ready to find a weak spot in the herds of wildebeest and zebra. A pack of hyenas are roaming the area and vultures are ready in the trees we pass for when she does succeed in making a kill. It's an exhilarating view. From here, the Serengeti seems to extend to the edge of the earth.
We celebrate our flight in the traditional way, with a Champagne toast whilst learning the fascinating story behind this custom from our pilot Frank. A full English breakfast is laid out a short drive away which attracts a cheeky monkey ready to steal a sausage at the first opportunity.
A herd of elephants is spotted in the distance and are making their way towards us. We watch excitedly. One of them is a little frisky this morning and is chasing a very disinterested female, trying to make an escape. We then go in search of more wildlife on a short drive before heading back to the Seronara airstrip for our voyage back on our private charter. The Cessna Caravan gives those of us still awake a final view of the Ngorongoro Crater and Mount Kilimanjoro.
We check into the charming Rivertrees Country Inn in the outskirts of Arusha, passing a colourful display of daily life on the way. A calming stroll in the gardens, a farewell dinner and a short sleep ready us for the flight back to London with Turkish Airways.
A couple of days later back at home where the only wildlife from my office window are a couple of squirrels and cat, it all soaks in, just what an incredible adventure I've been privileged to experience. This really is the makings of a once-in-a-lifetime incentive, if only it weren't for that itch."
Click on the links within this article to contact or view the micebook profiles on any of the venues, hotels or suppliers mentioned. Alternatively, search all our Destinations for ideas on where to take your next event and create your own inspiration board…