Sri Lanka has been soaring up the pitch list so it's time to board the flight to Colombo and check out the latest incentive hotels.
Nearly 11 hours in the air and a couple of Lion Beers later, and Colombo, the scenic commercial capital and largest city in Sri Lanka, beckons to be discovered.
Check out the newcomer on the scene, the Shangri-La Colombo (pictured above), which has been designed with event profs in mind – from its two ballrooms, the largest of which can welcome 2.5k delegates theatre style, through to its turfed alfresco event space and multiple function rooms. After that long flight, revitalise with a proper Chinese feast at the The Shang Palace restaurant and sample the delights from the open dim sum kitchen and duck oven, through to the somewhat messier crab station.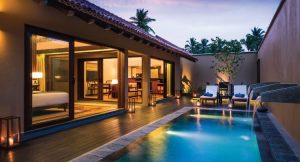 Once restored, venture out on a tuk tuk to see the sights – think temples and verdant parks, a giant Buddha, Colonial architecture and forts, plus zoological gardens. Further afield, Anantara offers a delightful duo to impress the most discerning traveller. Just an hour away from the capital, the 141-room Anantara Kalutara Resort (right) sits coast side, where the Kalu Ganga River meets the Indian Ocean, and its Ayurvedic spa retreat makes it prime spot for detoxing from the stresses of modern life.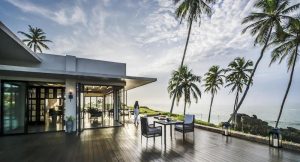 For the ultimate escape, head to sister property, Peace Haven Tangalle Resort (right) set in a private cove among a coconut plantation overlooking the ocean. Practise sunrise yoga on pristine sands, savour authentic flavours and spices while enjoying memorable cliffside vistas and kick back and round off the trip perfectly with a selection of top vintages from the well stocked wine cellar.
Click on the links within this article to contact or view the micebook profiles on any of the venues, hotels or suppliers mentioned. Alternatively, search all our Destinations for ideas on where to take your next event and create your own inspiration board…