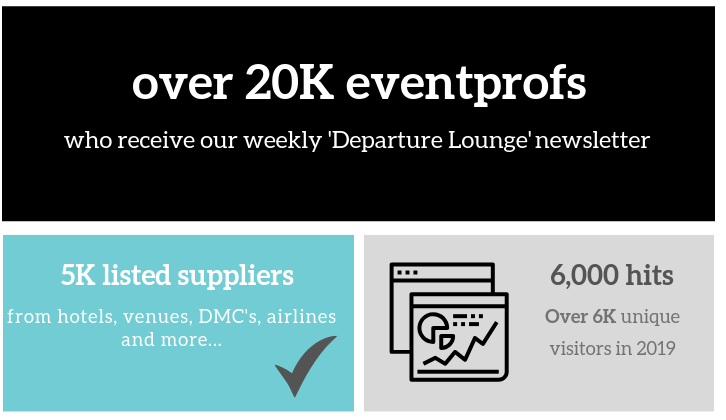 micebook brand reach
Your early entry into micebook is significantly increasing your page performance on micebook
Remember micebook is more than just a page profile. We are delivering an increasing range of marketing initiatives exclusively for its community members. Social media, weekly comms and prestigious events are creating additional opportunities to represent your brand and share MICE updates with our buyer members.
Brands are now seeing real lead opportunities and we have an increasing number of success stories we will be sharing with members on a regular basis
Do remember that micebook is not a trackable, lead generation tool. We believe in giving the planner the choice of using the built-in enquiry tool or as we've often seen, they choose to contact you directly using the profile information. In which case, you may have been experiencing the 'fruits' of the micebook presence without truly knowing the source of enquiry. We do ask buyer members to quote micebook but we are realists!
Our weekly comms 'Departure Lounge' is distributed to over 20K eventprofs.
Providing networking opportunities to over 400 eventprofs over 4 bespoke networking events
Increased exhibition presence – IMEX Frankfurt, The Meetings Show, inVOYAGE, IMEX America and ibtm WORLD.
300 plus destination guides on the micebook portal
Over 5K supplier profiles listed
Published over 160 mice industry-specific articles which feature over 300 suppliers
Quote, Unquote
The internet is awash with lots of data, much of it spurious to actual needs and creating an incredible amount of distracting noise. The next phase in the gestation of the internet will be the curation of valuable and actionable information into separate pockets for the benefit of professional organisations. Micebook delivers relevant concise curated content relevant to the MICE sector and is a great example of how the internet continues to evolve.
Peter Jackson,
Owner / Director, Red e2 Events
micebook is one of the most relevant and useful communities both online and offline for what we do. With short lead times and the continuous need to innovate and explore new destinations, we need a tool that provides quick, streamlined contacts and information from a community that is trusted. In destinations where we don't have a trusted partner, micebook is our first (and sometimes only) port of call. It is so important that suppliers take advantage of the opportunity, and differentiate themselves on their profile.
Emma North,
Head of Incentives, Quintessentially Travel
We have been working with the micebook team for some time now and find it invaluable to be part of this leading professional business event network. It gives us great opportunities to meet, engage and network with many high-profile MICE buyers from across the events industry.
Maris Kuklis,
Leisure & MICE Group Travel Account Manager, Etihad Airways
We have regularly used micebook as a resource and recently this has led to a confirmed booking of a hotel in Provence.
Jo Kelly,
Events Director, CR Events
The 15 or so Four Seasons Hotels & Resorts in EMEA that have invested see this tool as a great way to communicate their fantastic product and ultimately convert incremental group business … I believe in the portal and content.
Iain Robertson,
Director of Sales, Four Seasons Hotels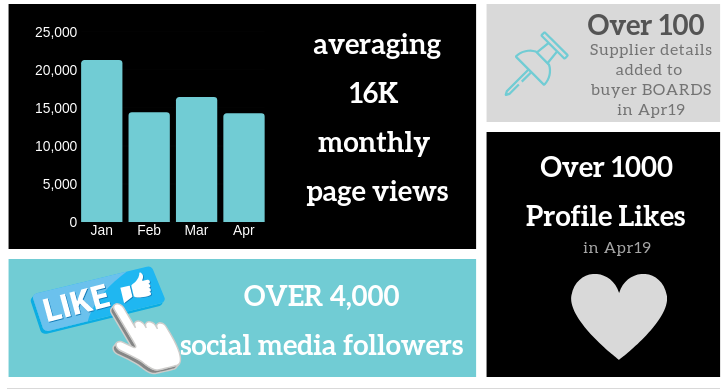 micebook performance
True, analytics has been a slow part of the site development – but we're now there! Please contact us for individual insights
We have deployed Google Tag across the site and tracks all page "events" and we will be providing each profile page with their own analytics access …watch this space
Some general statistics on our reach:

4K plus social media followers
20K plus database of #eventprofs who receive our weekly Departure Lounge newsletter
An average of 16K page views per month
Over 6K unique visitors to the micebook portal in Q1 2019
The benefits of being a founder member as mentioned below
Improved performance of your page profile; it requires a history, continued activity and engagement to realise the full potential. Algorithms are an essential ingredient to maximise site performance. To coin a corny phrase … 'You've got to be in it, to win it!'
Beyond the profile page, we are increasing our social media and buyer comms which are exclusively available to micebook supplier members
Likely your competition will be on micebook. No FOMO!
Do ensure you encourage your destination partners to be part of micebook. Destination-rich content will push you and the destination to the forefront of site performance and make the buyer / user experience a positive one – increasing the lead opportunities.
Have you shared any product updates, new openings, new routes, new destination ideas? Added value offers, promotions? We are hungry for member content to maximise performance to improve your page performance
Look at your profile page. Could it be improved? The best images? Correct contact information? Creative ideas to inspire users? Download documents? We're here to help. We are seeing increased traffic to well-thought-out content and presentation
Remember, all our Departure Newsletters, and social media content are linked to your profile page and will increase traffic, performance … and opportunities.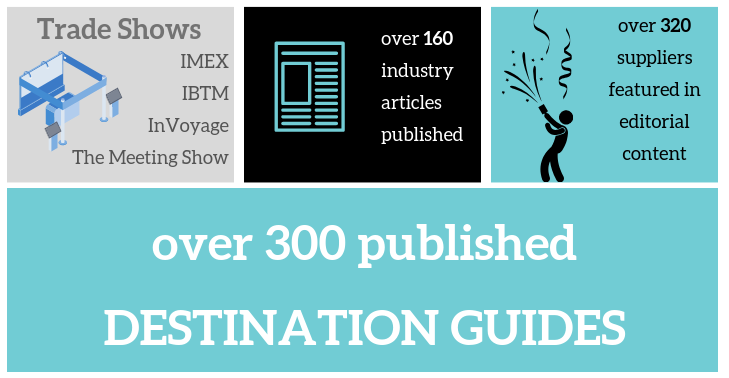 trends, costs & opportunities