Soak up the Southbank
Around 100 event professionals including senior agency leaders from CWT M&E, Top Banana, BCD M&E, OrangeDoor, Absolute Corporate Events and more, attended the Soak up the South Bank summer micebook event, in partnership with inVOYAGE and Sea Containers London on 10 July. Here's the lowdown on all the action from the afternoon educational sessions and evening networking, plus a sneak peek of the first pictures from the event…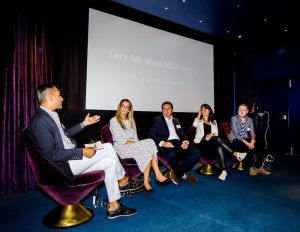 The Panel
The event kicked off with a panel session on 'How Suppliers should engage with Buyers', held in the Cinema at Sea Containers London. Our panel of buyers were Helen Boakes, events and brand partnerships manager at Mini, Tom Harrington, account director at Quintessentially Travel, Ollie Launn, proposal writer at Black Tomato Agency and Nimi Cooper, head of client services at CI Group.
They shared their experiences, both good and bad, of dealing with suppliers and gave some top tips on how to stand out and get noticed. Here's our three-key takeaways from the panel:
* Get Creative – Buyers are inundated with invites, newsletters and product information from suppliers, so do something different to get noticed. Nimi at CI group gave the great example of being sent a remote-control car with no remote by a supplier, as a teaser and a way to get a meeting. If you agreed to a face to face meeting you got the remote.
* Focus on the story and guest experience – Our buyer panel advised that rather than detailing every single hotel amenity available, do your research and understand what's most relevant to who the agency or client you are presenting to and focus on that. Buyers are more interested in understanding the property's story and what's unique about it than square footage of meeting rooms.
*Don't be afraid to challenge the brief – Quintessentially's Tom said he is open to being challenged and is happy to take the time to talk to suppliers and provide further information if necessary. Nimi gave a great example of a supplier that put in a wild card, which the client loved and it made them look great to the client, while Mini's Helen shared an example of an agency that took the time to do a factory tour of their plant in Oxford to really understand the brand, then used this knowledge to tailor their pitch.
Supplier Showcase
Following the panel sessions, some of our micebook partners showcased their new or latest product offerings through short video trailers and presentations. Our audience got the lowdown from:
Lore Group
Pulitzer Hotel, Amsterdam
Tourism Vancouver
Arrigo DMC Malta
Switzerland Convention & Incentive Bureau
Nobu Hotel London Portman Square
Atout France
The Marker Hotel
Travel Alberta
Visit Monaco
The C-Suite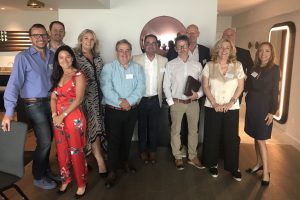 micebook also partnered with inVOYAGE, curated luxury travel forum for senior level events professionals to host an invitation-only C-Suite gathering for CEOs and agency leaders at Sea Containers. The inVOYAGE C-Suite provides a knowledge sharing platform for executive insights and industry discussion covering current trends, topics and challenges.
The session was chaired by Top Banana founder & CEO Richard Bridge, and attended by agency leaders from CWT M&E, Worldspan, Team Umbrella, Absolute Corporate Events, CI Group, OrangeDoor, BCD M&E, Green & Pleasant Events, Rede2, Pure Events & Powwow Events. Topics discussed included managing growth, sustainability, talent, diversity, procurement and workplace wellness.
The Networking
In the evening, everyone came together to enjoy drinks and canapes in The Gallery, Sea Containers London hotel's brand-new event space.
Guests networked and mingled with our sponsors, Travel Alberta, Hotel de L'Europe, Hotel Bayerischer Hof and Atout France, with a number of prizes up for grabs at the end of the evening.