Goose Live co-founder and director Sam Trevenna gives the lowdown on micebook's "epic" pre-fam trip to Palm Springs, which saw 10 'nineteen' agency leaders jet off to experience the iconic Californian destination…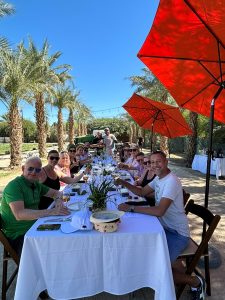 You know when you get one of those invitations that you just must find a way to say yes to? Well, the micebook pre-Imex fam trip was one of those invitations. Getting the opportunity to spend a weekend in sunny Palm Springs with 10 members of the micebook nineteen Agency Leaders Group before heading to Las Vegas for Imex was too good an opportunity to miss.
You could feel the excitement building when we all met in the BA lounge, laptops out, furiously finishing off those emails and phone calls before we boarded the flight to enjoy the British Airways Club World cabin. Our business class flights were taken care of by our own flight fairy – Kathy Bradley from All About Flights, who always goes above and beyond to accommodate everyone's requests, from seating preferences to date and itinerary changes.
Flying out to LA on the Friday meant we landed into LAX at peak rush hour so we faced a "longer than expected" four hour transfer to Palm Springs (it's usually 2-2.5hrs). It didn't dampen our spirits, in fact with a variety of playlists and a couple of coffee stops (and a visit to the liquor store) we made the very best of the time together, our "19 bubble" was formed. Arriving later than scheduled at the Renaissance Esmerelda Resort, the friendly team had patiently waited to greet us with a welcome reception before we all retired for the evening to our rooms.
Day 1
On our first morning, a private breakfast showcased the best of their sumptuous F&B offering followed by a brief tour of all the Esmeralda event spaces (3 ballrooms, 49 meeting rooms and 22 breakout rooms as well as plenty of outdoor space). With over 560 bedrooms, this is a great hotel for larger groups and conferences.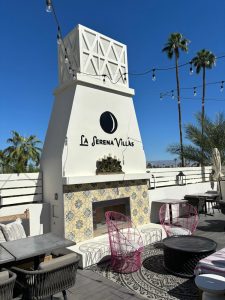 We then set off for our day out in Palm Springs, and our first stop was to see two private residences that can be hired for events. We saw 2 beautiful properties, including Leonardo Di Caprio's own home in the desert, which is ideal for small retreats and outdoor dinners (you can even convert the tennis court too!).
Next, we headed to see two boutique properties – the L'horizon and the La Serena Villas with a delightful rooftop terrace. Lunch followed at the Colony Club, then we took a drive out to the Palm Spings aerial tramway where you can hire your own cabin for groups  to ascend "from desert floor to Alpine Beauty" (We didn't get to do actual ascent due to our schedule).
We stopped off for a cocktail making session at The Tailor Shop before heading back to the Esmerelda to change for the evening. Our Saturday night was spent at the Acrisure Arena as guests of Visit Greater Palm Springs to enjoy watching Peter Gabriel in concert, who delivered a two-hour set plus two encores. He brought the house down with his greatest hits – Sledgehammer, Don't Give up and Solsbury Hill (which had most of us up dancing through the jet lag!)
Day 2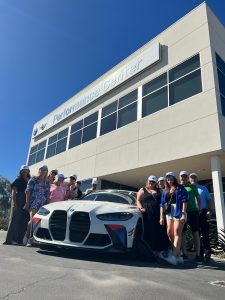 On Sunday, we headed out to the Thermal Club, where a BMW drive experience was our morning activity. A few hot laps with the instructors had us all energised ready to take the wheel ourselves around the track. After that an early lunch was next on the agenda at the Aziz date farm in the Coachella Valley, where approximately 90% of the dates in the US are produced. It's a family-owned farm with other produce too such as lettuce and squash which we were able to pick and taste straight from the field, and a lovely location for a field trip. This was followed by come Californian hospitality, a sharing style menu of fresh and seasonal produce and some lovely Rose courtesy of TRIO Palm Springs.
In the afternoon, we headed into Coachella Valley to explore the Coachella Walls – if you've been to Wynwood Walls in Miami, it's very similar. Designed as a tribute to the people that forged the city's early identity, the stunning murals are beautiful and evocative. We met one of the artists – Armando Lerma who also showed us around his studio.
Now there had been a lot of speculation in our bubble about how we would be getting to Las Vegas. So, before we headed out for dinner, we were "summoned" for an announcement… which turned out to be the reveal of our road trip on Monday. We met the team from Excursionist who would be hosting our trip in convertible Mustangs provided by Go Rentals.
With our time in Palm Springs coming to an end, our last evening was spent at Nobu at Indian Wells Tennis Garden, the home of the BNP Paribas Open tennis tournament. A sumptuous set menu followed with everything from with tuna tacos, wagyu beef and the famous black cod to a selection of sushi and sashimi before desserts were offered up but politely declined. We were just too full, but content.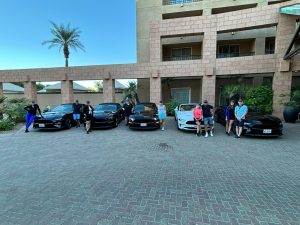 When we arrived back at Esmeralda, we were excited to see the Mustangs parked up ready for our morning departure.  A sensible early night ensured we were ready for our Road Trip to Vegas.
Palm Springs – you did not disappoint. We achieved a lot in a weekend. Goose has delivered automotive programmes here previously, but the destination would work well for incentives, leadership retreats and conferences too. This is a fabulous destination in its own right, or twinned with LA. Or Las Vegas as we were about to discover.
Day 3
With check out complete and luggage loaded, a very excited "bubble" paired up into our cars for the driveway to the First Stop – The Joshua Tree National Park. Our first stop was a hike through the park to explore the terrain and a light picnic lunch, before we jumped back in the cars, but this time swapping driving buddies.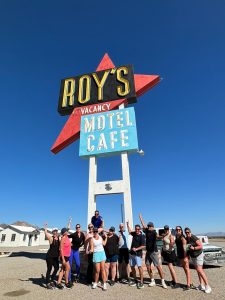 Whilst this was a fun and enjoyable experience, it was also a great opportunity for us to engage with each other and expand our conversations and connect at a deeper level. Part of the strength of the nineteen community is the ability to share our knowledge or experiences with each other and ask the questions that may be on our mind from an agency leader perspective. And what better way to do that, than on Route 66?!  We got to some see some epic landscapes, stop off for root beer at the famous Roy's Motel Cafe and enjoy the thrill of the open road before arriving in Las Vegas.  But there was one more surprise in store…
Our drop off point was the Vegas Off Road Tours where our mustangs were swapped for off road buggies. Following our safety briefing, we headed out in convoy for a twilight drive through the Mojave Desert before arriving for dinner at the Pioneer Saloon – one of the oldest saloons in town.
What came next was a hummer transfer to the Las Vegas strip, but that's a whole other story! What happens in Vegas…
Thank you to our Greater Palm Springs hosts, Excursionist, Go Rentals, All About Flights and micebook hosts Ceri Bruce and Chetan Shah, of course to the 19 Palm Springs Bubble, without whom this trip would not have been so epic.  Where are we going next year?!