Vienna is at the top of its game right now for meeting and events business. The Austrian capital bagged first place ahead of Lisbon and Paris in the International Congress and Convention Association (ICCA) rankings of top congress destinations in 2022, and recently reported that congresses and corporate meetings returned to around 80% of the 2019 pre-pandemic totals last year.
So now is the perfect time to shine the spotlight on Vienna, and check out some of the newest venue and hotel openings that the city has to offer…
New Hotels
There have been several new hotels make their debut in Vienna over the past year, with more exciting new openings on the way.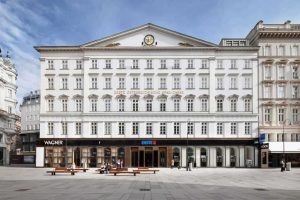 Located in a historic 19th century building on Petersplatz, Rosewood Vienna open last summer. The upscale hotel features 71 rooms and 28 suites, a brasserie on the sixth floor and rooftop bar offering sweeping views of Vienna's Old Town, and the Asaya Spa. A suite of spaces for social events and business meetings can accommodate up to 110 individuals across four rooms, while for al fresco gatherings, the Garden Room and Secret Garden, on the sixth floor, provide indoor and outdoor space for up to 60 guests.
Almanac Palais Vienna, a boutique five-star hotel, lies in the heart of the city of Vienna, opposite the lush Stadtpark. The hotel has 31 luxurious rooms and 80 suites, the locally inspired "Donnersmarkt" Restaurant and Bar, and almost 1,000 sqm of event space that can host a variety of functions in different styles and sizes.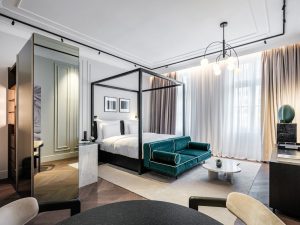 The Amauris is a new luxury hotel in Vienna city centre that opened in February 2023. The property is located on the historic Ringstrasse offering a range of 62 rooms and suites and features an on-site restaurant, a bar and bistro, and a luxury spa. There are several intimate spaces available for board meetings or private dining.
Opening in late 2023, the Hoxton Vienna will be in a striking 1950s modernist building in Stadtpark, which has an interesting history as the former headquarters of Austria's Chamber of Commerce. The hotel will have 196 bedrooms, a spacious lobby and coffee bar; a restaurant and terrace; rooftop bar and pool; a basement speakeasy; and The Apartment meeting and events space. It will also be home to events auditorium, which is an exciting first for The Hoxton and will be a new home for live entertainment in Vienna.
Also due to open later this year is a 151-room hotel and residence from luxury brand Mandarin Oriental Hotel Group. Located on a street in the District One, in the Ringstrasse, the Mandarin Oriental Vienna will be housed in a heritage building which originally served as the city's commercial law court from 1912 to 2003. Facilities will include a restaurant, bar, spa, a swimming pool and a fitness centre, an outdoor garden and banqueting and meeting spaces.
New venues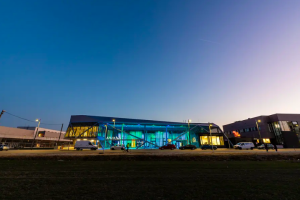 2022 brought several exciting new additions to the capital's portfolio of meeting locations, including Ariana at Seestadt Aspern, Weitsicht Cobenzl in the Vienna Woods Biosphere Reserve and the Heidi Horten Collection.
Ariana is in the 22nd district and offers individually combinable event areas for conferences, congresses, trade fairs, corporate meetings, and private events. The meeting spaces occupy a total of around 1,300 m² and are suitable for events with up to 830 people. The new event location in Seestadt Aspern, one of the largest urban development projects in Europe, is a 20-minute ride from the city centre by subway.
The Heidi Horten Collection is one of the highest-quality private art collections in Europe, which is now accessible to the public for the first time since 2022. Austrian billionaire and art patron Heidi Goëss-Horten (1941-2022) put together an impressive collection comprising several hundred works since the early 1990s, featuring works from the likes of Gustav Klimt and Pablo Picasso to Andy Warhol. To accommodate it, the Stöcklgebäude, a city center palace located between the Vienna State Opera, Albertina, and Burggarten, was lavishly renovated and transformed into a modern museum temple.
Another location will open in 2023: the Casino Zögernitz building, which is being rebranded as the House of Strauss. The House of Strauss combines classical entertainment music in the form of regular concerts (scheduled from 2024), fine dining in the restaurant under chef de cuisine Stefan Glantschnig, and an interactive show (scheduled from autumn 2024) that brings the heritage of the Strauss dynasty to life through a state-of-the-art multimedia and audiovisual experience.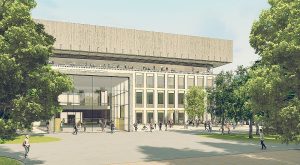 It will be followed by the Wien Museum, which will officially reopen at the end of 2023 after a renovation and expansion, before the site becomes available for events from 2024.