Silverstone has made its mark as the UK's leading motorsport venue, creating powerful heritage around the world, and welcoming over 1.5 million visitors through its gates every year. Building on that rich motorsport history, the venue is now also firmly cementing its position as a flexible and innovative venue for corporate clients who are looking for something a bit different.
It offers 600 acres of outdoor space and plenty of versatile venues within its International Conference & Exhibition Centre, which as the largest covered events space between London and Birmingham can be utilised in a variety of different configurations from large scale exhibitions to small intimate meetings.
But in the last year, thanks to the opening of the on-site Hilton Garden Inn hotel and a new steel and glass bridge over the Hamilton Straight start-finish line connecting the hotel to the conference and exhibition centre, the venue can accommodate an even broader array of events, activations and experiences.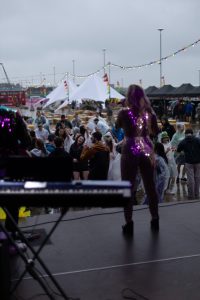 This newfound flexibility has coincided with an increased demand for a more collaborative and creative approach from corporate clients, as well as more experiential experiences, according to Hayley Smith, head of sales at Silverstone Circuits. "We seem to be amid corporate festival season right now. Every agency we talk says they are creating more consumer-style festivals for their clients – it's a big trend, and our paddock provides the perfect space for these types of events."
Prior to the bridge opening, the paddock had to be used as parking space for the conference centre, because there was no way of getting across the track, so you had to drive around it. Now event delegates can park at the hotel and easily walk across. "That means we now have a huge space that we would normally park 1,000 cars in, available as a pitch for corporate festivals or family fun days. We can accommodate 10,000 people with a stage and set, and marquees, or funfair rides, food and drink stalls etc. And the wet weather option is our garages – we've got 40 garages, so if it rains, we can bring them inside," says Judi Oliver, Silverstone's business development manager.
Smith adds that they are also using the garages more creatively. "Rather than seeing the garages as a space that works purely for automotive events, we are proposing it for a whole array of uses from extra exhibition space and product launches to dinners or even as wellness areas," she explains. "The garages could be transformed into a wellbeing space for yoga. You can also incorporate the circuit into your itinerary, and run, walk or cycle around it instead of using cars, which is brings in the wellness element while also being more sustainable."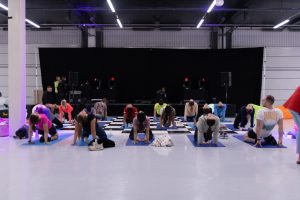 Oliver and Smith say that they are talking about sustainability a lot more now, after attending the first micebook Ventures in Liverpool last year and receiving lots of positive feedback for the work Silverstone is doing. This includes installing 2,764 solar panels that provide 13% of its total power, 100% renewable energy by 2023, 30 EV charging points by 2023, zero single-use plastic, sustainably sourced food and drink, and 100% waste reused, recycled and composted by 2026. "We are doing so much more than we realised, and clients have told us we need to be shouting about it more. So, we are much more confident about sharing this," says Smith.
Silverstone recently hosted Danone or its annual conference. "As a B-Corp, the client needed to ensure they were happy with our sustainability credentials before considering holding an event with us, so we connected them with our Head of Sustainability to cover that off," says Oliver. The event was for 900 people and included a conference, themed breakout activities and a pit walk amongst the fleet of Aston Martins, McLarens and Ferraris, before the great reveal of dinner in the Garage block, which was one of the first big dinners Silverstone has hosted in the garages.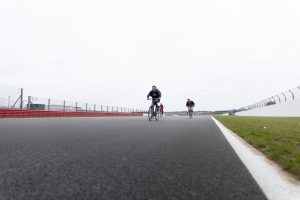 In July, the venue also hosted a conference for 600 people in one of the large halls, followed by dinner in the garages, with guests staying overnight at the Hilton, another local hotel and the glamping site. The set up also includes exclusive use of the track to do Yoga on the pit lane and then drive, run, walk and cycle the track, activities in one of the garage blocks and soft play area in another, street food and entertainment, with marquees for live music, DJ, chill out, and tickets at the museum for all the family.
The opening of Escapade, featuring 60 high end residences, in early 2024, will provide even more opportunities for event planners. Escapade will be the ultimate place to stay at Silverstone and experience as-yet-undiscovered views right across the circuit and opens the doors for potential high-end retreats or incentives.