Wellness or wellbeing is by no means new in the world of events. We've been talking about it being one of the key trends for the past few years, well before the global Covid pandemic hit. But since the pandemic, with the focus on health and wellbeing in the workplace naturally much higher, we have started to see more wellbeing-related activities creeping into event programmes.
From morning yoga and fitness sessions, quiet rooms and meditation spaces to massage stations, walking or active meetings and healthy breaks featuring smoothies, and juices, wellbeing is becoming an increasingly regular, and expected element at business events. And it makes sense given that multiple studies have shown that incorporating wellbeing can make delegates feel more engaged and energised, which in turn makes them more creative and productive.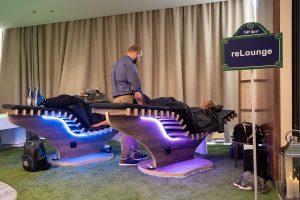 We've only just really started to scratch the surface in terms of the true potential of wellbeing at meetings and events, but at Accor recent Global Meetings Exchange in Paris, delegates got a glimpse of how planners can take it to the next level – think technologically advanced and personalised – or supercharged wellbeing if you like.
The event featured a Wellbeing "Garden" Lounge, where a range of partner companies showcased the best and most effective modern experiences that wellness and beauty have to offer for delegates to trial. There was back and body recovery using electrical muscle stimulation technology from Recharge Wave, CBD gummies by Barker Wellness designed to boost delegates sleep and energy levels, custom skin care by Codage where you could have your own bespoke serum formula created onsite, and innovative vibration, thermal, percussion, and dynamic air compression technology from Oakworks.
Visitors to the lounge could also taking a breath of fresh air by Airnergy, which is technologically modelled on the natural processes of photosynthesis in green leaves and creates energised air designed to increase the body's own ability to regenerate, strengthen the immune system and optimise metabolism and cell communication. We were told that 15 minutes of Airnergy is equivalent to eight hours walking in the forest!
First debuted at Accor GME last year, and subsequently rolled out at several large industry events such as IMEX in Las Vegas and Frankfurt, and ITB, Accor's Wellbeing Lounge concept is next level stuff – we're talking technology designed for and used by pro-athletes – and demonstrates the importance the group places on health and wellness.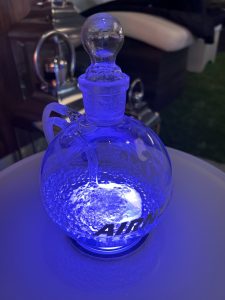 "Our wellbeing lounge is a great example of how you can activate different elements of wellbeing through recovery and technology within the MICE experience. We have done this 7 times now and it's becoming a bit of a staple for us. We are seeing a lot more conversation and embracement of wellbeing within the MICE concept and landscape. The idea of providing recovery during a meeting or event to make it a better experience is both good for the corporate business and good for the employee or attendee," says Emlyn Brown, Global SVP Wellbeing, Luxury & Lifestyle, Accor.
"This is now part of the philosophy, not just for our luxury brands but also some of our premium brands like Pullman and can really make our MICE events more effective, enjoyable and above all memorable."
He says that the next step for Accor is tackling the F&B and nutritional piece to move away from the coffee and biscuits and sweets to  more nutritious elements that can boost delegates energy levels at certain times of the day and support them with sleep at other times of the day. "I think going forward we will also see more embracement of technology in wellbeing, for example through gamification of the MICE experience and things like counting steps to encourage movement with prizes for those that do the most steps or complete a workout."
Brown admits that it's still quite early stages for the "Wellbeing Lounge" concept at meetings and events but it's clear there is huge potential for it. Imagine a company bringing together its top executives for several days for a meeting and being able to help ease muscle or health complaints during that time, enabling them to not only get the best out of the meeting, but also sending them back reenergised and feeling that they are valued and their health matters.
Whilst so far Accor has trialled the concept at larger events, Brown believes there is an opportunity to go "deep level" on smaller events too and really impact the health and wellbeing of individuals in a group of 30-50 people.
In the same way that coffee breaks are a staple extra when booking hotels and venues, you can see the wellness lounge becoming an optional add on. "We are currently saying to MICE clients that we offer this if you want to have it. The next step is to make it a firmer part of our sales proposals. The interest and demand are certainly there, and Accor is in a great place to service and support it."