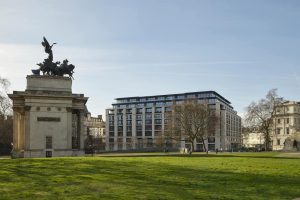 The Peninsula has announced that its long-awaited London property is now accepting bookings from 12 September 2023.
The newly built hotel, designed and appointed to embody the finest British craftsmanship, is located at a prestigious address where Hyde Park Corner meets Wellington Arch.
The Peninsula London centres around an expansive, off-street courtyard, landscaped in the style of a classic English garden with cascading ivy, wisteria vines, and 120-year-old Japanese maples.
The 190 rooms and suites, many of which have floor-to ceiling-windows with views over Wellington Arch and historic Belgravia, feature bespoke furnishings, textiles, and artworks, mahogany-panelled dressing rooms, and customised fittings crafted by renowned British artisans.
The hotel's numerous special-event venues opening later this year, include the pillarless St. George Ballroom (with back-of-house elevators large enough for motorcars), and other spaces ranging from configurable conference rooms to an intimate private cinema, all equipped with state-of-the-art technology.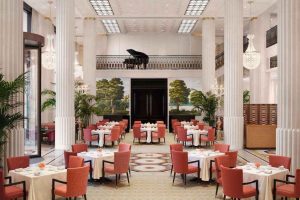 The hotel's signature rooftop restaurant, Brooklands, offers Modern British cuisine from Michelin-starred Chef Director Claude Bosi, while Canton Blue and its adjacent bar, Little Blue, will serve innovative Chinese cuisine, cocktails, teas, and exotic décor celebrate the spice-trade union of Asian and British cultures. The triple-height Lobby will be home to the brand's signature afternoon tea, with a piano on the mezzanine providing live music.
An array of relaxation and well-being therapies and classes will be available to guests later this year at The Peninsula London, at the hotel's Spa and Wellness Centre, which includes a 25-m indoor swimming pool.