Becky Shore, head of business development at Yellow Fish, gives the lowdown on a recent fam trip to Sicily to discover what the Italian isle has to offer C&I groups…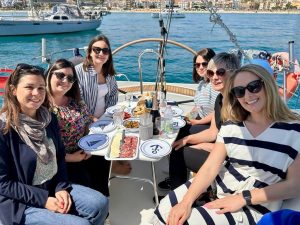 In this industry we get to know many destinations, but some seem to slip under the radar. For me, Sicily was one of those. Many other Italian destinations tend to take centre stage, so it was great to get to know the east coast of this beautiful island a little more, thanks to a fantastic itinerary by Mutika EMC… White Lotus style.
Our group travelled with easyJet from Gatwick which was seamless and quick thanks to speedy boarding and some pro-overhead cabin guarding from Rebecca Duncan, our easyJet host. The flight to Sicily's second largest city of Catania took a little over 3 hours.
As well as Gatwick, easyjet fly to Catania from Bristol, Edinburgh, Luton and Manchester. This makes Sicily a great option for groups located across the UK, which is key for us at Yellow Fish.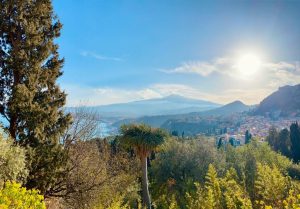 The striking beauty of this island became apparent immediately with the unusual combination of stunning sea views and coastal towns all framed by the powerful presence of Mount Etna during our 55 min transfer to Taormina.
The excitement and anticipation of reaching Taormina grew as we climbed the winding picturesque road leading us higher and higher to this beautiful town, located on a rocky plateau of Mount Tauro overlooking the Ionian Sea, with the theme tune to White Lotus getting louder in my head.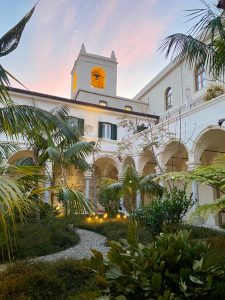 As you arrive at the edge of town, you get a glimpse of its beauty and buzz before turning off into a quiet oasis which is the San Domenico Palace, Taormina, A Four Seasons Hotel
For those of us who have seen White Lotus, arriving at the stunning Four Seasons did not disappoint. The hotel feels very familiar with so many of its stunning features shown off beautifully during the series.
San Domenico Palace is 14th-century convent perfectly reimagined into a stunning hotel which feels characterful, historic yet modern and chic.
Perched on the cliffside, the hotel has 111 rooms with incredible sea views, an infinity pool, a relaxed pool restaurant as well as huge array of event spaces. From Italian gardens overlooking Mount Etna to the Chiesa Ballroom, the convents former church with a max capacity of 250 seated, it has plenty to offer meeting and incentive groups.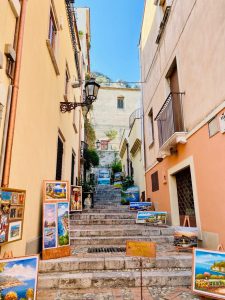 The hotel is set back from the maze-like, medieval streets, allowing groups to easily experience the town as soon as they arrive without the need for another transfer.
The Corso Umberto is flanked with boutiques and restaurants serving arancini and numerous Italian delights. The Sicilian Saint Tropez has the San Domenico Palace at one end and the Belmond Grand Hotel Timeo at the other… so chic! The Belmond sits next to the incredible Greek Theatre, home to Greek performances, Roman Gladiator battles and offering a historic front row seat to Etna eruptions. The theatre is still in use now for incredible performances and can be booked for events.
That evening we enjoyed a delicious dinner within the Ionio Room of the incredible San Domenico Palace overlooking the ocean.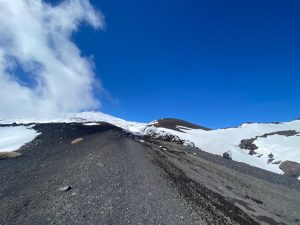 Day 2 was dedicated to Etna and wine!
We transferred to an altitude of 1,800 metres before boarding an incredible 4×4 which looked like it was made for Mars! The scenic road took us through ancient craters and recent lava flows up to 2,500 metres. Offering incredible glimpses of the steaming summit of one of the world's most active volcanos. The experience was rounded off perfectly with a surprise pop up picnic overlooking the incredible lava flows.
The day finished with sampling a Sicilian treat enhanced thanks to Etna. We transferred to the boutique Fischetti winery for a tour and tasting of the wine given a distinct flavour enhanced by the volcanic soil. This was followed by a creative painting activity in the stunning grounds, such a relaxing and mindful activity!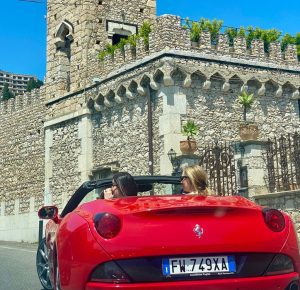 Day 3 was all about la dolce vita!
The morning started with a sailing experience from south to north passing through spectacular points along the coastline between Catania and Taormina, taking in the views with a Prosecco in hand. Mutika DMC really showcased how to surprise and delight groups further by providing the ultimate Italian transfer back to Taormina.
The group arrived back to dry land to the roar of a convoy of Ferrari's ready to whisk us back to our hilltop home. A real bucket list experience for many, which attracted a lot of local attention!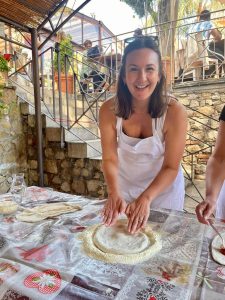 We had worked up an appetite after such an action-packed morning…Time for pizza and Aperol! The group arrived at Villa Zuccaro for a pizza making master class with the chef. Learning the tips and tricks to prepare the perfect pizza, before tucking in under the shade of a beautiful lemon tree – bliss!
We then had some downtime to relax by the spectacular infinity pool with a coffee granita before an unforgettable farewell dinner and show round of the San Domenico Palace.
Day 4
Arrivederci Sicily! A real wow factor incentive destination. Thank you to the easyJet, Mutika EMC, San Domenico Palace and Just The Letter B for showcasing a great destination and its versatility in true style.