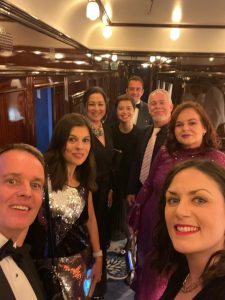 Goose Live co-founder and director Sam Trevenna received a once-in-a-lifetime fam trip invite to Italy with Belmond, taking in the rolling hills of Tuscany to the rolling carriages of the Venice-Simplon Orient Express. Here, she shares her many highlights…
It's a privilege to receive so many invitations for networking dinners, venue meetings, industry events and fam trips. If I'm brutally honest, it's not always possible to reply to every single invite, let alone accept them all. But when you are offered the opportunity to experience the best of Tuscany – Belmond style – followed by a bucket list trip on the Venice-Simplon Orient Express, there is only one response. Hell, yes please!
We met our Belmond host, Perrine Chapelain at Gatwick and flew to Pisa early on a Monday morning, where we took a 1hr transfer to the Castello di Casole, our home for the next two nights. On arrival, we were welcomed with a glass of prosecco whilst we checked in, and then tucked into a "light lunch" – a classic Italian four-course tasting menu, which set us up nicely for the following three days of delicious food and wine.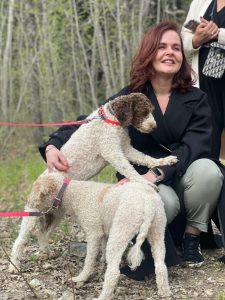 Castello di Casole is a stunning Tuscan castle, and former Etruscan village dating back to 998AD, which was acquired by Belmond is 2018. There are just 39 indulgent bedrooms, but the estate itself is huge. It covers 4,200 acres, part of which includes an area which is renowned for truffles, which was to be our afternoon activity. Led by the wonderful Mattio from Oressea with his two trusty Lagotto Romagnolo dogs – Brisa and Ardesia – we spent an enjoyable hour hunting for truffles and discovered an impressive haul of 6 Tartufo (Italian for truffle and the name of the dogs' nose).
After a chance to unpack and settle into our fabulous suites, we met for pre-dinner drinks in the pizzeria, where we had the chance to make our own traditional woodfired pizza. A further treat was in store, as we were presented our own collection of the truffles we had discovered earlier, freeze packed in rice for us to take home.
After a restful night's sleep, we were all up early for a yoga class, in a very unconventional setting – the onsite church. Breakfast was followed by a full tour of the property, which is truly impressive. There is so much you can do here for event and incentive groups, both indoors and out. Highlights include the outdoor amphitheatre, which has hosted Andrea Bocelli in the past, and can also be used for picnics, presentations and film nights.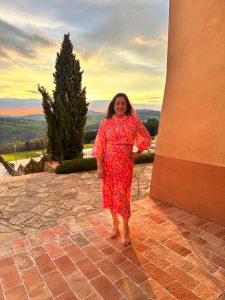 The stunning sunset terrace is perfect for the golden hour aperitivo, the Limonaia outdoor area can host a tent for up to 150 pax, while the pool terrace is perfect for BBQs. It's an ideal property for a buy-out, which would also allow you to party on after midnight in the Church, and for automotive events, with cars staged in the driveway and two EV chargers (so far).
Next, we headed off into the rolling Tuscan hills to the Colle Bereto Winery, in the heart of Chianti, where charismatic wine maker, Bernardo Bianchi, talked us through their organic wine making process. We learnt that while all wine in the Tuscany region can be called Chianti, only wine made in Chianti itself is known as Chianti Classico (look closely next time you are buying Italian wine!). After a wonderful lunch and a chance to taste the estate's wines and olive oil, we headed back to Castello di Casole.
The evening began with a Golden Hour cocktail in the bar before our final supper in Tosca – another gastronomic experience encompassing the best Italian cuisine. An obligatory night cap of Negroni's followed to finish off a wonderful day.
Our last morning started with a quick immersion into Etruscan techniques and cosmetics – a chance for us to make our own body scrub and face mask from the natural botanicals in the wonderful setting of the Castello's own herb garden. As our anticipation built for what was to come next, we were all a little sad to leave Castello di Casole. Our two-night stay had felt longer, and we had packed in so much in such a short time, but we couldn't deny how excited we were to travel to Bologna for the next stage of our epic trip.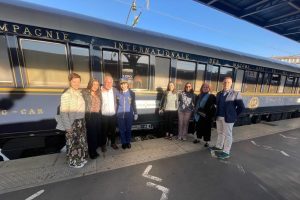 Arriving at Bologna station, we were greeted by the Stewards of the Venice-Simplon Orient Express to embark on the trip of dreams and it didn't disappoint. Despite all our combined years of working in this industry – the buzz of excitement among our group was palpable. There are very few experiences that truly build anticipation as this iconic train. She really is a sight to behold and as we made our way down the platform, we were all beaming.
We boarded promptly and after a welcome glass of champagne from our Butler, Eleanore, we had a quick chance to explore our historic cabins before we headed to the dining carriages for lunch.  There are three dining cars – we enjoyed a three-course lunch from Michelin starred Chef Jean Imbert in the L'Oriental car (originally built in Birmingham in 1927).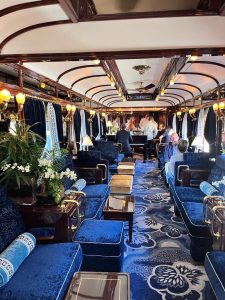 A "site visit" on a historic train was one of the most enthralling I've ever done and there is much history to absorb and enjoy. Train manager Michele, who has worked on the VSOE for over 26 years, showcased the many options for groups, from a private charter of the entire train for up to 110 people, or one of historic cabin carriages (which have 9 cabins) or the newer refurbished Grand Suites. The ratio of staff is high – one member of staff for every two guests and as you would expect, the service is outstanding.
We retired to our cabins to relax with a high tea before changing for dinner – a dress code of glamour and fabulousness is mandatory – then we headed to one of the stunning Grand Suites where Michele hosted pre-dinner drinks for us.
Dinner then followed in the Cote d'Azur car, a four-course gastronomic feast with Sommelier paired wines and topped off with our own individually selected cheese board that was simply sublime. And it didn't stop there, we then followed the sound of the grand piano to the Bar Car 3764, where the classically trained Bar Men create your favourite tipple. There was even a midnight buffet, but I'm not sure any of us could fit it in!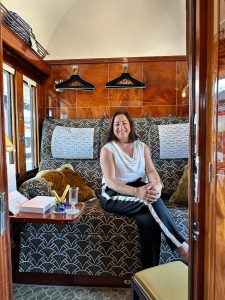 I realise I haven't mentioned the actual journey itself. The route started in Venice, though we joined in Bologna and headed north, past Lake Maggiore through the Simplon Tunnel and into Switzerland. The train makes occasional stops, usually when it crosses borders between countries to change the locomotive. We spent a short time at Basel Station in Switzerland, with the Bar Car party in full swing and a rousing rendition of Bohemian Rhapsody.  A very surreal experience!
After a truly decadent night, we finally retired to our cabins which had been converted into sleeper cabins.  The following morning as we journeyed through the Champagne region and headed into Paris, we had a final indulgent breakfast served in our cabin. Our magnificent journey had come to an end. It was a truly unrivalled experience – a contemporary twist on a very nostalgic journey. Just how Belmond intended.