Around 100 female leaders and the next generation of leaders from across the UK events industry came together to uncover 'A New Path to Leadership' at micebook's International Women's Day 2023 event on Monday.
Hosted at the Mandarin Oriental Hyde Park, London, the event kicked off with an empowering keynote session by Lorraine Heggessey, a trailblazing television producer, media consultant and business leader and the first female controller of BBC1, in partnership with Speakers Corner.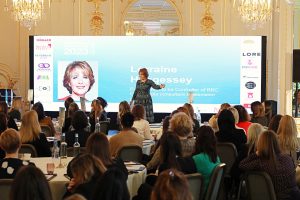 As well as sharing stories from her impressive career and insights on how to be an inspiring and effective leader, Heggessey urged the all-female audience to be prepared to take risks, not try to be perfect at everything, and to ban the phrase 'imposter syndrome'. Read our interview with Lorraine Heggessey to hear more inspiring insights from her personal experiences.
The event was expertly hosted by Samme Allen, founder and CEO of conferenceemcees.com, who got our audience to create a wall of experience – from less than two years' experience, right up to 32 years' experience in the events industry, overall, the audience represented an impressive 1490 years of experience between them.
Jess Charles kicked off a panel discussion on uncovering the pathways to leadership for women in the MICE sector, by sharing the power of a red lip and getting the audience involved with putting on red lipstick and dancing it out.
The panel, featuring Venetia Campbell, former Principal Production Manager, International Events at HubSpot, Cassidy Knowles, Owner & Director of Events and Operations, Chorus, and Charlotte Bute, Senior Project Coordinator, Strata, along with Charles, shared their insights from their own personal experiences and career paths, and discussed the importance of defining your own strengths and taking control of your career path rather than letting others control or influence it. You can read the key takeaways from this session here.
In the afternoon, Sheffield Hallam University's Emma Abson PhD shared insights into a research study on women's experiences of developing leadership careers in the event industry, and the audience broke into groups to discuss and share solutions around some of the key challenges faced by women.
In partnership with our sponsor Visit Monaco, young tech entrepreneur Manila Di Giovanni, shared her venture DWorld, which creates an interconnected metaverse platform for smart cities globally with their respective virtual economies starting from the Principality of Monaco.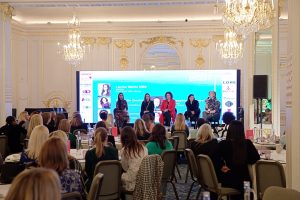 Health & wellbeing expert Lavina Mehta MBE raised energy levels and got everyone moving with her 'exercise snacks' in a session on 'Maintaining optimum health on the pathway to leadership'. She hosted a panel session discussing the unique health needs of women featuring Charlotte Gentry, Charla Forinton, Josephine Lore and Lizzie Mildenhall, which covered their personal experiences of juggling work/life balance with being a mother, IVF, menopause and burn out.
Zoe Tuffs, micebook's head of learning and people development, who curated the content for the event said: "micebook's purpose is to serve at the heart of the sector and we remain committed to supporting women's career progression. Today we have heard inspiring stories from many incredibly talented women, we have, facilitated powerful conversation and shared ideas, on what is needed to create a new pathway to leadership.
"It is clear that we have a long way to go truly embrace equity. But by bringing our community together we can inspire meaningful change. If we continue to work together we will drive the all important actions that will make the difference we all need to see."
The evening event, which welcomed more guests, kicked off with a lively session by Kate Munday, Professional Storyteller & Coach at Out The Box Speakers and Creative Business Partner at Google, on 'Owning your Career Capital', which covered how to network effectively and how to quickly form genuine, long-lasting connections through the way you communicate.
Guests were entertained by The Bethanie Hare Duo and DJ Ciara, courtesy of our entertainment partner Sternberg Clarke. The Headshot Girl was on-hand to take professional headshots of our guests throughout the afternoon, and our charity partner The Alzheimer's Society collected donations throughout the day.
Big thanks to all our event partners including Speakers Corner, conferenceemcees.com, our AV partner EMS, photographers Hiba Noor and Baz Seal, videographer Sanja Dudek, Sternberg Clarke and The Headshot Girl. Thanks also to our event sponsors including AbleMaxx, Lore Group, Silverstone, Visit Monaco and CastleBell.
See our photo gallery from the event here – Daytime photos by Hiba Noor, with evening Photography by Baz Seal
The International Women's Day event will be followed by four additional online workshop sessions that will take a deeper delve to solve key leadership development challenges, covering topics including 'The Leader's mindset' and 'Managing overwhelm and setting boundaries', kicking off on Thursday 23 March.