Our host venue for micebook EXPO, which takes place next week on 30-31 January, gives the lowdown on its first venue outside the US….
Convene is excited to warmly welcome guests to our first international location. This newest location is an impressive 50,000-square-foot space at AXA's notable 22 Bishopsgate building in the City of London, and features space dedicated to meetings and events as well as membership opportunities.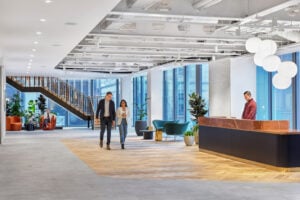 A building that leaves a lasting first impression
22 Bishopsgate, also referred to as Twentytwo, is one of London's latest and most exciting developments located in the heart of London's financial district. The building stands 912 ft tall (62 stories) and is the second tallest building in the city.
Designed by Karen Cook of architects PLP, Twentytwo welcomes you in with a stunning triple-decker entrance lobby and high-speed double-decker lifts, built into the glass canopies that overhang the pavement and an "art street" running down one side. Some of the art is permanent, while the rest will be rotated periodically.
The building also integrates technology and design in fascinating ways to stand apart as a fully functional and efficient work and meeting space, such as facial recognition software to grant or prevent access to the building and a building app that allows companies to book guests, and control ambient temperature effortlessly.
Committed to amplifying wellness at work, the building also features windows that allow 60% more light into the building than normal glass. For commuters, there are bike parks and showers in the basement, and all guests are welcome to enjoy "the Market" on the second floor, which offers a myriad of food and beverage options from coffee shops and bars to "changing street-food style stalls."
Our hospitality-based meeting and events space falls in between high-end hotels and efficiency-centric meeting spaces and is a beautiful and timely addition to the meeting and event options in the City of London. As larger corporate clients continue outsourcing their meetings more than ever before, we are pleased to offer a warm and welcoming space that is functional, but also leaves a lasting impression on our guests. We do so by combining location, award-winning thoughtful design, and of course our signature five-star approach to hospitality.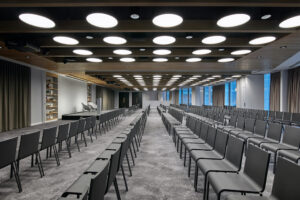 Meet the Spaces
Convene occupies two contiguous floors at Twentytwo, level three and four, both featuring floor-to-ceiling windows that floods the space with natural light, while also boasting gorgeous views of the city. Approximately 80-percent of our is dedicated to meetings and events. Combined, these two floors will be equipped to host 7 concurrent events, with spaces to host theatre-style forums for 400+ attendees, small intimate gatherings, or a reception style format that can suit over 600 attendees across ten rooms on both floors.
The location also features membership opportunities, which offers a private club-like experience, relaxed atmosphere, and full-service food and beverage for members from a central bar. Members are also able to take advantage of nine small meeting rooms, perfect for client pitches, one-on-one presentations, or small working groups.
All of the spaces feature state of the art technology, fully equipped with high-speed WiFi, as well as conferencing tools that enable hybrid meetings. Additionally, all clients will have the opportunity to access premium-production elements, such as set design, as well as state-of-the-art audio/video capabilities.
Unlike conventional meeting and event space in London, Convene stands apart as a premium offering through our award-winning hospitality, human-centric design, enterprise grade technology, and on-site food and beverage available to both our Meetings and membership members.
Confirming Our Thesis: Landlords are in more than just the office business
Ryan Simonetti, CEO & Co-Founder of Convene shared his industry reflections and discussed how as many offices and teams shift to a hybrid or fully remote working culture, landlords are finding that they are no longer in the office business. Instead, they are in the hospitality business, and are partnering to fulfill this new customer mandate.
"Coming out of the pandemic, companies are under increasing pressure to deliver truly differentiated workplace experiences to their employees, and they are turning to their landlords for help."
Twenty-five percent of Convene's existing portfolio, and 80% of current pipeline is under some form of a management or partnership agreement. We're excited to bring this model to London and be able to be a partner with this Class A office building to disrupt the commercial real estate landscape in our new home city. We don't imagine this trend slowing down and look forward to working together to expand into new locations worldwide to serve our client needs.
The Spirit of London, But Convene at the Core 
Convene started to fulfil a need in New York and has since expanded to over twenty locations within top business cities. We're excited to bring 11 years of experience to a new market, but to do so with local hospitality leaders guiding our launch and direction. Our leadership team at 22 Bishopsgate is comprised of members that are all deeply familiar with London, as well as the city's hospitality space.
When visiting the London location, clients and guests will experience Convene's brand and typology at the core. The thoughtful attention to detail and design, as well as hospitality-first atmosphere will match the high standards we have set at each of our other locations. However, the finishing touches will pay homage and celebrate London. For example, all food and beverage packages will highlight ingredients from London's local market, and the design will be inspired from the city and building itself.
Come see Convene in person at micebook EXPO next week! Register here to attend