The Hyatt Regency London Albert Embankment has opened its doors, marking the eighth Hyatt-branded property in London.
The hotel boasts a prime riverside location and proximity to the city's most notable attractions – it's a five-minute walk to the capital's political epicentre, Westminster, home to landmarks including the Houses of Parliament, Trafalgar Square and Big Ben.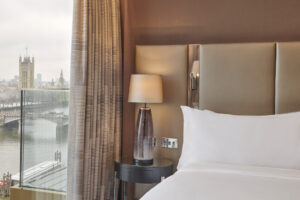 Many of the 142 rooms make the most of the enviable riverside spot, featuring floor-to-ceiling windows that provide immersive views of the city's iconic skyline. On the 14th floor, a range of executive suites offer king-size bedrooms, spacious, modern bathrooms, and relaxing lounge areas, accompanied by a private balcony for guests to enjoy exclusive panoramas across London.
Dining options include POTUS bar and restaurant, which serves up a diverse and distinctive menu of North American classics alongside traditional British favourites. Meanwhile the rooftop restaurant, cocktail bar, and shisha terrace Mezemiso focuses on authentic Lebanese and Japanese cuisine alongside memorable sky-high views of the city.
There are five technology-enabled meeting rooms, offering 1,419 square metres of combined meeting space for a range of events, from business conferences to group gatherings.
The new opening is part of Hyatt's ambitious and strategic brand growth plans for 2023 and beyond in the UK, which include the soon to be open Hyatt Regency London Blackfriars and Park Hyatt London River Thames.