Our editor Susie Harwood gives the lowdown on a recent fam trip to Singapore…
Despite having written frequently about Singapore over the past few years, I'd never had the opportunity to visit. So, when I was invited to attend a MICE media fam by Singapore Exhibition and Convention Bureau in November, I jumped at the chance, especially since the itinerary had a sustainability focus to it – a topic I find myself increasingly passionate about and challenged by in equal measures.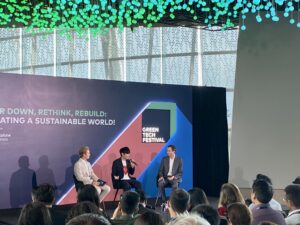 The trip was timed to coincide with the launch of the first edition of GREENTECH FESTIVAL SINGAPORE, an event which brings together the world's change makers to create awareness and solutions for a more sustainable world. Coming hot on the heels of our own micebook Ventures sustainability summit, and COP27, the topic of climate change was at the forefront of my mind. So, I was excited to learn more about what Singapore's MICE industry is doing to drive sustainable change.
We flew with Singapore Airlines on an overnight flight from London, arriving the following evening. The economy cabin was perfectly comfortable, and I managed to get quite a few hours' sleep, along with squeezing in a couple of movies, so arrived feeling surprisingly rested. We moved through Changi Airport quickly and effortlessly and after meeting Kristie, our tour guide for the next few days, were soon on our way to Sentosa Island to check into our hotel for the first two nights.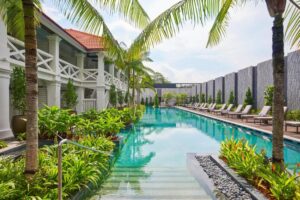 Once a British artillery outpost, The Barracks Hotel Sentosa is a boutique heritage hideaway offering 40 rooms, many with direct access to two outdoor lap pools dotted with Jacuzzi spots and surrounded by palm trees. Opened in December 2019, the last of a trio of hotel developments by Far East Hospitality in Sentosa, this charmingly restored colonial property would be ideal for small high-end incentive groups and is well located for exploring Sentosa's many attractions.
After a warm welcome and a quick refresh, we headed out to Lau Pa Sat, a restored cast iron Victorian hawker centre in the central business district with local delicacies and international food stalls. Satay Street smelled every bit as enticing as it sounds and we sampled a mix of authentic satay al fresco before the rain hit and we ran for cover inside.
Day 1 
The first morning, we headed over to Singapore's Gardens by the Bay for the GREENTECH FESTIVAL opening Press Conference and an interview with Poh Chi Chuan, executive director Exhibitions and Conferences, Singapore Tourism Board, who talked about the destination's post-Covid recovery, progress on the sustainability front and 2030 Green Plan.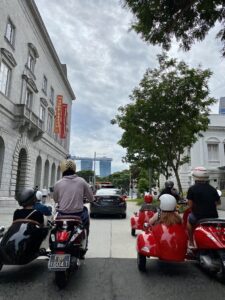 Next up, we donned helmets and toured the city in a unique and novel way with the award-winning Singapore Sidecars. This social enterprise provides vintage vespa sidecar tours on restored vintages from Triquetra.sg, while channelling profits and resources to supporting good causes.
It's a fantastic incentive group activity for companies that want to leave a positive impact. My driver was friendly and knowledgeable, pointing out key sights as we stopped along the way for photos. It was a great way to see the city's eclectic architecture, from the towering skyscrapers of the financial district, and the imposing Marina Bay Sands, to the colonial buildings and colourful Peranakan shopfronts.
Our tour finished at the PARKROYAL COLLECTION Marina Bay, an impressive property both from a design and sustainability perspective. The hotel is home to one of Southeast Asia's largest indoor sky-lit atriums, containing over 2,400 plants, trees, shrubs and more than 60 varieties of flora – it's truly stunning.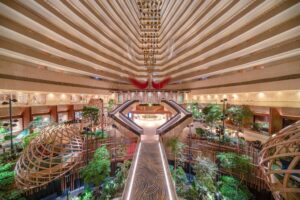 We enjoyed a sustainable hotel building tour, showcasing the atrium, green features in the guest rooms, solar panels on the rooftop, and the hotel's own Urban Farm, which houses over 60 varieties of fruits, vegetables, herbs and edible flowers, used for the hotel's farm-to-table, farm-to-bar and farm-to-spa concepts. Getting to see the solar panels on the rooftop (not open to guests), and the stunning 360-degree views of the Singapore skyline, was a real treat, as was the delicious cocktail created by the hotel's mixologist as part of the farm-to-bar showcase followed by a tasty buffet lunch.
The rest of the afternoon was spent at Bettr Barista Coffee Academy. Southeast Asia's first certified B-Corporation, the social enterprise arms marginalised women and youth-at-risk with the skills and tools to make their lives better, and its founder Pamela Chng is a true inspiration.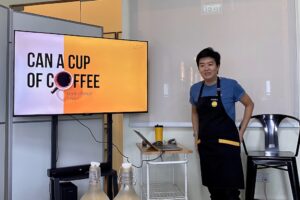 In addition to learning more about Bettr's mission to be a force for good and the history of coffee, we enjoyed a hand-brew demo and coffee tasting, paired with kueh-kuehs – local Singapore bite-sized desserts made from glutinous rice. I'm not usually a coffee drinker, but loved the entire experience, which would be a fantastic and unique activity for incentive groups.
After a freshen up back at the hotel, we rounded off the day with a delicious dinner at Native, a restaurant and bar which focuses on working with local and regional craftsmen and produce from Southeast Asia, followed by a drink at the luxurious Art-Deco inspired Atlas, ranked number 16 in the World's 50 Best Bars and deservedly so.
Day 2
We headed back to the GreenTech Festival for the Welcome Ceremony and got the opportunity to sit in on the first couple of content sessions, including a fireside chat between the event's co-founder and F1 Champion Nico Rosburg and local Singapore star JJ Lin, and a fascinating panel session entitled 'Does Sustainability Mean Sacrifice? Conscious Living in a Post Corona World', which inspired me to make some personal changes to live more sustainably.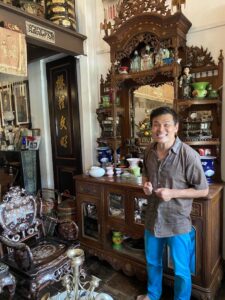 After the most delicious bowl of laksa at Katong Laksa for lunch, our guide Kristie took us on a quick tour of Joo Chiat and Katong's heritage shophouses, quaint stores and restaurants to discover Peranakan culture. A special mention must be made for the wonderful Kristie, who is a fountain of knowledge on Singapore and answered all our questions with ease while enriching the experience with fascinating facts and personal stories.
This was followed by a visit to award-winning local home-museum, The Intan for an encounter Mr Peranakan himself, Alvin. Not only does he possess the most impressive and enormous collection of all things Peranakan, but he has devoted his home sharing these treasures with others.
As well as hearing more on his Peranakan heritage and how The Intan came about, we enjoyed refreshments and a tour of the colourful and quirky museum. It's a fabulous space, which can be used as a unique backdrop for corporate meetings, dinners or celebrations for groups of up to 40 people.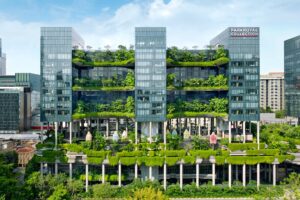 We then checked into our home for the final two nights – PARKROYAL COLLECTION Pickering, which is also a green haven like sister property Marina Bay – before heading back to see the Gardens by the Bay at night-time. After an enjoyable meander through the Flower Dome, and Cloud Forest – a cooled conservatory featuring a lush mountain clad with exotic species from the world over and currently featuring Avatar: The Experience – we headed out to the impressive Supertree Grove.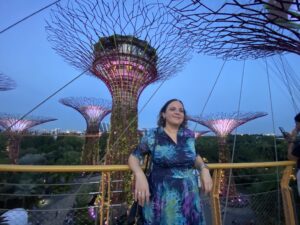 Rising up to 50 metres above ground, the futuristic-looking structures, which are also vertical gardens housing over 200 species of plants, come alive with an exhilarating free light and musical show every night. We enjoyed another fabulous dinner at Rempapa, then headed for a drink at the famed Raffles' Long Bar. I can't deny feeling a little smug as we were whisked by Kristie past the long queue outside, straight to a table waiting for us where we ordered a round of the renowned Singapore Slings! It was the perfect way to end another busy but fantastic day.
Day 3
The pouring rain didn't dampen our spirits as we rose to enjoy a traditional local breakfast of breakfast of kaya toast with soft eggs – surprisingly tasty – before a Street Art and Food Tour through bustling the Little India area with Wok 'n' Stroll food explorers, which gave us the opportunity to see a different side of Singapore and sample more tasty treats.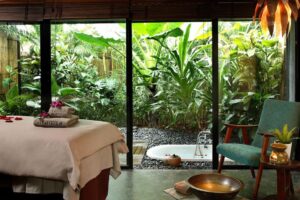 Then it was off to Aramsa Spa for some R&R. Immersed within the lush greenery of a national park, the spa has 17 uniquely designed treatment rooms, each presenting an eclectic mix of contemporary design and seamless spaces in harmony with the garden ambiance that brings the outside in. Listening to the rain fall while enjoying a relaxing massage (one of the best I have had in a long time) and a revitalising ginger and lemongrass tea, was just the tonic after a busy couple of days. This spa would be perfect for small incentive groups that want to add a wellbeing element to their programme.
After lunch at Halia and a quick walk through the Botanic Gardens, there was just enough time for a refresh back at the hotel, before heading over to Sentosa to set sail on a dinner cruise with Tall Ship Adventures. Cruising along the water as dusk settled over Singapore while eating more delicious food was a wonderful way to spend our last evening and reflect on everything we'd seen over the course of the past couple of days, while also witnessing a romantic marriage proposal. The company can also organise private charters for meeting and incentive groups.
Final farewell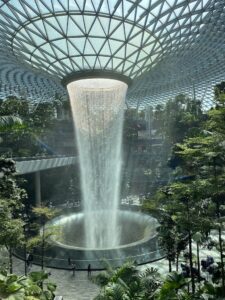 While most airports are places to be passed through quickly, and maybe have a quick bite to eat or mooch in the shops, Singapore's Changi Airport has become a tourist destination in itself, since the opening of Jewel in 2019. Directly connected to Terminal 1, the distinctive dome-shaped façade made of glass and steel features a lush Forest Valley and majestic Rain Vortex – which is truly a sight to behold – surrounded by over 280 retail stores and eateries. So, it's worth checking your bags early and making time to check out Jewel before you leave Singapore. We had a quick tour with Kristie, before bidding her a final (almost tearful) farewell, and our adventure had come to an end.
Flying back in Premium Economy with Singapore Airlines was a pleasant surprise, and the spacious comfortable seats combined with an impressive array of films made the 14-hour journey pass quickly and restfully. It was a whirlwind of a trip, and we packed a lot in. But it's clear to see that Singapore has so much to offer meeting and incentive groups, and is constantly evolving and innovating, especially where sustainability is concerned. The hotels, venues, restaurants and activities we saw and experienced all have it high on their agenda, and I came away genuinely believing that this is a destination that is passionate about and dedicated to driving sustainable change.