Anna Peters, creative director of evolve events, recently joined a group of #eventprofs taking an alternative, and more sustainable, route from London to IBTM World in Barcelona. She gives the lowdown on the journey and why she's now a convert to the joys of slow travel…
Industry events are a great way to catch up with colleagues, make new connections and of course discover the latest trends and new venue openings. So, it was a given that I wanted to attend IBTM World in Barcelona this year. What was less clear was how I would get there.
Travel is a huge part of the meetings and events industry but also one of the largest contributors to carbon emissions so I wanted to see if I could find a more sustainable way to go from London to Barcelona. Would rail be a viable alternative to flying? I joined representatives from Eurostar, London Convention Bureau (part of London & Partners) and Mike Fletcher from IBTM's Show Daily team to find out.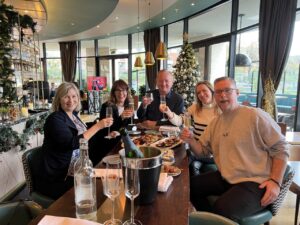 We started our journey over a leisurely brunch overlooking Regent's Canal at Rotunda, in Kings Place. Since opening, Kings Place has established itself as an environmentally focused space for conferences and events, so it fitted well with the values of our trip and, even better, it's just a stone's throw from St Pancras, making it the perfect relaxing place to meet before strolling across the road to board the Eurostar to Paris.
With the carbon footprint of one flight measuring the same as 13 Eurostar journeys, train is the obvious green choice between the UK and mainland Europe and with Eurostar's recent merger with Thayls, booking onward journeys is getting a whole lot easier.
The journey time to Paris is two hours and 15 minutes and we could have carried on to Barcelona but instead we embraced the 'slow' nature of our journey and spent the evening in Paris.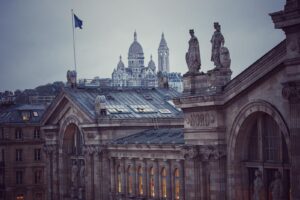 Located literally overlooking the Gard du Nord station, 25hours Hotel was the obvious choice; we stepped off the train, wheeled our luggage across the road and checked in. Quirky touches throughout, including the meeting rooms, make this hotel stand out, as the designers have incorporated the area's multicultural history and inhabitants into the hotel décor. Top tip: ask for a room with a balcony at the front; they come with views of Sacré Coeur and in the morning, you can step outside to enjoy the sights and sounds of Paris as it wakes up.
After a continental breakfast we were ready for the next leg of our journey and a short electric car ride to Gard du Lyon. The beautiful station facade and famous clock tower that dates to 1900, conjuring up the romance of the golden age of travel as you look up at the departure board featuring the French Alps, Switzerland, Italy & Barcelona.
We rocked up with 20 minutes spare before our train left; compare that to the time spent hanging around at an airport going through long check-in queues plus luggage and security checks. With no time to hang around we made our way through the automated ticket barrier to board our double-decker TGV which took us through France to Barcelona in just over six hours.
When anticipating this trip, I couldn't quite imagine what six hours on a train would feel like. Surely, I'd struggle to fill the time? The reality was quite the opposite. The seating is spacious and comfortable; no seat belts, dreaded middle seat or cramped leg room here. Some of us got our laptops out (each table has charging plugs and the wi-fi, though sometimes patchy, meant we were always contactable, so you don't lose a day's work). Knowing that we had a busy few days ahead, we also relaxed over games, chat and two of our group even bought their crochet hooks. There might have been the odd 40-winks too (we're not naming any names!).
It's been a full-on year for those of us working in meetings and events so the chance to kick-back and take in views of the French Alps, Mediterranean coastline, vineyards, the Pyrenees and even flaming birds on the lakes was very welcome.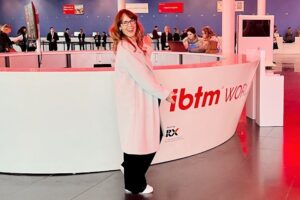 We arrived in time for dinner in Barcelona, with our good friends Trees For Travel who are helping measure the carbon footprint of our journey, rested and ready to go for three days at IBTM World where the team joined the London Convention Bureau stand to showcase London as the ideal city to host sustainable business events.
The journey allowed us to experience a taste of what Eurostar can offer MICE planners and their delegates, giving us the confidence to recommend this mode of transport as a realistic option.
If you're looking to take a group of travellers to any of Eurostar's popular destinations, it also offers unique experiences for those who book exclusive coaches; the 'inside track on rugby' is sure to be a winner next year with France hosting the Rugby World Cup.
But for me it's the ability to offer event planners the chance to put sustainability at the core of their event that's converted me to the joys of slow travel. See you on board the train to IMEX Frankfurt next year?