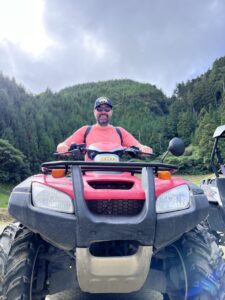 Referred to as the Hawaiian Islands of the Atlantic Ocean, The Azores is a hidden gem for MICE groups looking to escape the beaten track. ECMeetings Portugal and Mundus Representation recently took a group of UK buyers to explore the Portuguese archipelago in the Atlantic Ocean, as part of a twin-centre trip with Lisbon.
Top Banana account director – incentives, Endellion King, was invited to join the group, and here he gives us his lowdown on the unique destination…
I'm always on the lookout for new destinations that people are unlikely to have visited for our incentive clients. The Azores sounds exotic and exciting and is somewhere that not many people have heard of, which adds to its appeal – people are often surprised when they learn that its part of Portugal.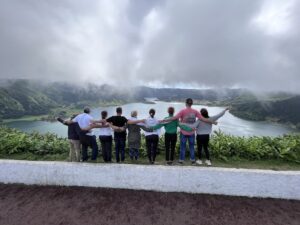 We have worked with ECMeetings in Portugal before, but I've never visited The Azores, so it was a great opportunity to explore what it has to offer. It's a great destination for more active and adventurous groups, with boating, whale watching, hiking and biking among the list of activities on offer.
The location is ideally suited for smaller groups of around 50 people, so wouldn't suit some of our bigger incentives for 100+. We flew via Lisbon with TAP, which took around two and a half hours, and about the same again onto The Azores, with about an hour and a half turnaround in Lisbon. So, although we spent most of the first day travelling, the journey was fine, and it was a smooth transition. A relaxing dinner at the hotel on our first night meant were nice and fresh for the next day.
We stayed at the five-star Octant Ponta Delgada in São Miguel, which offers 123 rooms and suites overlooking the sea, a restaurant serving local, reinvented dishes, a spa, meeting rooms and a lovely panoramic rooftop bar and outdoor infinity pool. It's a great property that's well located just a few minutes' walk from the harbour, where you can head out whale watching or on boat tours.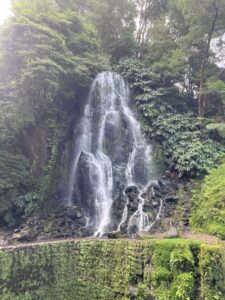 We started the day with an adrenaline rush donning wetsuits to go 'canyoning', exploring the crystal-clear streams and diving over the fast-flowing waterfalls, crisscrossing the volcanic island of São Miguel.
I haven't done canyoning before, and whilst it might not be for everyone, I absolutely loved it. For those that didn't fancy leaping into the water, there was also the option to slide down on your backside. From high adrenaline, we slowed our heart rates down with a relaxing soak in the Thermal Water Pool in the Terra Nostra Park. Lunch was served at Terra Nosta in Furnas, a perfect place to taste the famous Furnas stew
The afternoon was spent exploring the lush island scenery in 4×4 jeeps, and in the evening we headed to the Santa Barbara eco-resort for a delicious gastronomic dinner. With 30 rooms, this property would suit smaller incentive groups and clients looking for an eco-friendly hotel. Designed in harmony with its coastal surroundings, it's a beautiful property that was built using sustainable materials.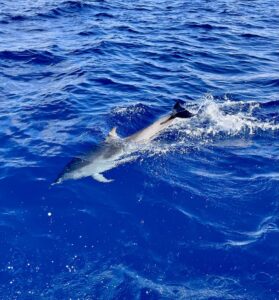 Day two began with a whale watching expedition via speed boat, accompanied by a local marine biologist. The Azores is considered one of the best places in the world for whale watching with a sighting success rate of around 99%. We spotted a couple of Sperm Whales, and the dolphin watching was among the best I've experienced.
In the afternoon, we explored the 7 Cidades volcanic crater with quad bikes and buggies, driving along the top of it while admiring the unique scenic views and stopping for a picnic lunch near the crater lake.
Our Azores adventure came to an end that evening, and we headed onto Lisbon to spend a couple of days in the city. I loved the destination and would recommend it to clients for the right type of group that is after a bit of an adventure – I think they would have an amazing time. We were lucky with the weather – it was still warm and sunny in early October, but it's the type of destination where it wouldn't really matter if it rained as we could still have enjoyed all the activities in wet weather.
In Lisbon, we saw the brand-new Hyatt Regency Lisboa, enjoyed a Tuk Tuk tour, a graffiti workshop, and a wine tasting experience. It complemented the activities in The Azores perfectly and the programme worked very well as a two-centre trip.