micebook is planning to launch regular co-working sessions for the event prof community next year following the success of our first WRX pilot last week.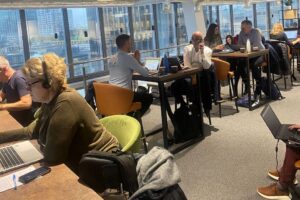 Around 35 eventprofs and the micebook team spent the day working at XCHG in London last Wednesday, with Barcelo Hotel Group, Destination Vancouver, Amplified Hotels, Inntel, Lemon Lane, Noble Events among those who joined our trial session.
Following a day of co-working, we held an informal content session, with members of our nineteen agency leaders' group Smyle's Rick Stainton, Broadsword's Anna Green, Freeman's Jason Megson and Ashfield's Hayley Greaves.
They discussed current global issues from the war in Ukraine, to the controversy around the Qatar World Cup, COP27 and sustainability and more, followed by networking drinks.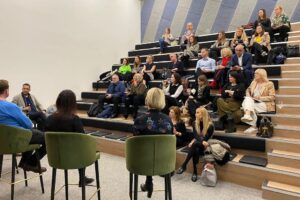 With so many event profs working remotely, our WRX concept is designed to provide our community with a place to drop-in, work and meet like-minded eventprofs.
Ann-Marie Gildea, head of UK International MICE Sales South, Barcelo Hotels & Resorts International, said: "What a super event you. I totally loved the concept and format and am looking forward to more of them."
Broadsword's Lucy Jušić added: "The venue was lovely, bright and spacious which allowed me to have a clear headspace and focus on work. It was lovely to meet people from the industry throughout the day in a relaxed setting. I enjoyed the panel discussion at the end and thought it was an interactive and informative session."
We are now working on plans to make WRX a regular event, giving everyone in our industry, whether freelancer, agency or event industry supplier, a chance to come together – so watch this space!!
And if you can spare your a couple of minutes, take part in our short survey here to help us shape our micebook WRX co-working concept for 2023.