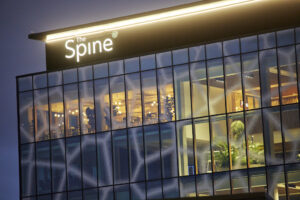 Robert Hopkins, director & head of sustainability, AHR Architects – the design brains behind our Ventures22 host venue The Spine – shared some fascinating insights into how he created one of the healthiest buildings in the world with our audience of event profs last week.
We caught up with him onsite to find out more…
What are the key things that make this building from a sustainability and health and wellbeing perspective?
We really focused on social sustainability with this project, so essentially humans and human health. That was the most important aspect because The Royal College of Physicians' ethos and values are all about people's health and their health outcomes. Our aim for the building was for people who come into the building to feel better by the time that they walk out.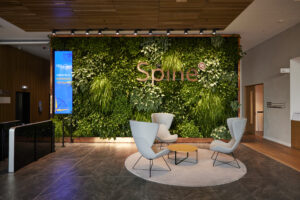 Whilst there are hundreds of different details that help to improve the health of people when they are in the building, the most fundamental thing is air quality, both in terms of the amount of fresh air that gets supplied into the building but also the quality of that air . The plants that you see around the building are designed to remove toxins from the atmosphere as well as give us oxygen. There are also filtration systems that remove even the smallest matter in the air, and finally the carpets are also designed to suck up particles in the air too.
Why is it important to incorporate sustainability and health into building design?
I am incredibly passionate about sustainability, whether it's about environmental performance or social sustainability. I believe we need to have a complete change of mindset around how we design and inhabit buildings. We need to rethink social sustainability and what a building does for communities and what it does for the health of people when they are inside the building.
How important is the conference environment and what makes the event spaces here different?
I am not an expert in conferences and events, and I think that was helpful when we were developing the design of the building. Many conference and event spaces are located on the lower levels of buildings and are very highly controlled environments, especially in terms of lighting.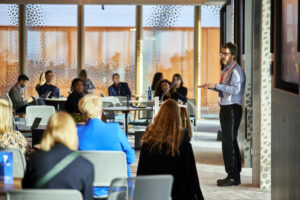 What we wanted to do was the complete opposite. We wanted to create something that would benefit the humans while they are in those spaces. That includes views out of the buildings, so you get a sense of place and where you are, as well as natural light to help boost health and wellbeing.
Initially we had some quite strong pushback on these ideas because it's not what the industry expects. I think people are now relieved that we held our nerve because it really sets us apart from other conference and event facilities, particularly in the northwest of England.
For clients and delegates, there is always a story to tell about the place, and it's a unique story. It makes you feel as though you are in Liverpool, and it makes you want to go and discover the rest of the city, see all the incredible architecture, and hear the incredible stories around the river Mersey and the impact it has had, not just on the UK but on the world. It's a world city and world cities deserve world class event spaces.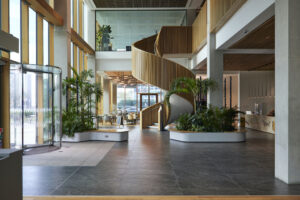 Are you seeing more demand for sustainable design?
I think it's fundamental to the next chapter of humankind is that we have emerged into a position when we have got to make big changes not just within the next generation but within the next few years, and its decision time. Those decisions can have positive outcomes, and that's why I so focused on things like human health to make people understand that sustainability is just about using less energy, it's about people and how we create a better place for people in the world.