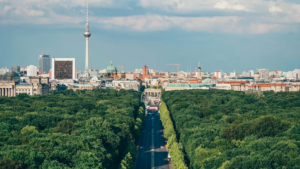 With the increasing environmental awareness and the desire for alternatives fit for the future, the demand for not just sustainably aligned hotels, but also event venues, catering partners, and all other elements of event planning is rising.
To meet this demand for holistic sustainable event solutions, destinations such as Berlin are taking a collaborative approach, working together with partners across the city to help planners make better choices. So, if for example, you have a brief to organise a two-day conference for 150 delegates, requiring a hotel, venue, F&B, and perhaps some off-site activities, it will be a lot easier to find sustainable partners to meet all these needs thanks to the Sustainable Meetings Berlin initiative.
The initiative includes a listing of sustainable event service providers, which have been checked against an extensive catalogue of criteria and are committed to the sustainability management system of Sustainable Meetings Berlin, as well as a practical toolbox with ideas and suggestions for more sustainable event planning.
In this feature, we shine the spotlight on just several of those sustainable partners that would be well suited to hosting a conference for 150 delegates, and look at some of the initiatives they have in place to give you an idea of how easy it is to make more sustainable choices in Berlin…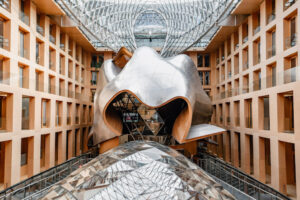 Sustainable venue: Axica Berlin
With its location directly in the heart of Berlin at the Brandenburg Gate, this masterpiece by architect Frank O. Gehry is not only one of the most unique conference venues to be found in Germany but is also committed to becoming a sustainable event location with both excellent and highly exceptional catering. The venue offers a range of inspiring and flexible spaces, perfect for a standout conference, event or gala dinner for 150 people, with a maximum capacity of 500.
As a "Sustainable Meetings" partner of Visit Berlin, the venue's mantra is no premium without sustainability, and it has implemented several changes to become more eco-friendly. For example, the entire energy supply was switched to green electricity, waste prevention and separation were optimised, the proportion of seasonal and regional catering products increased dramatically, fair trade products were introduced, and vegan and vegetarian menus and buffets have been promoted to clients. AXICA offsets the CO2 emissions that cannot be avoided with all its activities and efforts with the initiative "Clean cooking stoves in Abuja, Ghana".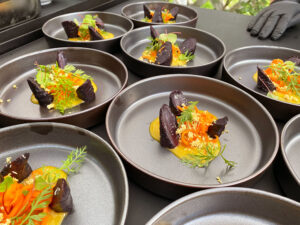 Sustainable catering: Hoflieferanten Berlin
As the capital's sustainable catering company, Hoflieferanten Berlin is dedicated to creating culinary excellence with respect for people, animals and the environment and with fresh, seasonal organic products. With over 30 years' experience, great attention to detail and highly skilled chefs, the company focuses on fresh, seasonal and individual catering, whether for 50 or 500 guests, and whether conference, gala or party.
For example, at Bestival 2022, the MICE & Travel Business Festival held in Berlin in August, the caterer showed it doesn't around the bush, but brings facts to the plate: capital city perch from Tempelhof, "Everything from the carrot", vegetables from the Brodowin eco-farm, coffee grounds from secondary use – holistic processing, regionality and seasonality were all in focus at this event.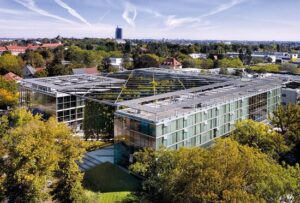 Sustainable hotel: Seminaris CampusHotel Berlin
Located on the campus of Freie Universität in Berlin's south-west and surrounded by green nature, this property offers 186 rooms and its own on-site events and conference centre. The Seminaris Campus Hotel has also recently launched a transformation process as part of a commitment to implement sustainability across the entire hotel group. To achieve this goal, each hotel has a dedicated environmental officer and group driving the policy forwards.
In Berlin, the measures include ISO certification and auditing to meet the Sustainable Meetings Berlin benchmarks. The hotel supports sustainable event concepts with environmentally friendly conference materials by separating waste, avoiding packaging, replacing old light bulbs, purchasing sustainable products, drinking straws made of glass, and offering incentives for travel by train.
Find out more about hosting sustainable meetings and events in Berlin here