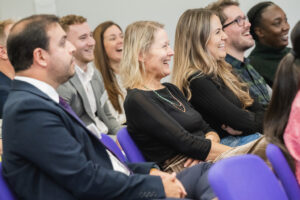 London's QEII Centre invited eventprofs to a venue showcase with a difference last week, with its QEZoo event featuring a keynote speech by motivational speaker Nigel Risner.
Risner believes that people's personalities are linked to one of four animals – lion, monkey, elephant and dolphin – I'm a dolphin apparently – and that by adopting the role of a zookeeper, event planners can become more effective leaders and create more imaginative events that appeal and hold the attention of each of the varying traits.
The performance coach estimates that people are only psychologically "in the room" 50% of the time and dispelled the myth that conferences and events need to follow a set format. Instead, he illustrated how, with subtle changes to their approach, they can communicate more effectively and bring out the best of each animal type.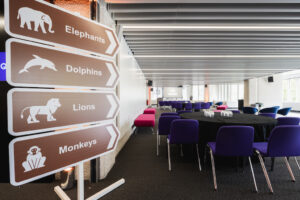 "Communication is not that complicated," said Risner, who has advised numerous leading companies and brands including Barclays, Deloitte, GlaxoSmithKline, Sainsbury's and Sky. "If we can recognise the characteristics and can understand what makes each animal tick, while putting them in the best possible surroundings and feeding them the right kind of food, we can communicate better and achieve greater success."
To help bring the event alive, QEII's Gielgud room was transformed into QEZoo, with animal theming and varying seating styles and activities to keep all of the personalities content and happy. The determined lions got competitive with Playdoh while fidget spinners kept the creative and extrovert monkeys amused, rubix cubes challenged the detailed and analytical elephants, and the caring dolphins had the chance to create balloon animals.
Keeping his talk to exactly 42 minutes – the average person's attention span – Risner demonstrated how to identify and implement creative strategies to stop the impatient, top-line lions from upsetting the sensitive dolphins, and how they can manage the short-attention spanned monkeys trying to joke with the forbearing elephants.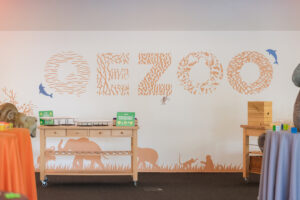 He said: "Every zoo needs a good zookeeper to maintain creativity and keep balance in organisations. Communication is a key attribute to learning. If event professionals adopt the role of coach rather than commentator and think about nurturing each of the animals and communicating in the correct style and language, life becomes a breeze, and everyone thrives."
To add to its work in this area, the QEII commissioned some independent research among event planners, which revealed that the visionary lions dominate the sector at 38%. This is hotly followed by highly creative and motivating monkeys at 27% and the detailed, conscientious elephants at 24%. Whereas the considerate, team playing dolphins only make up 11%.