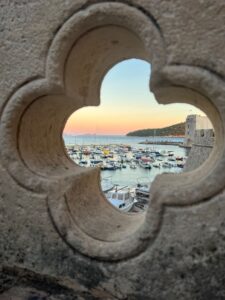 With incentive travel finally back on the corporate agenda, Paul Evans, incentive travel expert and founder of events agency eveology, shares his year of travel 'firsts', including his first trip to Croatian gem Dubrovnik…
For many, travel during 2022 has been about getting back on track with a revitalised passion and excitement for what we love doing. Oh, how we've missed the buzz and thrills of international travel. You'd think we'd been deprived for years! Whether personal or business events, the appetite for foreign experiences is stronger than ever. For me personally, I've been driven by burning ambition to reach new destinations which have alluded my thirty plus years in the travel and events industry.
From a dad & daughter 'first' ski trip to the Italian Alps in February which filled the void of a postposed school trip (due to the C word) to a 'first' incentive to the glorious Tuscan countryside in May, which reignited a corporate client's passion for international reward and recognition.
The downtime provided us with chances to reflect and consider unchartered destinations, especially those which repeatedly get quoted, discussed, shortlisted but often overlooked due to basic inexperience.
One highly ranked destination on my 'must-do' events bucket list has been Dubrovnik. Repeatedly at the heart of many destination proposals over recent years, my non-existent experience ensured it rarely made the final cut.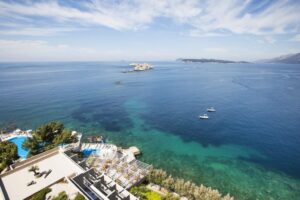 So, I jumped at the chance to experience the destination on a recent fam trip with our friends at Mason Rose, who represent one of Croatia's most illustrious hotel groups, Adriatic Luxury Hotels with Dubrovnik Palace (right), Hotel Bellevue and Hotel Excelsior. All mighty fine five-star hotels within short distance of one another. Our experience was beautifully executed with a primary focus on their hotels and some offsite support from their own dedicated in-house DMC services.
After a relatively short flight from my local airport London Stansted, we experienced one the swiftest and nicest airport experiences. Dubrovnik's airport is approx. 3 years old, modern, efficient with fast customs and immigration and baggage delivery.
Our host hotel was the Hotel Dubrovnik Palace, perched on a dramatic cliff side location beneath the aromatic pine words of Petka Hill on the tip of the Lapad peninsula around 4 km from the Old Town. With plenty of space and 308 rooms and suites, the hotel is ideally suited for larger events, particularly conferences, with numerous terraces with stunning coastal views.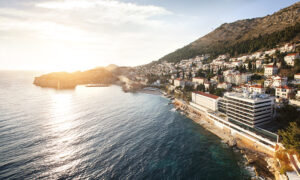 Probably my personal favourite in the collection is the Hotel Excelsior (right), which is most suited to my incentive-biased business with a prime location within a five-minute walk to the historic heart of Dubrovnik. It offers 158 rooms and suites across two wings – a blend of old and new – all with stunning views to the UNESCO-protected Dubrovnik Old Town. The hotel shows off its illustrious history, via a Gallery of Fame, of notable guests including Queen Elizabeth II, Richard Burton & Elizabeth Taylor and many others.
The third gem in in our whirlwind tour was the Hotel Bellevue. With just 91 Rooms & Suites, the smallest in the collection, it offers a strong five-star boutique hotel experience, a 5 min drive around the bay from the 6th century old town.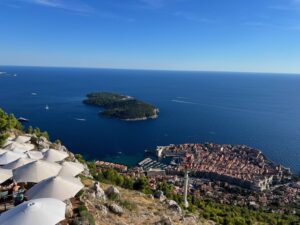 Our first afternoon, we ventured to one of the highest points via cable car for the most spectacular of views over Dubrovnik's magnificent Old Town. The coastline is simply breathtaking. With a terrific guide, we listened to fascinating stories of the country's plight in relatively recent times as well as understood its geography to its super close, neighbouring Bosnia and Herzegovina which we could see from this high viewpoint.
Being the only 'bloke' with a group of lovely ladies didn't faze me. I admit I was a little challenged when they detoured to a jewellery shop for 30 minutes (felt like an hour) specialising in red coral. We learned how the extraction of red coral is regulated by the EU and government and is environmentally sustainable with a number of quotas per year and a limited number of valiant divers who hand pick hidden branches of precious red coral from the minimum depth of 50 metres.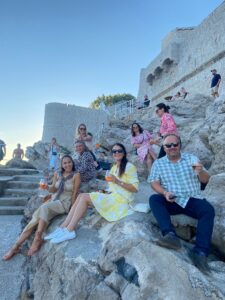 We walked the narrow lanes and steep steps to the centre of the old town within the fortress walls to discover pristine streets, glistening cobblestones, quaint bars and restaurants coming to life as the sun was setting. A simple hole in the wall revealed a hidden gem. A bar with a view! Natural steps and rock terraces overlooking the lapping waters of the Adriatic with the most stunning of coastal views at sunset. The Aperol spritz ladies could hardly be prised from their rocks for dinner back at the Dubrovnik Palace.
Dubrovnik was the main filming location in Croatia for King's Landing, a fictional city in Game of Thrones. This fact went slightly over my head as I am not a fan but clearly it was an exciting feature to many in the know as they clambered to key spots featured in the series.
The next day, a promise of a fine day on the water did not disappoint. A private power boat/yacht charter with a highly professional crew bought the biggest smiles as we boarded our luxury vessel at the nearby port/marina.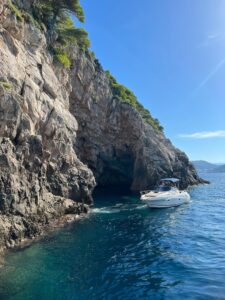 We cruised the gorgeous coast, dived and swam to hidden caves and lagoons. I must have been in a hypnotic trance, as I eagerly donned my swim shorts to reveal the Evans bod … a chance to swim and to frighten the fish and eventprofs. Another 'first' on a business trip!
We pulled ashore for a breath-taking waterside lunch on Lopud, one of the beautiful Elaphiti Islands off the coast of Dalmatia. Food and service top notch (as were all the other meals mostly in the host hotels).
One main concern I'd often heard of Dubrovnik is how busy it can get in prime tourist months especially with it being hot on the cruise ship itineraries. Stories of packed narrow streets with a shoulder-to-shoulder crush had always stuck in my mind and were slightly off putting. However, I was pleased to learn that measures were put in place in 2019 to limit to cruise ships to two per day and a max of 5,000 visitors between them to reduce the impact of over tourism in the walled city.
Certainly, in the peak shoulder month of mid-September when we visited, the city was super comfortable with tourist numbers and with an amazing climate of approx. 28 degrees C. This would be similar in late May / June which are likely to be prime incentive travel periods.
So, in a nutshell, the destination exceeded expectation and is a worthy contender for a super weekend corporate incentive or retreat. Accessible, excellent hotel standards, service and beautifully Instagram-able! As some of my travel companions shared ….
"The food offering is some of the best I have had … fresh fish being the specialty and who knew Croatian wine was so delicious! What a stunning gem of a destination – not called the pearl of the Adriatic for nothing!" Susan Brogan, Director at Venue Seekers 
"Absolutely stunning. Perfectly beautiful with history, culture and super clean! To be honest, I did not anticipate Dubrovnik being so up to scratch as a strong destination as I discovered it to be" Dina Green, Managing Director at Orange Door
"For the right client, I would be happy to propose Dubrovnik alongside destinations such as Lisbon and Malta. All are within easy access to the UK, offer a coastal city vibe, with both water and land-based activities to keep the itinerary interesting. Of course, the time of year would have an impact, but Dubrovnik still has a lot of offer clients during their shoulder season in September." Odette Peel, Director at ODP Travel