We Are MEaT marketing events and travel director James Bacon was invited to join an Arctic expedition cruise with Silversea Cruises in July, which he describes as a completely unique and amazing experience – "When discussing cruises as a possible option for events and incentives, I never thought the arctic would be my jump on point!" 
Here, he shares his highlights…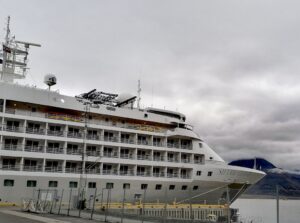 After buying thermal clothing during the UK's hottest ever heatwave, I set off for Oslo as our first destination point. Here all the passengers met for an overnight stay along with covid testing and checks before being able to continue our onward journey. We then set off early morning on a 3-hour charter flight to Svalbard (78 Degrees North) where we boarded the fantastic Silversea's Silver Cloud at Longyearbyen – the most northern populated town in the world!
The expedition ship was the perfect host. Immaculate and friendly service from all the staff, great options in terms of restaurants, from fine dining to hot rocks on the pool deck (speaking of which the pool deck does the best burger ever at lunch!!), spa facilities, gym, boutique shopping and of course the some of the most awe inspiring, memorable expedition trips you will ever experience. For groups looking to add a meeting or forum presentation element to your event, there is a suitable size auditorium which will perfectly suit any needs.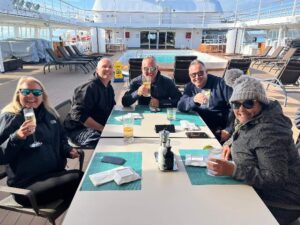 After an overnight sail we headed north towards the polar cap (80 Degrees North) where we began offshore excursions. We started at 14th July Bay, where we headed off in the zodiac boats to take a closer look at the glaciers, wildlife including puffins and reindeer as well as the floral aspect of the arctic. It was a great first introduction to the destination, little did we know what was to come!
Day 2 saw us head into Monacobreen, named after Prince Albert of Monaco, who discovered it. It's a stunning glacier formation and while out again on zodiacs we got to witness a huge glacier carving – where the ice carves away from the glacier and crashes into the sea, simply wow! Then in the afternoon we headed to a nearby bay where we took to the shore for a 5km hike up and around a mountain (450m accent). We were unfortunate not to see any wildlife, but the backdrop was beautiful.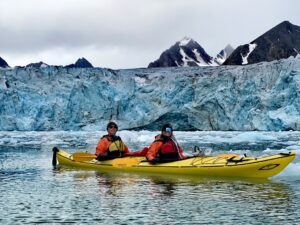 For day 3 we headed north again to the tip of the polar ice cap, where some of us went out in kayaks to explore the area. For me, this was a real highlight as we were able to get really up close and personal to the glaciers and ice caves. The afternoon saw us again out exploring in zodiac where we saw some more of the birdlife, more carvings and got to learn and understand about the region, how the climate has impacted on it and how life has adapted to the changes in such a short period of time. But the biggest questions and need was still yet to be answered – where are the polar bears?
We headed back south and awoke early on Day 4 with an announcement that a polar bear had been spotted off the coast of the fjord we had just come into. This caused a mad rush up to the observation deck, blurry eyed, but yes, a polar bear had just fed and climbed out of the sea and up the rocks for a place to rest. Emotions and excitement were high across breakfast!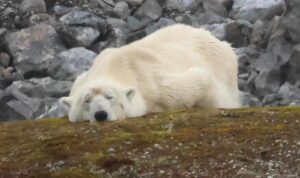 After this, we headed out on zodiacs to Blubber Town – named after the whale farming that took place there centuries ago. It was here we met a group of juvenile Walrus' who had just eaten breakfast themselves and were having a bit of playtime on the beach. So inquisitive, and just amazing to observe naturally. As we headed off around the bay, news broke that another PB had been spotted. So, in the afternoon we were out in the zodiacs and yes another bear was relaxing on the rocks having a sleep. We also had a few seals swimming alongside us, probably why the bear was in the area!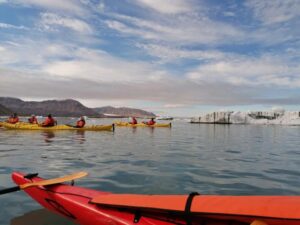 Our final day we were in the most amazing bay. Early morning some of us set out on a 6km trek around a bay that was a real mixture of scenery. It had tech-tonic style mountains, glacial fronts and a beautiful beach. The weather was lovely too, like a nice early spring day with the highlight being a group of reindeer who tracked us as we walked around.
Then one last outing in the kayaks around some more ice and glaciers before the dreaded Polar Plunge! Out of everything, this was the one thing I was dreading – not a fan of the cold (ironic as I was in the Arctic) but certainly not keen on jumping into freezing water. However, being an event planner, you need to push out of your comfort zones and yes, I did it. I jumped into the arctic waters!
Did I enjoy it, no. Would I recommend doing it, absolutely. You can't go there without doing this and the team on board create a real party event atmosphere for everyone doing the challenge. It starts off ok, it's when you reach the lowest part and head back up that the freeze really hits you and instinct to get out kicks in. Celebrating with everyone after in a warm pool with a glass of fizz was a great end to the expedition. After this we headed back to Longyearbyen to disembark and head back to Oslo.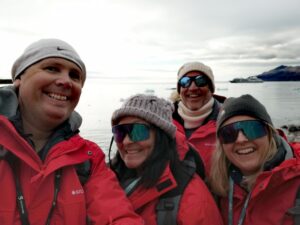 I have to say at the beginning I had no expectations. I'm more of a Duran Duran – Rio kind of boat trip than an Arctic cruise. But I am so thankful to have been able to have this opportunity and experience, made even better with the amazing group of event professionals I was lucky enough to share this with. Silversea Cruises provided a wow factor, bucket list, once in a lifetime experience that I would and am recommending to our corporate and luxury leisure clients.
It's the best incentive reward a team could win!