Following a further easing of international border restrictions last month – from 6 July travellers entering or leaving Australia no longer need to provide evidence of vaccination status, and people entering Australia are no longer be required to complete a Digital Passenger Declaration – Business Events Australia has announced a host of new accommodation, dining, experiences and more on offer for event delegates. 
The update comes as the convention bureau rolled out the second phase of its international brand campaign, including a series of new brand films to showcase Australia's events offer.
Building on the first phase of the There's Nothing like Australia campaign, which launched in March 2022, the latest phase forms part of a broader recovery strategy to drive demand for Australia as a business events destination among incentive and association customers in key global markets.
Here's a snapshot of some the hottest new openings and experiences…
Hotels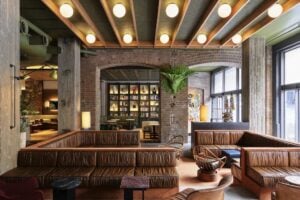 Ace Hotel – Sydney, New South Wales
Opening in the inner-city neighbourhood of Surry Hills, the 257-room Ace Hotel Sydney is the Ace brand's first hotel in the Southern Hemisphere and set in the historic Tyne House brick factory. Rooms vary feature double and king beds, custom joinery, and nods to the building's history such as exposed brick walls. The hotel offers dining options from cocktails and wines at The Lobby to breakfast, lunch and dinner at Loam restaurant, with a cafe to come and three interconnecting event spaces.
The Langham Gold Coast – Gold Coast, Queensland
The newest luxury beachfront hotel to open on Australian shores, The Langham Gold Coast (main image) brings sophisticated coastal charm to the region. With 339 rooms, a luxury spa guided by traditional Chinese medicine, a health club, two swimming pools and seven dining options ranging from Cantonese fine-dining to indulgent high teas, The Langham Gold Coast is a five-star reward for hard-working teams. The hotel's event spaces include 11 separate venues including a 400-banquet capacity ballroom.
Hazelwood Estate – Gold Coast, Queensland
Set in the hinterland of the Gold Coast on a 75-acre polo and Wagyu farm, Hazelwood Estate features stunning views of its lush surroundings as well as an abundance of country elegance. Designed to immerse guests in nature, accommodation options include one-bedroom Luxury Pavilions, or one-bedroom King Farm Cabins. Onsite, guests can dine on regional produce at The Paddock Restaurant, go bushwalking on scenic trails, try culinary experiences including wine and cheese tastings, or relax at the spa. Hazelwood Estate caters has two event spaces with a capacity of up to 100 people and can host corporate and health retreats, strategy sessions and polo days.
Experiences
Crystalbrook Collection's Meet Mindfully service
Crystalbrook Collection has announced a new event planning service called 'Meet Mindfully'. Designed to remove the stressors and environmental pressures of conventional corporate meetings, Meet Mindfully encourages meetings with purpose and value. Each Crystalbrook Hotel will add a touch of its unique personality with proudly local destination experiences, transforming traditional concepts of team-bonding.
Highlights include guided sound healing at Crystalbrook Byron on the north coast of New South Wales, local gin blending at Crystalbrook Kingsley in Newcastle – just over two hours from Sydney – and beehive workshops at Crystalbrook Riley in Cairns, Queensland. Capacity varies based on the activity and ranges from a minimum of 10 people per group to a maximum of 100.
Dining
Freyja – Melbourne
Victoria Freyja, the flagship restaurant in the heritage-listed 130-year-old Olderfleet building, has recently opened its doors, unveiling a maritime look and a new Nordic menu. Situated on Collins Street in Melbourne, Michelin-star Chef Jae Bang, who has relocated from Norway to bring a sophisticated taste of the country's cuisine and culture to Australia.
The creative menu features dishes such as trout roe with waffle and smoked sour cream, and marron with pumpkin, passionfruit and smoked paprika. The venue has a semi-private dining room that can accommodate up to 24 guests for an intimate experience or larger spaces for up to 65 seated guests.
Stratton Bar & Kitchen – Brisbane, Queensland
Brisbane's Stratton Bar & Kitchen occupies two historic World War II hangars, which have been transformed into a spectacular world-class venue, featuring a pan-Asian menu. The 920 sqm space boasts four sections: a 150-seat dining area; a central bar; a 150-person function space; and a covered courtyard. The dining area is also available for exclusive hire and can seat up to 100 guests or host up to 120 cocktail-style.
The Lodge Bar and Dining – Brisbane, Queensland
The Lodge Bar and Dining, located in a heritage Queenslander in Brisbane, melds fashion, food, and wine and accommodates a maximum capacity of 150 guests seated and 200 guests cocktail style. Located in vibrant Fortitude Valley, Brisbane's hub for dining, entertainment and fashion, Lodge Bar and Dining has multiple spaces available for exclusive hire.
The first floor can accommodate larger events of up to 100 guests cocktail style, while the wraparound veranda hosts up to 30 guests and can be combined with the lounge area for additional space. An elegant dining room can cater for smaller events of up to 40 guests.
Hibiscus Room – Brisbane, Queensland
Hibiscus Room at Hyatt Regency Brisbane is Brisbane city's new go-to for cocktails and classic Australian dishes. The 90-seat restaurant and bar overlook Queen Street Mall and some of Brisbane's most iconic heritage buildings.
The menu contains signature dishes of BBQ grill of local King prawns with chilli and mango salsa, Rockhampton beef rump cap and Southern Queensland lamb loin chops. The venue is available for exclusive hire and accommodates 150 guests.